| | |
| --- | --- |
| | The Heart of Arctic |
Object 700 – that is the code name of nuclear test base located on Novaya Zemlya. It is one of the most restricted areas. The entry of unauthorized person is practically impossible. On the eve of 55th anniversary celebration General Major Yuri SOKOLOV, senior range officer tells about the history and present time of Central range of the Russian Federation.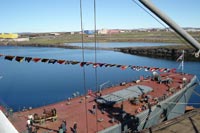 - Yuri Ivanovich, what was the start point?

- The test range at the Novaya Zemlya islands was established in 1954, in the heat of the "cold war" and an infant state of the country's missile-nuclear shield. By that moment nuclear and thermonuclear weapons had been already tested at Semipalatinsk range. However, the tests in Kazakhstan due to absence of necessary conditions could not give the full picture of destructive effect of nuclear weapon on sea-based objects and, therefore, testing of sea-type nuclear weapon was impossible. That is why Novaya Zemlya range was created firstly for testing nuclear weapons in sea conditions. Besides, the necessity of its building was aroused by the US nuclear tests of sea-based weapons on July 24, 1946.

In January 1954 in design bureau headed by triply Hero of Socialist Labor N.D. Dukhov the development of nuclear warhead for T-5 torpedo was completed. Soviet Navy command needed to be assured of operability of new torpedo warhead and also to achieve data about consequences of nuclear underwater burst effect on naval ships in real sea conditions for further development of nuclear defense activities and increase of all-class ships damage control. It was also planned to research a number of scientific problems related to study of nuclear explosion physics directly in sea conditions. The military and nucleologists turned regard on the region of northern seas.

Reconnaissance committee led by Rear Admiral N.D. Sergeev, White Sea flotilla commander and his deputy Rear Admiral P.F. Fomin was sent to the Northern Fleet. Among the members of the committee were the experts of Academy of Sciences of the USSR, Ministry of Defense, military institutes, Directorate 6 of the Navy. By the way, one of the streets of Belushya Guba settlement is named after Rear Admiral Fomin, who had been leading Directorate 6 of the Navy for over 10 years.

- What was behind the selection of Novaya Zemlya though?

- Maximum distance to large population centers, capability of testing nuclear weapons in different environments, possibility of thorough research of nuclear weapons effect on all types of military equipment were considered during selection of the site for future range. Meanwhile, land amortization for the range should not make noticeable negative effect on economic activity of the region even in the distant future.

The selection of the range site at islands of Novaya Zemlya archipelago had entirely complied with those requirements. The distance of test sites from large population centers were hundreds of kilometers (Amderma – 300 km, Naryan-Mar – 440 km, Vorkuta – 560 km, Murmansk – 900 km, Arkhangelsk – 1 000 km).

The size of the range was also enormous – 90 200 square km!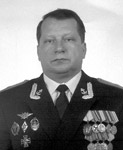 On July 31, 1954 the government made a decision to build a range at Novaya Zemlya. But it is customary to celebrate its birthday on September 17, when staff schedule of new military unit was approved by the directive of Navy Main Headquarters.

In the context of creation of the range, Soviet government addressed to the head of Novaya Zemlya Tyko Vylko with a request to consider the possibility of out-movement of islanders to the continent. Tyko Vylko on behalf of island Sanhedrim with a view to strengthen defense capacity of the USSR declared consent to "return to native land of forefathers – Big Lands, Pechora tundra".

- And when the aboriginals went away...

- The military and builders came there…Test engineers… Particularly, they started to form range administration, scientific and test department, aviation units, ship division, logistic units, communications, hydrography etc.

The first who came to Belushya Guba in 1954 were military constructors headed by engineer-colonel E.N. Barkovsky who was appointed to be the range commander until the organization and establishment are defined. All works had been performing in the rough conditions of Arctic, sometimes in polar night. Personnel lived in winter tents and in ramshackle fort buildings. Since November, 1954 Hero of the Soviet Union Captain 1st rank V.G. Starikov had been commanding the formation.

Preparation of facilities and test fields for experiments was responsibility of scientific and test department, northern expedition nr 7, naval units and the industry. Intensive construction was in progress. Even now we have buildings remained from that historical period. The formation was preparing for first experiments. Despite extreme conditions of winter period 1954-1955 and domestic problems of tent dwelling, military constructors at the earliest possible date had prepared special objects for the first test.

- It had maritime character, as expected?

- Yes. In 1955 the personnel of the range managed to prepare and provide successful conducting of the first nuclear test, aimed at increase of Navy's combat power. As it was rightly noted by admiral-engineer P.G. Kotov, Deputy Navy Commander for shipbuilding and weaponization, "...those experimenters who were the first at Novaya Zemlya have accomplished a real feat. They were our mariners and aviators, our scientists, employees of special industries, our outstanding workers – assemblers and constructors. They were the ones who spent only one year to create in the nowhere and in rough polar conditions first scientific and test laboratories, to install and adjust complicated equipment, to instruct personnel and provide tests of mighty hardware".

The experiments were led by Soviet Navy Admiral S.G. Gorshkov, Navy Commander-in-Chief and Artillery Main Marshall M.I. Nedelin. The country was enveloped with the great Navy renovation program; first nuclear submarines had been under construction.

The assembly of the first special product for experiment in 1955 was performed manually at the range under auspices of Lt Col E.A. Negin, subsequently Hero of Socialist Labor, academician, winner of Lenin and State Awards, Lieutenant General. Scientific management of special products development was conducted by academician N.N. Semenov, Hero of Socialist Labor, Nobel laureate and winner of Lenin Award and academician Y.B. Khariton, triply Hero of Socialist Labor, winner of Lenin and state awards. Approving documents for the first test were signed by Marshall of the Soviet Union G.K. Zhukov, Minister of Defense of the USSR (original document survived).

The first 3.5 kt nuclear explosion at Novaya Zemlya carried out at Chernaya Guba, that was warhead test of T-5 torpedo at the depth of 12 m.

- But the types of tests were different and carried out on three "combat fields"...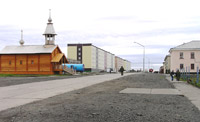 - During the history of the range three operational areas were used. Zone A – near Chernaya Guba where 3 underwater, 2 water-surface and 1 ground-surface nuclear explosives of small and middle size were tested in the period of 1955 – 1962. During 1972 – 1975, 6 nuclear underground tests of megaton-class nuclear explosives were performed in wellholes here. Zone B – at southern bank of Matochkin Shar strait where 33 underground tunnel nuclear tests were held in the period of 1964 – 1990. And, finally, Zone C – near Sukhoi Nos cape where the series of nuclear air bursts including history's most powerful hydrogen bomb of 50 Mt were performed in the period of 1957 – 1962.


INQUIRY

132 nuclear tests have been conducted at Novaya Zemlya range since September 21, 1955: 1 ground-surface, 3 underwater, 83 air, 3 water-surface, 42 underground. The portion of nuclear devices have been tested at Novaya Zemlya is 240 Mt (approximately 94% of total yield of nuclear explosions carried out in the USSR). The world's most powerful 100 Mt hydrogen bomb was also tested at the range but on half of its potency.

At Novaya Zemlya range the program of each experiment included determination of TNT equivalent, shock wave profile, characteristics of radiological contamination. Physical measurements of characteristics of nuclear explosives had been performing by scientific units from Ministry of Medium Engineering, Academy of Sciences of the USSR, Ministry of Defense.

The staff of test subdivisions had always been at the most critical and dangerous sectors of preparation and conducting the special experiments. The most of the experts from all departments were working at test fields. Sometimes, regardless of the time, they had to work 18-20 hours in a day achieving quality accomplishment of every scheduled operation. Dedication and heroism of scientific and test department staff along with a number of experts from different research organizations enabled to conduct first and subsequent tests successfully.

The biggest number of experiments was in 1961 - 1962. The new samples of special products had been tested that time, the operation of complex application of nuclear weapons when aircraft launches, missile launches, torpedo launches from submarines, and also nuclear weapons effect on naval facilities and equipment. Control system and instruments of test fields were also improving.

- But eventually the range was redirected on exclusively underground tests. What was the reason?

- After signing the Moscow agreement in 1963 about nuclear testing restraints in three environments, the range was redirected on underground tests of nuclear explosives in wellholes and tunnels. Conducting such tests needed development of new measurement methods and instruments, improving existing ones and elaborating modern management control.

The first underground nuclear tests were conducted at the northern range in autumn 1964, but 10 years later in 1974 an agreement was signed limiting yields of underground explosions to 150 kt, and in 1975 the last megaton-class nuclear test was conducted.

- Yuri Ivanovich, few people heard about other special tasks of the range...

- The unique radiation resistance experiments of ships radioelectronic systems, missile and aviation equipment were performed at the range at different times. Results of the experiments were the new data of nuclear weapons effect on arms, particularly the effect of neutron radiation. The mechanical effects of nuclear explosion on surface ships, fortified structures, weapons and other facilities had also been studying.

- So when was the last test?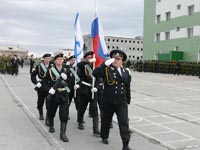 - The last full-scale test was conducted on October 24, 1990. Almost twenty years there were no nuclear tests at the range. Russia abides by the Comprehensive Test Ban Treaty, but the range is ready to proceed with experiments if they are necessary for enhancing security of the country.

The Central range is currently performing tasks on conducting non-nuclear explosive experiments, tests with range dummies and simulation facilities for keeping the existing development level of nuclear weapon, increasing its reliability and safety, validity testing of theoretic suppositions which are the basement of nuclear explosive operation, improving methods of technical protection from nuclear explosion effects.

The results achieved by non-nuclear explosive experiments contribute to keep Russian nuclear arsenal in combat condition which is essential for defense capacity of our country.

- But the range means not only equipment and square kilometers but people as well. How is their present life at Novaya Zemlya?

- The core of Central range is Belushya Guba township. All that human needs for normal life and development can be found here – from household purpose objects to recreation and sport facilities. There are long-distance satellite communications center, St. Nikolas Church etc. We have close relationship with the regional administration.

There is no point to conceal that life of the transpolar colony is painted by colors of autumn tundra. Although 200 days-in-year blizzards and half-year-long polar nights here, the Belushya Guba township is not the edge of the world but the real heart of Arctic. Sailors' quarters are the last word in home repair. There is aquarium with Red Sea fishes in the mess. Two nursery schools, both are overcrowded. As for birthrate, Novaya Zemlya outranged even China. Every year – thirty babies per thousand adults...

- It's rumored that Novaya Zemlya has become a Russia's nuclear dump, dozens or maybe hundreds tons of Northern Fleet's radioactive waste buried here.

- It's not true. There is nothing like that at the islands. Much more nuclear waste have been collected in other regions like Kola Peninsula or Far East.

- Yuri Ivanovich, the question is neither pleasant nor idle: does Russia need this "silent" range?

- I'm sure it does. The Central range of Russia will continue to be of benefit for our country and its security. While nuclear weapon still exists in the world and number of countries trying to have own nuclear arms rises, it is essential to keep high readiness of our nuclear shield, to monitor it in a systematic way, to confirm its efficiency and required level of safety. So there's no room for two opinions – the Novaya Zemlya range is strategically essential for Russia.

Source: Krasnaya Zvezda, interviewer Vitaly DENISOV. 17.09.09
Translation: RusNavy.com
| | |
| --- | --- |
| Copyright © 1998-2012 RusNavy.com. All materials contained in this Website are protected by copyright laws and may not be reproduced, republished, distributed, transmitted, displayed, broadcast or otherwise exploited in any manner without the express prior written permission from the editorial staff. The editorial staff. Site created by ProLabs. Russian version. | |