Combat Capability [42%]
,
Role and Missions
,
Structure of the Navy
,
in-service ships
,
surface ships
,
submarines
,
chronology
.
MPK-217 Eisk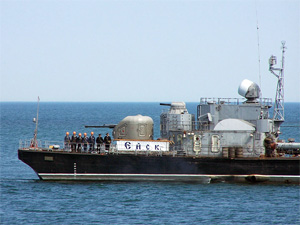 MPK-217 Eisk. Photo by A. Brichevsky (flot.sevastopol.info)
MPK-217 Eisk
is a Project 1124M Small ASW Ship (SAS).
REGISTRATION
Black Sea Fleet
CONSTRUCTION, NAME
The ship was laid down on March 16, 1987 at
Leninskaya Kuznitsa
shipyard (Kiev); launched on April 12, 1989; commissioned on February 28, 1990 under name of
MPK-217
. The ship obtained a name of
Eisk
on September 9, 1999.
MILESTONES
Since 2005 till 2008 it passed interim overhaul in Sevastopol.
The ship was initially based in Poti at 194th brigade of ships for sea area close protection. After disbandment of Poti naval base because of conflict with Georgia, the ship was transferred to Novorossiysk.
In 2009 the ship took part in patrol mission under international operation Black Sea Harmony.
PERFORMANCE
Speed: 35 knots
Operational range: 2,700 miles
Crew: 89 men
DIMENSIONS
Displacement: 930 tonnes
Extreme length: 71.07 meters
Extreme beam: 10.15 meters
Extreme draft: 3.71 meters
PROPULSION
Diesel gas turbine
M-8M
18,000 shp gas turbine
GTU-8
2 diesels
M-507A
, total power 20,000 shp
3 diesel generators (
DG-500, DG-300, DG-200
), total power 1,000 kW
ARMAMENT
76-mm gun mount
AK-176
30-mm gun mount
AK-630M
Osa-MA
SAM launcher
2 coupled 533-mm torpedo tubes
RBU-6000
antisubmarine rocket launcher
12 depth bombs or 18 mines