Combat Capability [42%]
,
Role and Missions
,
Structure of the Navy
,
in-service ships
,
surface ships
,
submarines
,
chronology
.
R-257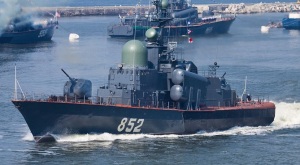 Project 12411T missile boat.
sdelanounas.ru
R-257 (hull number 833) is a Project 12411T missile boat designed for destruction of enemy warships, transport vessels, and amphibious means; air defense reinforcement of task units and single ships, coverage from attacks of enemy light forces. 
REGISTRATION
Baltic Fleet
CONSTRUCTION
The boat was laid down at
Srednenevsky Shipyard
on May 3, 1983 under serial number of 205. Put afloat on August 1, 1985. Commissioned on November 31, 1986.
PERFORMANCE
Speed: 42 knots (full), 13 knots (cruising)
Fuel range: 760 nautical miles at 43 knots, 1 400 nautical miles at 13 knots
Crew: 41 men
DIMENSIONS
Displacement: 392 tons (standard), 469 tons (full)
Length: 56.1 meters (overall), 49.5 meters (at design waterline)
Beam: 10.2 meters (overall), 8.74 meters (at design waterline)
Draft: 2.5 meters (at hull level, full load), 4.15 meters (at screw level)
POWERPLANT
2 x 16,000-shp gas-turbine engine M-15 (4,000 shp cruising gas turbine M-75; 12,000-shp boost gas turbine M-70), 2 propeller screws
ARMAMENT
1 x 1 76-mm gun mount AK-176
2 x 6 30-mm antiaircraft gun system AK-630
4 x 1 launchers of antiship missiles P-15
Termit
or
Moskit
1 x 4 SAM system
Strela-3
(combat load 16 missiles)