Combat Capability [42%]
,
Role and Missions
,
Structure of the Navy
,
in-service ships
,
surface ships
,
submarines
,
chronology
.
Varyag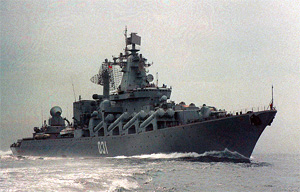 Varyag. Photo from ru.wikipedia.org
Varyag
is a Project 1164
Atlant (Slava)
Guided Missile Cruiser.
REGISTRATION
Pacific Fleet
CONSTRUCTION, NAME
The cruiser was laid down on July 31, 1979 at Nikolayev
61 Kommunara
Shipyard with the name of
Chervona Ukraina
; launched on August 28, 1983; commissioned on February 28, 1990. Since 1996 the cruiser is known as
Varyag
.
MILESTONES
Initially the cruiser joined Red Banner Black Sea Fleet and after its separation was transferred to Pacific Fleet.
In 1996 cruiser
Varyag
was taken under patronage of Tula region and the Russian Orthodox Church.
In 1997 the cruiser took part in training cruise to Korea and Japan; that was the first time in the Navy when churchman – Benjamin Bishop of the Far East and Vladivostok – was among the warship's crew.
In May 2001 Alexis II the Patriarch of Moscow and all Russia visited
Varyag
.
In 2002 cruiser
Varyag
became flagship of Pacific Fleet instead of BCGN
Admiral Lazarev
.
In 2005 the cruiser visited ports of Malaysia, Indonesia, Brunei and China along with PF task unit.
In 2011, task unit headed by Capt 1 rank Sergei Zhuga and consisting of missile cruiser
Varyag
, mid-size tanker
Irkut
, and seagoing tug
MB-61
were deployed since Sept 20 till Dec 2 and visited Maizuru (Japan), Guam Island (USA), and Vancouver (Canada), took part in 3 naval exercises including two international ones (with Japan's Maritime Self-Defense Force and US Navy), and had covered over 18,000 nautical miles.
PERFORMANCE
Speed: 32 knots
Cruising speed: 16 knots
Endurance: 30 days
Crew: 480 men
DIMENSIONS
Displacement: 11490 tonnes
Length: 186.4 meters
Beam: 20.8 meters
Height: 42.5 meters (amidship)
Draft: 8.4 meters
ARMAMENT
16
Bazalt
antiship missile launchers (ammunition load is 16
P-500
missiles), 2 torpedo tubes,
RBU-6000
antisubmarine rocket launchers, 2 130-mm gun mounts
AK-130
, 1 30-mm gun mount
AK-630
, 2
Osa-MA
SAM launchers, 8
S-300F Rif
SAM launchers,
Ka-25/Ka-27
ASW helicopter.