| | |
| --- | --- |
| | The Kronshtadt Background |
Senior lieutenant Roman Shilov, chemical officer of large ASW ship Admiral Panteleev was born in Leningrad. Even though all his relatives were beyond the military, having finished four years in school he enrolled in Kronshtadt Naval Cadet Corps.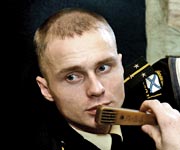 Snr Lt Roman Shilov on watch


That was the first enrolment of a new educational institution. Not every guy could join it but Roman managed to win the first victory in his life. There is no telling that his childhood spent in barracks flew plain. All things did happen: tears and burning desire to go home not only at weekends. But since he did not abandon military career after cadet corps, that time was not as black as it was painted. At last, having a good diploma and privilege of Naval Cadet Corps's graduate, in 2002 Roman found himself in Naval Engineer Institute and chose department of NBC defense. Why? He was offered to study at navigational or hydrographic departments instead... The reason is quite simple. Since 8th year in school his chemistry teacher was Irina Aleksandrovna Korchagina. She was the one to implant the love of complicated subject.

Deputy Chief of department many times told cadets about Far East and Pacific Fleet. That is why in 2007 during long flight to Vladivostok, the new-sprung naval officer had a viewable idea of what he was diving into. He knew that the latitude of Primorsky Krai capital is further south than Sochi so it is hot in summertime; that Siberian anticyclones bring genuine frost in winter. He loved in advance the warm Pacific forward spring and of course, long golden fall. And things really turned to be like that. The only thing he forgot to mention were June fogs and strongest winds making Siberian frost further more chilling. All in all, native Leningrader felt comfortable in Vladivostok since the very beginning; and now, after 2.5 years Roman finds himself as essential part of this city. Sauntering through its hilly streets he doesn't feel scant of breath any more. By the way, in such walks over Vladivostok streets his devotion to the only girl in the world was getting stronger and stronger...

However, Shilov's lieutenant period was classic – minimum time on shore, maximum time on board. So he had not too many opportunities to chat with his future wife Aleksandra... Being a cadet, Roman knew that first months would be pretty hard and he would spend nights catnapping. But as usual, the reality had exceeded expectations. Aside from endless drills and direct duties of the ship's NBC defense, young lieut had to become a freelance personnel officer. That is a serious and hard work dealing with personal files of colleagues; issuing various documents which have human lives behind.

For all that, Lt. Shilov was pleased to be posted at large ASW ship Admiral Panteleev, an element of one of the most operable divisions at Pacific Fleet. One can overcome every difficulty when came true the dream of real seaborne service related with distant cruises. Answering the question which of them was most rememberable, Roman says with no bones, "Of course, the African one, last year's anti-piracy patrol".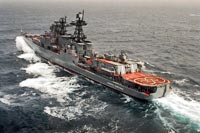 Large ASW ship Admiral Panteleev at sea


It has been written much about large ASW ship Admiral Panteleev saving foreign vessels from pirates. Scenes of capturing neo-filibusters were circulated all around the world. Each crewmember irrespectively of post and profession can say without a doubt, "I've been there too!..." But senior lieutenant Shilov as well as many other sailors, warrants and officers got much more experience. Four times leading 6-men groups he had to board foreign ships to provide them direct support while escorting convoys. Commanders seem to consider Shilov's specialty when appointing a certain vessel to him since all four ships were tankers.

Boarding teams consisted of physically vigorous, strong in spirit and self-confident sailors; all of them had passed preliminary trainings and drills. In naval institute Roman had been class sergeant for three years so along with deep professional knowledge he obtained good command skills which were improved on the ship. That is why there were no problems in cooperation with temporary [2-3 days] subordinates.

"We were armed to the teeth when boarding ships", recalls Roman. "We had assault rifles, company machinegun, grenade launcher, hand grenades, ammo box... And I had a handgun. We kept watch day and night. Crews met us very hospitably; in three cases out of four they were Filipinos. Once it was rainy and stormy weather and we were drowned like rats when boarding. In few minutes shipmaster ordered to give us dry and clean coveralls and later on they washed, dried and nearly ironed our uniform. We did not feel any discomfort. They gave us quite satisfactory places for rest and made us full with traditional European food. Many times we heard Filipinos comparing us with Americans – "Russians are better!" They loved to take pictures with us. Saying goodbye to us, they gave long thanks, presented with souvenirs and took pictures again... Our cutter was always accompanied by shimmering horns making a lump comes in the throat.

In case of pirates' attack I considered my mission not only to give them a fitting rebuff but to keep safe our grateful hosts. That is why during defense drills and training firings at a box thrown overboard I asked the ship complements to hide at underdeck [and shipmasters fully agreed with me]. Luckily, we have never had to use arms even for warning shots. Only once I saw fast boats – obviously pirates' ones – crossed the tanker course at 800 m ahead. Undoubtedly, sea robbers were aware of Russians aboard and not even tried to risk..."

Source: Krasnaya Zvezda, Author: Vitaly Ankov. 05.02.10
Translation: RusNavy.com
| | |
| --- | --- |
| Copyright © 1998-2012 RusNavy.com. All materials contained in this Website are protected by copyright laws and may not be reproduced, republished, distributed, transmitted, displayed, broadcast or otherwise exploited in any manner without the express prior written permission from the editorial staff. The editorial staff. Site created by ProLabs. Russian version. | |