Combat Capability [42%]
,
Role and Missions
,
Structure of the Navy
,
in-service ships
,
surface ships
,
submarines
,
chronology
.
Ivanovets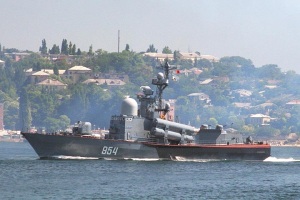 Ivanovets.
flot.sevastopol.info
Ivanovets is a Project 12411
Molnia
missile boat designed for destruction of enemy warships, transport and assult vessels, terrorist groups in the sea and in the bases; protection of ships and vessels from surface and air attacks.
REGISTRATION
Black Sea Fleet
CONSTRUCTION
Missile boat R-334 (serial number 211) was laid down at
Srednenevsky Shipyard
on April 4, 1988; put afloat on July 28, 1989 and commissioned into Black Sea Fleet on December 30, 1989. R-334 renamed into Ivanovets on October 29, 1998.
MILESTONES
Ivanovets is included 41st brigade of missile boats based in Karatinnaya bay, Sevastopol. Patronage agreement between 41st brigade and Ivanovskaya region government is accomplished in November 1998.
In their time, the following officers commanded the boat:
- Capt 3 Rank Lopatko V.A.
PERFORMANCE
Speed: 41 knots (full)
Fuel range: 400 nautical miles at 36 knots, 1 600 nautical miles at 14 knots, 2 400 nautical miles at 12 knots
Crew: 40 men
DIMENSIONS
Displacement: 436 tons (standard), 493 tons (full)
Length: 56.1 meters (overall), 49.5 meters (at design waterline)
Beam: 10.2 meters (overall), 8.74 meters (at design waterline)
Draft: 2.5 meters (at hull level, full load), 4.15 meters (at screw level)
POWERPLANT
2 x 4,000-shp diesel engines M-510, 2 x 12,000-shp gas turbines M-70; 2 propeller screws
ARMAMENT
1 x 1 76-mm gun mount AK-176
2 x 6 30-mm antiaircraft gun system AK-630
2 x 2 launchers of antiship missiles
Moskit
1 MANPADS
Igla