Combat Capability [42%]
,
Role and Missions
,
Structure of the Navy
,
in-service ships
,
surface ships
,
submarines
,
chronology
.
Neukrotimy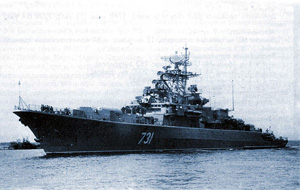 Neukrotimy. Photo from atrinaflot.narod.ru
Neukrotimy
is a Project 1135M Frigate.
REGISTRATION
Baltiysk, Baltic Fleet
CONSTRUCTION
The ship was laid down on January 22, 1976 at
Yantar
shipyard in Kaliningrad; launched on September 7, 1977; commissioned on February 17, 1978; decommissioned on June 29, 2009.
MILESTONES
In 1978 and 1985 the ship paid visits to port of Rostock (East Germany).
In 1982 it called at ports of Luanda (Angola) and Lagos (Nigeria).
In 1985 the ship visited port of Gdynia (Poland).
The frigate also called at ports of Kiel (Germany), Stettin (Poland) in 1990, Amsterdam (Netherlands) in 1991 and Rotterdam (Netherlands) in 1997.
In 1981, 1984, 1998, 1999 the ship won the Navy Commander's Prize for artillery firings.
In 1981 and 1988 the ship's group won the Navy Commander's Prize for AD firings.
In 1983 and 1998 the ship's group won the Navy Commander's Prize for ASW firings.
In 2005 during naval parade in St. Petersburg the frigate suffered hull damage while pyrocartridge explosion at the board. The ship was released from the duty of parade flagship due to heavy leakage and laid up for repairs at
Severnaya Verf
shipyard.
On December 2008 there was a fire on board caused by short circuit; assistant officer of surface ship brigade's electromechanic service died.
On 3 October 2012, the ship sank at the quay of Baltiysk Naval Base due to decay condition.
PERFORMANCE
Propulsion: 2 gas turbines, 2 fixed-pitch screws
Power: 34,000 hp (total)
Speed: 32 knots; cruising: 14 knots
Endurance: 30 days
Crew: 190 men
DIMENSIONS
Displacement: 3,400 tonnes
Length: 123 meters
Beam: 14 meters
Draft: 4.5 meters
ARMAMENT
4
URK-5 Rastrub
missile launchers
2 coupled
Osa
SAM system launchers
2 x 100-mm gun mounts
AK-100
2 x 4-container 533-mm torpedo tubes
2
RBU-6000
ASW rocket launchers
Stern heliport for 1 helicopter