Combat Capability [42%]
,
Role and Missions
,
Structure of the Navy
,
in-service ships
,
surface ships
,
submarines
,
chronology
.
Marshal Ustinov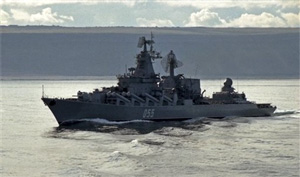 Marshal Ustinov. Photo from daylife.com
Marshal Ustinov
is a Project 1164
Atlant (Slava)
Guided Missile Cruiser.
REGISTRATION
Northern Fleet
CONSTRUCTION, NAME
The cruiser was laid down on October 5, 1978 at Nikolayev
61 Kommunara
Shipyard with the name of
Admiral Flota Lobov
; launched on February 25, 1982; commissioned on November 5, 1986 under the name
Marshal Ustinov
.
MILESTONES
In 1987-1988, 1989 performed two cruises to the Mediterranean.
In 1989 paid an official call at US naval base Norfolk.
In 1991 paid an official call at US naval base Mayport.
In 1993 visited Canadian port Halifax.
In 1994-1997 was under repair at
Severnaya Verf
Shipyard in St. Petersburg.
In 1996 took part as a flagship in naval parade in honor of 300th anniversary of the Russian Navy in St. Petersburg.
In 2001 after delegation from Minsk visited the ship and agreement between Minsk mayor and the cruiser's commander was signed, the ship was taken under patronage of Minsk, Belarusian capital city.
In 2004 the ship participated in distant cruise of North Fleet's carrier group to the Northeast Atlantic.
In summer 2008 it shifted ASW ship Severomorsk on watch near Spitsbergen Archipelago to provide safety of Russian navigation in Arctic.
PERFORMANCE
Speed: 32 knots
Endurance: 30 days
Crew: 476 men
DIMENSIONS
Standard displacement: 9,800 tonnes
Total displacement: 11,280 tonnes
Length: 186.5 meters
Beam: 20.8 meters
Height: 42.5 meters
Draft: 7.6 meters
ARMAMENT
16
Bazalt
antiship missile launchers; 2 five-container 533-mm torpedo tubes; 2
RBU-6000
antisubmarine rocket launchers; 2 coupled 130-mm gun mounts
AK-130
; 6 30-mm gun mounts
AK-630
; 2 coupled
Osa-MA
SAM launchers, 8
S-300F Rif
SAM launchers,
Ka-25/Ka-27
ASW helicopter.