The Russian Navy welcomes you aboard! Since 1998 the Central Navy Portal has been world's largest and oldest website related to the Russian Navy; the portal comprising dozens of websites is available both in Russian and English languages.

During more than three centuries of battles and naval campaigns under the standard of St. Andrew, the Russian Navy experienced periods of expansion as well as periods of decline and ill-preparedness. Nevertheless, Russia's fleet preserved its leading position in the military and political history of the country. With the exception of the Hungarian campaign of 1849, Russian seamen were in essential part of Russia's military strategy from the time of Peter the Great onwards; not infrequently Russia's land forces won wars as a consequence of its naval victories. The successful naval campaign at Gangut, Chesma, Hogland, Vyborg, Tendra, Kaliakria, Korfu, Athos, Navarino and Sinop vindicated the maintenance of a powerful fleet.

When Russia's fleet suffered defeats at sea, Russian seamen also served in the army and constituted a formidable ground force. The struggle by Russia's marina forces in the land battles at Sevastopol and Port Arthur were no less valorous than were the naval campaigns at sea.

Writing detailed accounts of their travels, Russian seamen and naval officers explored and charted the world's seas, adding over four thousand Russian place names to the world map. Long expeditions by naval squadrons and the maritime display of the nation's flag colors in a peacetime made Russia influential throughout the world; successful campaigns at sea strengthened the position of Russian diplomats abroad.

The new Red fleet assumed control of the Imperial Navy's glory, ships and seamen. Owing to their continued service, the Navy managed to preserve a surprising number of the traditions and procedures of the Imperial's fleet, and continuity in succession underlay the Soviet Navy's outgoing strength. Soviet Navy had successfully been displaying USSR's sea power all over the world since 1919.

Following decades of soviet rule, the sky-blue cross of St. Andrew once again flies over the ships of the Russian Navy, serving to link past and nowadays.

We have been working in a host for ten years tried to collect historic, publicist and research materials, both private and official sources associated with Russian Navy and naval forces from other countries. Today Central Navy Portal proposes over 250 000 webpages.


In English
RusNavy.com is the only large host available in English containing information about Russian Navy.

The host has thousands of webpages of Navy's past, present and future: news, historical and contemporary publications, education, naval fictions, Military Industrial Complex, blogs, forums, sections Who is Who in the Navy, Splendid People, It's Interesting, polls, multimedia, references etc.


In Russian
Besides it, number of Russian language groups cooperates with the portal: project Poetical Porthole, various groups of crewmates, colleagues (naval social network Na Flote (On Board)) etc. Following projects are being developed in portal framework: Young Sailors Club, For the Good (catalogue of charity organizations) and Maritime Business Folder.

First and second crews work daily at the portal. Any of over 200 000 monthly visitors is welcomed to become our soul mate; the point is to desire and be young in mind. It takes few seconds to add new information.



1. Objectives
Central Navy Portal is non-governmental and uncommercial Internet society aimed at impartial research of the past, independent demonstration of the present and analytic prognostication of the future of Russian Navy. Finding proper balance between impartiality of reporting and patriotism is our high-priority objective.

The past: matters of historical events, development history of fleets and weapons, coverage not only well-known events and biographies of notable persons but previously unknown facts and stories of undeservingly forgotten great names as well. To create illustrative scene, we publish both stories of Russian authors or about native events and persons, and similar foreign information. When due to political, religious or other reasons an ambiguous interpretation of a historical event is eventual, we just publish "untouched" facts without conclusions, analytics, contrasts or emotions.

The present: making newscasts about Russian Navy, publishing stories/memoirs/diaries of mariners about their service, combat missions, cruises; congratulations on holidays, memorial events and birthdays of famed persons of the Navy. Covering present-day Navy, we also display its connection with industry, research and educational institutions, public and other organizations.

The future: status monitoring of potential enemy navies as an essential component of informational exposure of Russian Navy's present and future. Analysis of virtual development trends of conflicts, studying doctrines, commenting evolution of navies on the basis of their structures and weaponry which are available on open access. Due to multi-variant development of the future it is necessary to place outlooks of authors with quite opposite points of view.
2. Principles
Patriotism, independence, omniscience, democracy, transparency, interest-provoking.

Patriotism: covering glorious victories of Russian sailors, the project appeals to sense of patriotism and pride of foregoers' heroism.

Independence: the project is non-departmental source giving no preferences to any state, private or social structure but closely cooperating with all of them.

Omniscience: the project provides wide range of knowledge in specific columns.

Democracy: the project is opened for everyone who is interested in naval theme; it reflects all diversity of opinions and views on any subject. On the other hand, due to its informative nature the project is not a hustings for politic-like tart debates.

Transparency: all materials of the project are taken only from public sources and do not contain any confidential information. References, citations and attributions are obligatory.

Interest-provoking: it is achieved by fullness and regular update of information, ease of use, colorific interface and apprehensibility of hosted materials.
3. Audience
The project is designed for the worldwide auditorium: from schoolchild wishing to find pictures of ancient barks to thoroughgoing investigator looking for precise information or at least references to its sources.
3.1. Language barriers
Basic language of the portal is Russian. The second one is English – the portal is highly popular among foreign visitors. All materials are published in Russian; later on, the English variant is posted on site.
3.2. Interactivity
Portal structure provides active participation of visitors in different sections: photo galleries, subject rubrics, forums, chats. Two latter sections are post-moderated, the rest of them are pre-moderated. Any individual, organization or institution may become a partner of the portal if they are associated with marine spheres of economic or governmental activities.
Current partners of the portal

Yandex (news partner)
Weekly newspaper Maritime Gazette
Defense Order Magazine
Martial Writers Association Pokrovsky and Brothers
Project Standard
Informational Portal Northern Fleet – Rely On It!
Project Poetical Porthole
Website of NPBMS Pskov
Publishing house Morkniga


Authors
A.I. Terenov, Captain of K-43 submarine
Alexander Chebotarev, Capt 2 rank; served at large antisubmarine ship Kerch, small antisubmarine ship MPK-073, Flag Rodiny newspaper; permanent reporter Krasnaya Zvezda at Caspian Flotilla
Sergei Siryi, Chairman of Military Historical Center of Russian Academy of Sciences, Head of Russian Naval History department, historiographer of St. Petersburg Maritime Assembly, Honored academician of the Russian Federation, professor
Boris Marchenko, professor of Naval Missile and Artillery Systems Department of Naval Academy named after N.G. Kuznetsov, Capt 1 rank retired, PhD of Engineering, professor, Honored scientist of the Russian Federation
Yuri Varganov, PhD of History, docent, Honored person of culture of the Russian Federation, Capt 1 rank retired
Mikhail Bogachev, Capt 2 rank retired, Nakhimov Naval School graduate of 1968, dress designer, story writer
Evgeny Alekseev, educatee of Vyborg Shipboys School, author of poems Women, Atlantis, Fireplace Shadows etc.
Igor Smirnov, Capt 1 rank retired, PhD of Science, professor, author of books Lieutenant's Cruise, Voices of the Veterans, We and the Bureaucracy
Victor Fedorov, poet, musician, repeated laureate of Soviet, Russian and international festivals and various art song contests, awardee of XII World Youth and Students Festival in Moscow. Since March 1999 he is member of St. Petersburg branch of Russian Commonwealth of Literary Men. Since 1972 he is member of St. Petersburg Meridian Art Song Club. Juryman of song contests
Mikhail Tretyak, Capt 1 rank retired, PhD of Naval Science, poet, musician
Valentin Mitrofanov, publisher, editor, PhD of Science, docent, author of book Commander. Commodore. Captain

Partners, supported initiative of canvass against transfer of Navy Main HQ to St Petersburg

Graduates Club of Tula Artillery Institute of Engineers
Artillerist.Ru
St Petersburg Submariners Club
Website of graduates of Kursk/Far Eastern/Ussuriysk Suvorov Military School
KADETKA
MELKON
Syzran Air Force Military School
Anatoly Tsyganok, member of Social Council at Russian Ministry of Defense
Alexander Viktorov's Avtonomka
Russian Weaponry
Union of Donetsk Higher Politico-Military School
NachFin.Info
Dmitry Smirnov's International Project


Central Navy Portal is a participant of IMDS-2007.


5. Charity
The portal reserves the right to conduct charitable activity. It may render assistance in hosting information or search of charitable contribution acceptors (without collection of any fees) – servicemen needed expensive medical treatment, widows or orphan children of servicemen, orphans under arms.
6. Commercial activity
The portal is not engaged in any commercial activities and do not contract with commercial organizations.
7. Navy Database
Navy Database stores data of naval officers and those are/were related to the Russian Navy. Creation and updating of this database rests on information of web-project eOcean. Visitors add their data by themselves. Central Navy Portal is not charged with responsibility for correctness of information entered and whether it had been taken from non-confidential information sources.
8. Forums
Moderated forums are posted at the portal. It is prohibited to use coarse language in forums, as well as to manifest nationalism, racism, religious strives, insult upon other visitors, publish any advertising information (there is a specific section for promotional materials of organizations involved in maritime activities), messages out of forum subject, spam, violation of Russian Federation laws. Director of the portal is Anthony Sotniychuk.

Variety of initiative people assisted in development of the portal; the lists of participants and current crew are presented in corresponding site sections.

The crew of Central Navy Portal is always glad to admit new members. Send emails on our mailbox specifying what you can and what you want and the answer will probably be positive!

Ship manning table of Central Navy Portal: Director, editor-in-chief, content managers, translators, proofreaders, reporters.



Anthony Sotniychuk, promoter and director of Central Navy Portal (since 2006)
Sergei Bogatov, acting editor-in-chief
Artyom Bogdanov, technical director
Roman Kuraksa, translator
Pavel Lavrentiev, reporter
Yury Degtyarnyi, correspondent
Alexei Bondarchuk, reporter
Alexei Priboyev, reporter of eOcean.ru
Konstantin Morozov, scanner
Ivan Chizhevsky, scanner
Sergei Kandyla, system administrator
Sergei Belyi, researcher (SailHistory.ru)



Aleksej Duhovich, chief forum moderator
German Kachuriner, forum moderator
Galina Logunova, forum moderator
Liliya Alekseeva, philologist, general advisor
Alexey Misyats, information for Law section
Nicholas Kovilyaev, project manager of Poetical Porthole (Rus)



Honorable Crew List. Those people made a great contribution to Russian Navy positioning in Internet

Oleg Koshelev - for conscientious fulfillment of Russian forum moderator's duties
Andrew Beliy - for considerable contribution to English version of the portal
Aleksej Duhovich - for considerable contribution to English version of the portal
German Kachuriner - for considerable contribution to Young Sailors Club (Rus)
Aleksandr Shaurov - for elaboration of Navy Calendar (Rus)
Igor Vimorkov - for elaboration of Navy Calendar (Rus); for long-term conscientious fulfillment of Russian forum moderator's/chief forum moderator's duties
Sergej Voronin - for implementation of Navy Calendar (Rus)


10. Information sources
The website uses only non-confidential information sources and materials. The exception may be sections edited by site visitors; the team of Central Navy Portal is obligated to delete information taken from confidential sources just when those materials are detected.
11. Copyright
Use of informational materials published at the site without reference is not allowed. In case of publication of those materials at other websites it is obligatory to add direct hyperlink without any blockage for search engines. Failing these requirements will cause resort to law-enforcement authorities of corresponding country and hosting provider of corresponding website.
12. Our awards
Central Navy Portal has an award from the International Maritime Defence Show.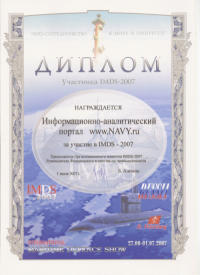 Central Navy Portal has been rated in RuNet Award 2008 Top 10 in "State and Society" nomination.

RuNet Award is a national trophy established by the Federal Agency for Print and Mass Media in 2004. It encourages merits of its winners in the area of information technologies and electronic communications.