In blog of RusNavy.com you may find most interesting and popular postings from Russian blogs of FLOT.com.
Beautiful polar night. Glowing moon, starry skies, polar lights. My wife, daughter and I are sledging downhill in front of our house at submariners' quarters. There's no one around, although it's not too late. We're running uphill and sliding down into the icy wind. Daughter is elated. The wind blows out tears from eyes and rolls them to ears. Puppyish rapture. I wipe off her snout and we run up again. The wife demurely stands aside admiring us.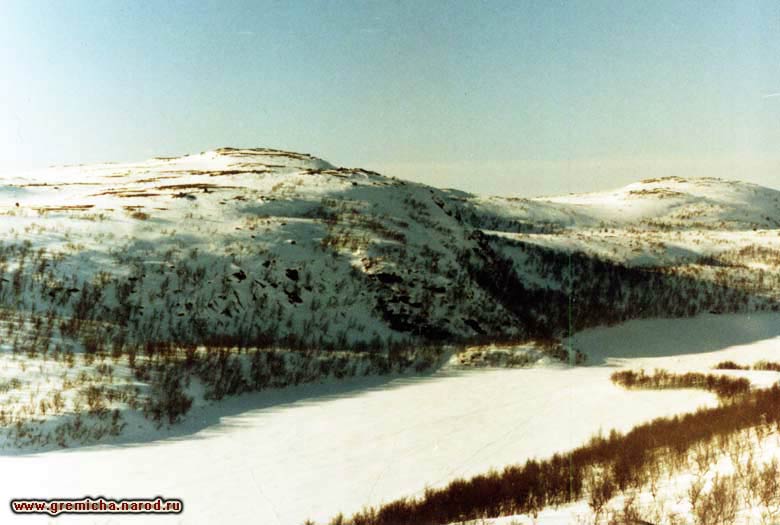 "Sir Captain 3rd rank! First duty shift – rise and shine!". Watchman breaks off my good dream. Don't want to get up. My brain is still lounges in that lovely family life. The life of fresh air, starry heavens and snowy polar silence. Wish I could lengthen this feeling and at least in dream sledge in the middle of such beauty and family idyll. But, alas, I have to keep the watch. The watch in enclosed space of submarine pressed in the gripe of depth.
I switch on the bed lamp; it's 11.20 pm. Need to have a wash and brush teeth. The cabin is dark and it's better to keep still. One berth is occupied by Vitalik – 2nd duty shift. Another berth will be taken by Kolya whom I'm going to shift. One more berth is free; that's Oleg's. He is chemical officer and all the time is busy. It's next to impossible to find him here; God only knows when this guy rests.
Sub intercom says, "First duty shift, have breakfast". I put on cream-colored shirt with shoulder boards, take PDA [handheld breathing apparatus] – submariner's shadow on board – and go to the mess-room. The submarine commander is taking tea. "Have a nice meal, sir. May I join you?" That's a formal address in naval etiquette. Commander nods in approval. Today we have slices of evaporated spirit loaf, butter, sweetened condensed milk, cookies, white coffee, caviar, choc and porridge. Not spinning out time we're mopping up.
Sub intercom orders, "First duty shift, parade". I strip off the shirt, put on coveralls and PDA. Then we go to parade.
My duty is watch engineer. Watch officer of my shift is young but controls the entire shift. I have to help him to sensitize the shift to keep watch properly. Over here, it is a pledge of crew's comfortable life. We conduct briefing, make sure everyone knows his responsibilities and read passages from Instruction on Submarine Damage Control. Then we fall out and go to battle stations to take over watch. I make for central station, take the watch engineer's seat and order via intercom, "First duty shift, take over".
I check up all my things – screw rpm, rate of sailing, list, pitch, diving depth, position of elevators, high-pressure air reserve, pressure in compartments, operating mode of nuclear power plant and turbine, condition of on-board systems etc. Then I take reports from compartments that everybody's ready for watch. When all reports are received, I report to watch officer that the watch is taken over. He in his turn reports to senior officer. Once this report procedure is finished, there's a command via sub intercom, "Watch below". That means those guys from the previous shift may leave battle stations and have rest.
Though our work is just begins. We have almost whole night ahead – from 00.00 till 04.00 am. However, there is no difference at all over here – day and night are imaginary or even "earthy". We have a self-made service calendar on the instrument panel. Watchman moves small sub to next date. Here comes a new day.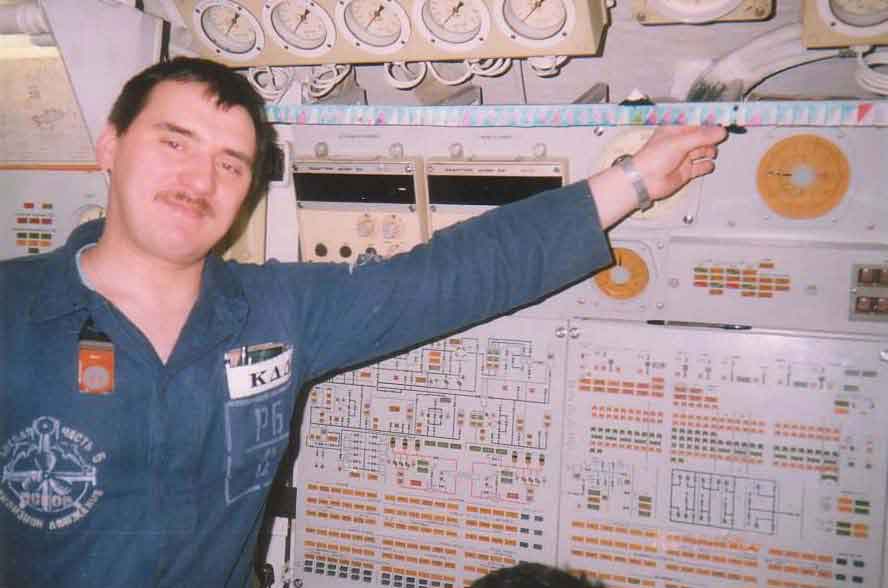 As seen at the calendar, we passed the hump-day, i.e. left behind the middle date of patrol. As it were, we're rolling downhill and will return soon – on 75th day of patrol. Dreams of long-awaited return always titillate. How are our families up there? We'll think of that later, and here in the sub patrol outcome depends on every single man on board.
Soundman reports, "Horizon is clear". The sea is silent. I go to chartroom. We're prowling distant zones of Norwegian Sea, patrolling huge space of North Atlantic. We have 80 meters of water above and 2,053 meters below.
I receive reports from compartments. All sections are checked, systems and mechanisms operate normally. No failures.
Soundman reports, "Bionoise on bearing…". He transmits sound to central station. Sea quietness is disharmonized by whale groan. It must be narwhal. It bellows long, loud and shrilly. No one answers. Narwhal's desperate loneliness fascinates and even makes the body creep. What brought this giant here? That's the nature's mystery.
The idyll is broken by report from 6th section, "Hydraulic dispersion at diving plane control".
25-30 short buzzers of on-board alarm. I announce via intercom, "Emergency in section six. Hydraulic dispersion at diving plane control. Pressurize the section. Hold section 5 aft bulkhead". Emergency at the sub is the most fearsome event. It frightens with its unpredictability. The main thing is to isolate a fault in the early stages and prevent serious accident with severe consequences. You don't care of yourself in such moments as there's no way to run from the sub. One should do everything dispassionately and properly. You do it right, you survive.
All crewmen and officers rush in central station and rapidly take their posts. I give my place to BCh-5 commander [electrical and mechanical department] and take my regular seat – control panel of main propulsion plant. Specialists from 3rd division of BCh-5 go to 6th section. They're authorized to enter the emergency compartment and in 25 minutes the failure is eliminated. However, we couldn't control aft diving plane during these 25 minutes. Luckily, it was perfectly trimmed but, nevertheless, it made us turn pale. All is well that ends well.
All clear again. I return to central station to go on keeping watch.
Time moves on faster now.
It's time to wake 2nd shift. Before watch, they have breakfast, parade and briefing. Everything's usual.
We leave battle stations at 04.05 am, change dress in quarters and head for mess-room to take tea.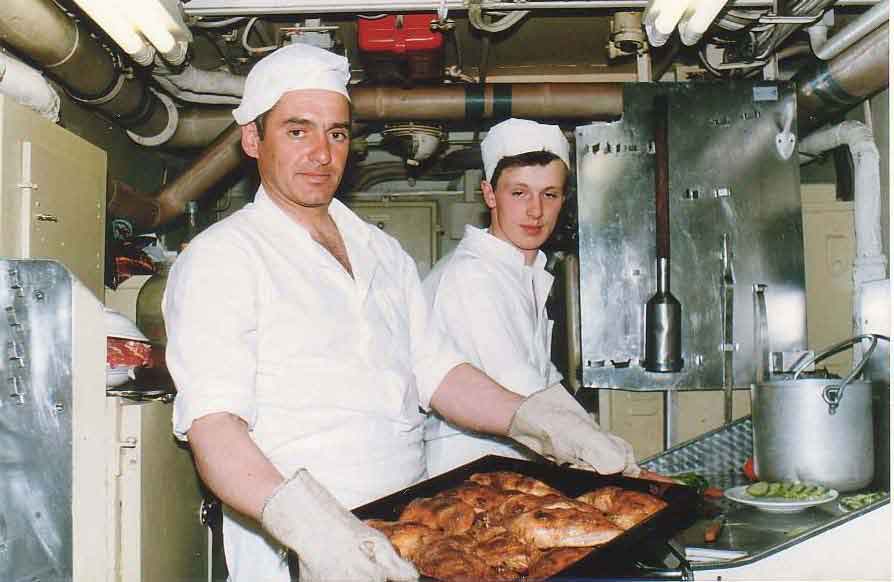 Tables are served with evaporated spirit loaf, butter, sweetened condensed milk, cookies and tea. After that we bunk at 04.30 am. Lassitude helps to drift off at once.
At 06.50 am – alert for emersion to periscope depth. I jump up and rush to control panel of main propulsion plant. Signalers are lingering for some reason. There's a rolling sea up there. The sub is swinging. Almost 45 degrees list to each board. Sometimes we hear strong sea slaps on the conning tower. We'd better dive. There's no rocking down there, in the abyss. But we're waiting. Steam-generating and steam-turbine plants operate normally, without a hitch.
At last we dive. We've hovered for almost 3 hours at periscope depth. Now it looks like rocking even here at 80 meters. Much less, in fact, but one can feel it.
10.00 am – training alert for emergency control test. We inspect all mechanisms and systems in 4th, 5th and 6th sections we're in charge for. Checking, creeping, palpating, listening, smelling. We do all that to predict a breakdown when possible.
11.00 am – the alert is over. We start brief cleanup.
11.30 am – first duty shift goes to have lunch. First course is borsch, seconds is mashed potatoes with big cutlet, glass of wine, beet-root salad, tomato juice, bread, dried fish etc.
Then everything is like a clock-work. Watch mounting parade, briefing, entry on watch and watch itself since 12.00 pm till 04.00 pm.
Day watch is little different from night one. Just more scurry. Rotationally, all duty shifts have their lunch; accurate sequence of reports given by watchmen. Everything is normal, but the main thing is attention and control over the situation both within the sub and outside.
Soundman reports, "Bearing…, target No. 1, identified as alien submarine, Los Angeles class".
Yippee! That's what we are here for.
Commander flies in, "Sub combat crew, readiness one!"
Central station wakes up. A sort of concerted fuzzbuzz. All take their places and commander gives out concise commands, "Specify, calculate, maneuver to keep contact". Weapon employment is also considered.
We've pursued "adversary" for long time and that's a culmination at last. In undersea warfare it is critical to detect first. You detect, use weapons and so you win. But no one gave us command to destroy. Therefore, we just have to trail patrol area of "adversary". Why "adversary"? That's an old cold war term we use since Soviet era.
We're sneaking behind him. We move a bit faster so slowly approach the target. Yankees must be sleeping, although it's daytime up there. They don't see us, no moves. Russia lives not best times at all – collapse of late 90-ies, you know. They think they're absolute sovereigns of North Atlantic and dead sure there's no whit of Russian subs. They are afraid of us as we're unpredictable.
Soundman grasps target No. 1. It must be very attractive to watch two giant submarines in trail made in different parts of one planet to kill each other. We approach the target nearer and yet nearer. What a pity, the watch comes to an end and Yankees are careless of stirring.
Then commander becomes tired of such monotony. "Switch on mine detector", he orders. We "knock" on the US sub by acoustic impulse. Detector displays fins outline of "adversary". He wakes up in a couple of minutes, speeds up and starts course and depth maneuvering with shooting off target simulators.
Soundman: "Target No. 2, target No. 3, target No. 4". Parameters of each target are being computed. It would be fair to say that "adversary" in contrast to us prepares for war seriously not stinting simulators. What can we do? Damned 90-ies... We save money but do our work though.
In this constant flow of targets Yankees sail off and disappear in the abyss. Soundman soon reports, "Targets lost".
Everything returns back in our sub. And we follow tracks of alien submarine. We know where she scrammed.
I take reports from sections. All are checked, systems and mechanisms work normally. No defects. Watch is over.
At 04.10 pm first duty shift leave battle stations.
04.30 – "Start special training". I come at control post of main propulsion plant. According to schedule, at hardware enclosure we have training with watch officers, watch engineers and personnel of 1st division. Hardware enclosure is a room where steam-generating plant is placed. In the presence of chemical officer I open hardware enclosure. Then we measure radiation background. All okay. We can start training.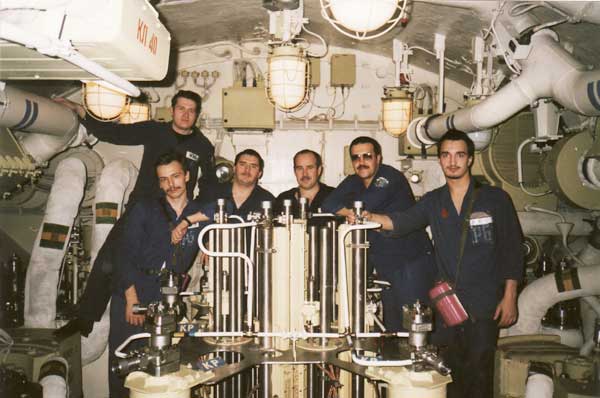 The room is full of systems and mechanisms; here one can see top part of nuclear reactor, compensating shield drives, safety rods, top parts of cleanup and shutdown cooling modules, heat-insulated steampipes and so on. All this hardware is mine as nobody in the sub knows it better than me. Just because I've been serving here for a long time; took part in the sub building process and attended all trials along with trial crew. I conduct the drill and answer questions.
06.00 pm – brief cleanup is started. I feel a bit tired and drowsy. But I have to send people to their cleanup sites. I sit at operating panel and control main propulsion plant.
07.00 pm – cleanup is over and that's a time for little rest before supper. I come to quarters, take a book and read. The book carries away and I barely notice the call: "First duty shift, have supper". Supper: first course is fish soup, seconds is pasta with stewed meat, cabbage salad, plum juice, bread.
09.00 pm – summing-up. Unit commanders come together at central station to report summaries about subordinate personnel and systems for the day expired.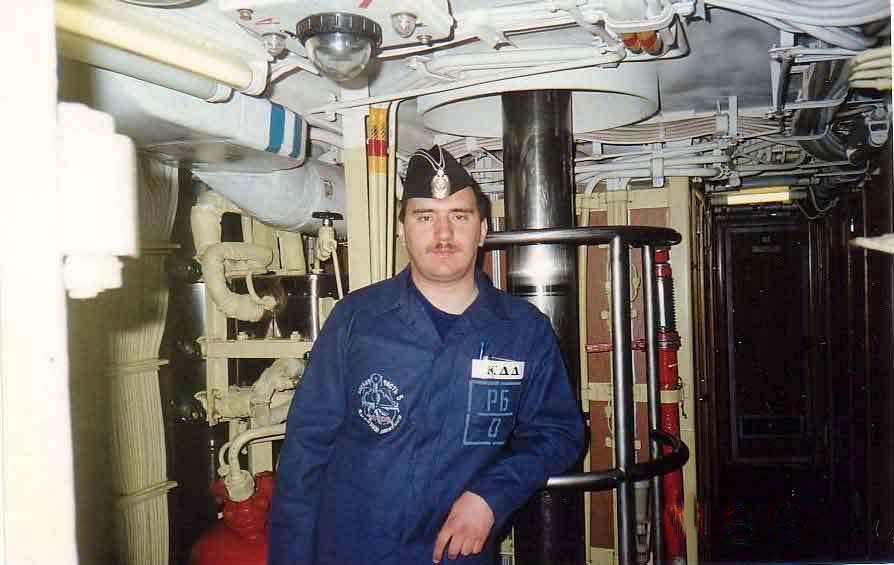 When the briefing is over I rush to my berth as I have only two hours to sleep before the next watch.
No one knows what will happen in the next day. My quiet sleep will be secured by 3rd duty shift.
Seventy five days of the patrol are passed in this way or a bit differently. This service is anything but soft job for the first comer. There's no enormous physical exertion but prevails brainwork based on the huge outfit of knowledge.
This job is for real men.
Author: D.A. Onufriev; source:
www.baplpskov.ru