Combat Capability [42%]
,
Role and Missions
,
Structure of the Navy
,
in-service ships
,
surface ships
,
submarines
,
chronology
.
Piracy is beneficial for all, both the military and trade unions - expert Mikhail Voitenko
02.04.10
Text:
Segodnya.ua
, Alexander Sibirtsev
Photo from personal files
Marine expert Mikhail Voitenko explains why Ariana has not become a pirate mother ship and how the military use the Somalis for experiments.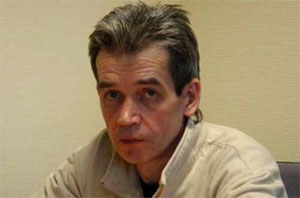 Mikhail Voitenko
Editor and negotiator
Name: Mikhail Voitenko
Born: in 1958 in Komsomolsk-on-Amur
Post: editor-in-chief of Maritime Bulletin website

Mikhail Voitenko made the most of career in Vladivostok. Being a young boy he went "at seas" and climbed all stairs of maritime career ladder from sailor to chief mate. Speaks English. Having finished maritime career, he set about journalism. Presently, Voitenko holds a post of chief editor of the largest maritime web-portal Maritime Bulletin Sovfrakht. Divorced, has two daughters. Hobbies: reading historical books, maritime theme, and journalism. As an expert, Voitenko was asked by MV Faina's shipowner to act like negotiator in talks with pirates. — Early March pirates attacked bulker Melina I; some of crewmen are Ukrainians. That happened 200 miles westward of Lakshadweep Islands in the Indian Ocean. Why pirates fell to expand radius of their raids and capture ships even near Madagascar and India's coast?

— That's natural. However, nobody expected pirates to happen so adventurous. Formerly, main zone of their actions was the Gulf of Aden. But numerous warships deployed there have brought pirates "a bunch of problems". Duration of pirate assault amounts to tens of minutes. If they fail to board a ship in this period, choppers or even a warship would come and pirates would be in real trouble. They'd be simply shot down. The military make no bones about pirates. Obviously, we don't know many things but sailors say pirates are shot in sight. Nobody pick them up from sunken boats. All that forced them to expand zone of activity. In Indian Ocean pirates can assault ships for hours with no one to disturb since the military are far enough.

— How pirates manage to cover thousands of miles off Somalia?

— They sail off Somali coast by motorboats, six-eight men in each. Everyone's armed with assault rifle. Having left territorial waters, they board on mother ships and head for Indian Ocean.

— Why the military let the armed Somalis pass then?

— First, they can't trace each boat. Second, in Somalia everyone is armed so weapon on board not necessarily means there are pirates. To charge of hijacking intentions, one has to find special accessories on board – hooks, rope-ladders and so on. But all these things are hidden in mother ships far at sea. Therefore, the military are restricted by the very moment of attack. Juridically, only the person can be charged of piracy who is taken in the act of capture. It's useless to apprehend all Somalis sailing somewhere on their boats. Any court will let them free due to absence of evidence. There were some precedents; that's why when the military arrest such motorboats, Somalis claim at once – on what ground? We are peaceful fishermen and you apprehend us illegally. Example, the military recently arrested dozens of armed Somalis. However, it will be extremely difficult to prove they're pirates. Most likely, they'll be free.

— As is known, pirates tried to use bulker Ariana with Ukrainian crew aboard as a mother ship, but failed. What kind of ships do they use for that purpose and why?

—

Ariana

is too large for mother ship. Normally, light fishing dhows from India, Pakistan, Kenya or Arabian countries are used for that purpose. Those are basically small-tonnage motor or power-sail ships which history throws back to Middle Ages. Sometimes at gunpoint pirates force the crews to cooperate or make a bargain with owners of those dhows. Evidently, crews of fishing boats help pirates not gratuitously; they get a portion of ransom.

— What ships are preferred by pirates to be hijacked?

— They don't care; the only criterion is a vessel's appearance implying a probability of pretty good ransom. All ships of all countries are equally under the threat. Pirates have captured Ukrainian ships as well as British and French ones.

— Who takes advantage of piracy?

— More or less, piracy is beneficial for all, except sailors held hostage, shipowners and freight forwarders. The latter do suffer from hijacking even if cargoes and vessels are insured. The problem is that not all agencies insure against piracy. If a captured ship is not insured, both shipowners and freight owners have to pay ransom at their own expense. Piracy has long before transformed into huge business, becoming a food tray for everyone. It is profitable to the Somalis themselves and all kinds of maritime organizations like sailors' guilds. They lobby establishment of international anti-piracy fund and intend to control the money. But actually those guilds are not to stir a finger to help captured sailors somehow. Piracy is profitable to the military which turned counter-piracy into a sort of test range. Example, there's some evidence that the military run in various types of non-lethal weapons beginning from special grenades driving mad to secret low-frequency transmitters disabling an opponent without physical harm. Enormous money is appropriated to such projects.

— Ukrainian government debated about dispatching frigate Hetman Sagaidachny to the Gulf of Aden to secure Ukrainian sailors. In your opinion, what are the most effective antipiracy methods? Is it possible to exterminate piracy by escalating military presence in the Gulf of Aden and blocking pirate dens like Hobio?

— Warships do try to block such bases. Time will show the outcomes of such actions. To control entire zone of pirate operations, none fleet of any country is not enough. Convoys of merchant vessels sailing through the Gulf have not proved themselves. In my opinion, the most effective remedy is marine teams boarding vessels in hazardous zones.