Combat Capability [42%]
,
Role and Missions
,
Structure of the Navy
,
in-service ships
,
surface ships
,
submarines
,
chronology
.
Does Russia's eastern outpost run the east?
Moscow decided to station French Mistrals at the Far East.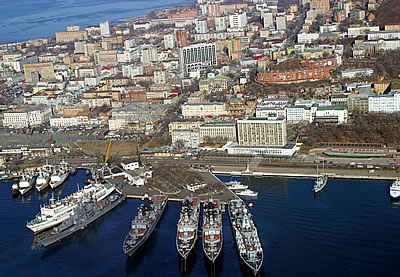 The photo above shows picturesque view of Korabelnaya Quay in Vladivostok. Pacific Fleet ships moored to its piers. So what can we see there? Let us start from left to right. Three Project 862 hydrographic vessels occupy the leftmost positions. They were built in Gdansk (Poland) in 1977-1982. Most ships of this type have been written off. Vessels moored at the wall are to face the same fate. Thirty years is venerable age!
They have become outworn and obsolete. Next white beautiful hull is Project 320 hospital ship Irtysh, also built in Poland and joined Pacific Fleet in 1990. So, this vessel is relatively young and ought to be good for service. Then go warships perfectly seen on the photo. Hull number 778 is Project 956 destroyer
Burniy
commissioned in 1988. Hull numbers of next tree ships are not in sight, although they are easily identified as Project 1155 large landing ships built in 1985-1991. Totally, they are four in Pacific Fleets –
Marshal Shaposhnikov
,
Admiral Tributs
,
Admiral Vinogradov
, and
Admiral Panteleyev
. They rotate on mission in the Gulf of Aden protecting commercial ships from Somali pirates. Thus, we can see only three of them. On the right flank stays the Pacific Fleet's flagship – Project 1164 Guard missile cruiser
Varyag
joined the fleet in 1989. Fleet command's service boats occupy next positions. They are located hundred steps away from Pacific Fleet HQ building. Museum ship
Varyag
closes the group.
Almost all large-size surface ships of Pacific Fleet are shown on the picture. Why "almost"? According to online resource
russian-ships.info
, early in 2011 Russian Pacific Fleet had 45 surface warships including only 9 large ones. This is negligibly small amount not only for actions in vast Pacific theater but for protection of Russia's interests in adjacent seas stretching from Arctic latitudes to restless Korea.
However, even those 9 large-size surface ships is only provisional figure. Aside from
Burniy
, Pacific Fleet has other three Project 956 destroyers in inventory, but all of them should be kissed off. During International Maritime Defense Show held in 2009 in St. Petersburg, Russian Navy Commander-in-Chief Vladimir Vysotsky stated that the Navy had no intentions to upgrade Project 956 destroyers, since it looked more reasonable to spend money on construction of up-to-date ships instead. It is fair to say, destroyers of that project really have problems related to high-pressure boiler/turbine powerplants. They are fastidious and need thorough care and good diesel fuel, not mixed with seawater and dirty rags. In Soviet times those powerplants were enforced upon Project 956 "from above" in order to workload capacities of Kirovsky plant, but the Navy could not cope with them. Frequent failures of powerplants make those excellent destroyers spend much time under repair. Nonetheless, Chinese Navy also operating 4 similar ships does not face such problems for some reason. But Russian Navy decided to save on those destroyers and gradually dismantle them. However, no new ships were commissioned instead.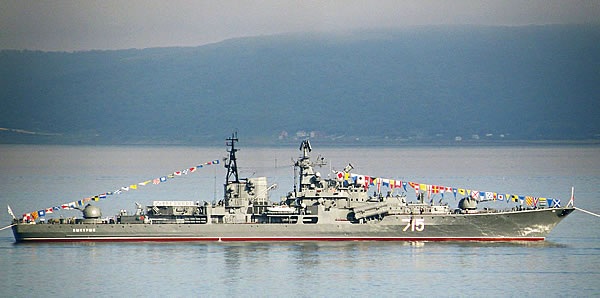 Destroyer
Bystry
at Navy Day Parade in Amur Bay, 2009
All those savings resulted in tragedy happened to destroyer
Bystry
on Sept 24, 2010. The ship was preparing for cruise from Vladivostok to Kamchatka. Outworn fuel pipeline torn in machinery compartment, and a fire burst out as a result of short circuit in old wiring. Boiler operator 19-year old sailor Aldar Tsydenzhapov rushed to cut off fuel pipe and managed to do that. He even could escape the machinery room. But ten seconds in the focus of firestorm resulted in heavy irrecoverable skin burns. On Sept 28 the seaman died in Pacific Fleet Hospital. He was posthumously titled the Hero of Russia. If only Aldar failed to cut off fuel feeding, the ship would explode and sink along with 300 crewmembers. And nobody of the fleet's big bosses would escape punishment then.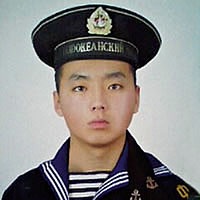 Seaman Aldar Tsydenzhapov died saving his ship. He was only 19
That is just why Project 956 destroyers cannot be regarded as full-fledged combat assets. Sure, they can take part in Russian Navy Day parade but are unlikely capable to perform long-range cruises. Thus, Pacific Fleet virtually operates only five large-size surface ships. And take note, Project 1155 large ASW ships are by no means young vessels either.
We recalled those facts because of coming import of two French
Mistral
class landing ships. They are to be allegedly stationed in the Far East to become a valid argument in territorial disputes with Japan around South Kuril Islands. To escort each of them, Pacific Fleet would need at least 3-4 large surface ships. So, you may count. In 2013-2016 when it is planned to commission
Mistrals
, age of Project 1155 large ASW ships will exceed 30 and they will have to be written off.
In the context of growing nervousness in Russian-Japanese relations, I recall an episode happened to me at the turn of 70's. There was a banquette in a socialist country's embassy. Guests from all across the world mingled at drink reception. So, I turned out to be next to Japanese journalist and a Soviet three-star general. Having emptied a shot and funnily distorting Russian words, the Japanese asked Soviet general: "Sir, how long does it take Soviet army to wipe out Japan?" The brass hat instantly answered: "Somewhat fifteen or twenty minutes". I've no idea if the answer was right, but my Japanese colleague paled and dropped a plate.
It is unlikely that any of current Russian military leaders would take the liberty to make such adventurous forecast. Russian Armed Forces based in the Far East – as well as in other regions – are degraded. Japanese Maritime Self-Defense Force (JMSDF) surpasses by far Russia's Pacific Fleet (without strategic subs in mind) and is the world's second navy after the US one regarding large surface ships. Normally, Japanese warships have lifetime of 20 years, and crews are well-qualified. Speaking of potential armed conflict around South Kurils, only three or four Hayabusa class missile boats would be enough to scupper both
Mistrals
.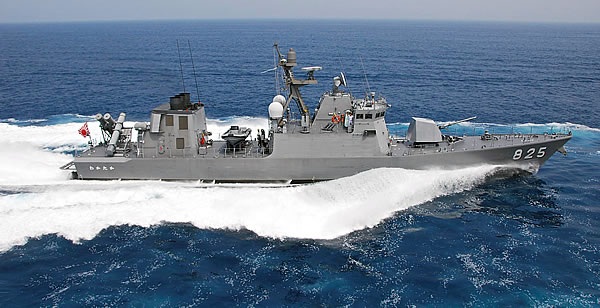 For Japanese
Hayabusa-type
missile boats,
Mistals
are "easy meat"
Moscow decided to station French
Mistrals
in the Far East
Sure, nuclear weapon is still the strongest deterrent. Otherwise Japan would probably use force to resolve the "northern territories" problem. But the world is changing. The hi-tech State of the Rising Sun is not Iran. Japan is the only country operating plutonium-powered nuclear plants. It can create nuclear warheads within a year, and had mastered missile technology long ago which just can be sidetracked when needed. Japan is the leading partner of the US in missile defense development. Recall that Far East Federal District occupies 36% of Russia's territory and only 6.5 mln people reside there. It is half as much as Tokyo's population.
We may thank ourselves for current emotional outburst over South Kurils. Beginning from Gorbachev's epoch, our country has abandoned the assertive posture that there were no territorial disputes between Moscow and Tokyo because South Kurils belong to the USSR in accordance with post-war international treaties. And then we began to give vague hopes to Japan hinting that the old postulate can be revised. Political flirt has lasted almost two decades. And when common sense won the field in Kremlin, Tokyo naturally got indignant. Obviously, several coast-based battalions armed with antiship missiles Bastion and air defense systems would be good enough for South Kurils. Squadrons of MiG-35 fighters could be also in place there; those airplanes are quite effective both against sea and air targets, and islands could play role of unsinkable flattops. However, patient diplomacy settles bilateral problems better than
Mistrals
. Especially as both countries are under threat of Chinese expansion, including the military one. Logically, now Japan should strive for friendly relations instead of confrontation. Our countries cannot survive without each other.
Speaking of
Mistrals
, one cannot fail to agree with chief editor of
Moscow Defense Brief
Mikhail Barabanov. As for him, it was decided to station
Mistrals
in the Far East by secret agreement with France in order to reduce objections of NATO allies. "For sure,
Mistrals
have nothing common with the South Kurils problem", he says. "Purpose of such ships is distant expeditionary presence and landing of troops on unequipped coast in conditions of air and sea domination of friendly forces. So, the role of
Mistral
class ships go against any real scenarios of Kuril conflict", concluded the editor.
Lack of appropriately equipped basing sites and repair capacities (state arms program does not provide funds for that) will lead only to fast decommission of the "superships" and further writing off. As was said above, any participation of those ships in armed conflicts will end up grievously – it is going to be a second Tsushima.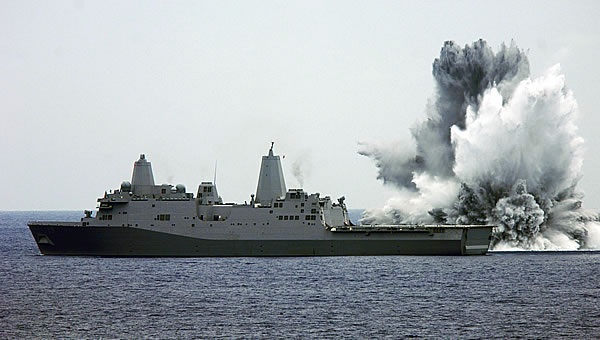 Test for explosion resistance of newest American
San Antonio
class assault landing ship USS
Mesa Verde
.
Mistrals
won't stand such strike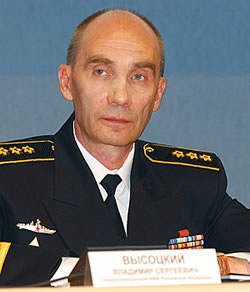 Admiral Vladimir Vysotsky
Maybe old, but French
According to
Central Navy Portal
, while visiting
Severnaya Verf
shipyard on Feb 4, 2011 Russian Navy Commander-in-Chief Admiral Vladimir Vysotsky stated that new frigates could be armed with foreign gun systems.
The point is to replace 130-mm gun mount A-192M currently regarded as basic artillery armament for Project 22350 ships with foreign gun systems. The Navy commander offered French 100-mm
Creusot-Loire Compact
and Italian 127-mm OTO-
Melara
127/64LW as a substitution.
Trial model of newest Russian 130-mm shipborne light gun mount A-192M
Armat
developed by Arsenal Design Bureau and made by JSC Arsenal Plant is being presently tested. All trial works go on schedule earlier agreed with defense ministry and are to be finished in 2012. The gun yields to none world analogs; moreover, some performance features are even much higher.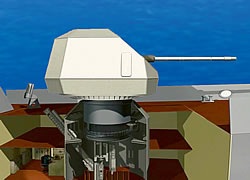 Russian advanced 130-mm shipborne light gun mount A-192M
Armat
According to online
Central Navy Portal
, replacement of Russian-made guns with foreign analogs would entail at least two far-reaching consequences. First, Russian Navy would depend on foreign contractor regarding spare parts supplies and – which is more weighty – ammunitions. Each shot of such guns would literally cost as gold. This means reduction of fire drills intensity with all ensuing consequences, steep increase of risk to be out of ammo in case of crisis situation. Second, half-baked decision could again result in imaginary cost and time savings in short-term prospect and evident waste of both in long-term outlook.
Speaking of mentioned foreign gun mounts, 127-mm OTO-
Melara
127/64 is quite good system. Commissioned in 1968, it underwent several upgrades, although by no means outclasses the Russian A-192M. Despite kind relations between Italian and Russian leaders, this artillery system would be unlikely delivered to Russian Navy. All NATO warships including the US ones are armed with OTO-
Melara
guns (except for French ships). This puts certain commitments on the producer, and Rome would hardly spoil relations with numerous long-standing partners because of Moscow. Besides, these guns contain American-designed elements, and the US would unlikely give the green light for the sale.
Thus, only French
Creusot-Loire Compact
remains. This quite "ancient" system was put into service in 1953 and modernized in 1968. It yields not only to perspective Russian 130-mm A-192M (capable to fire common shells and guided missiles in contrast to foreign analogs) but already in-service 100-mm gun mount A-190
Universal
. So, it is absolutely unclear why we should buy it. By the way, Chinese designers refused to arm new Type 054A frigates with this system illegally produced in China, and settled upon Russian 76-mm AK-176M (also made in China without license). It should be also taken into account that arming of Project 22350 frigates with
Creusot-Loire Compact
systems would cause the project redesign entailing waste of time and funds. But the partiality for French products seems to be ineradicable.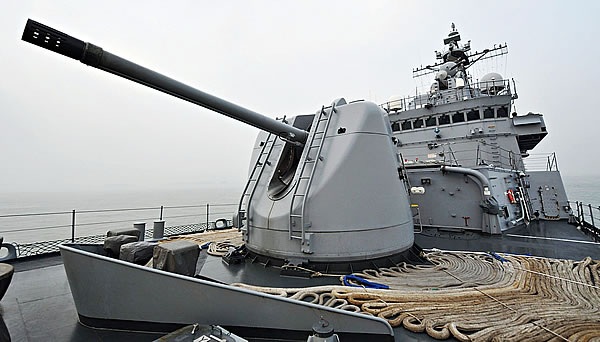 Italian 127-mm gun mount OTO-
Melara
127/64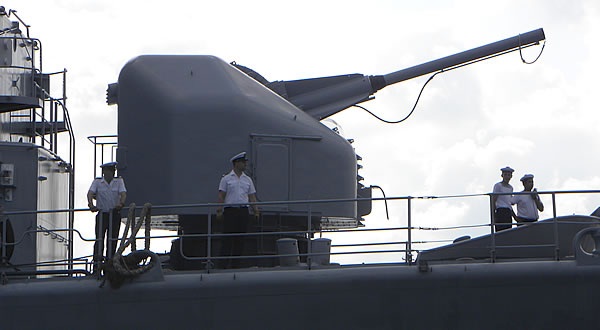 French 100-mm gun mount
Creusot-Loire Compact