Combat Capability [42%]
,
Role and Missions
,
Structure of the Navy
,
in-service ships
,
surface ships
,
submarines
,
chronology
.
Navy Found Alternative to Arsenal Plant
Being displeased with execution of the contract for ship-based 100-mm gun mounts A-190 Universal by JSC Arsenal Machinery Plant (St. Petersburg), Russian Navy has found another executor – Burevestnik Central Research Institute (Nizhniy Novgorod).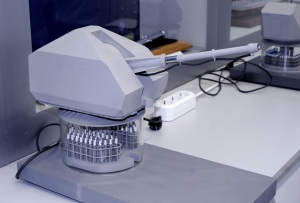 Model of A-190 gun mount
Complaints of the Navy's officials were about both quality of gun mounts and protractions of deliveries. Things went so bad that the Navy Commander-in-Chief Admiral Vysotsky visiting
Severnaya Verf
shipyard told to shipbuilders and designers that the Navy would have to buy guns in the West if nothing improved.
We remind that the project of A-190 gun mount was designed by the
Burevestnik
research institute on the basis of well-mastered and batch-produced gun mount AK-176M (both for Soviet/Russian Navy and for export). Documentation for batch production was handed over to the Arsenal plant in St. Petersburg. Early in 2000's the plant produced first gun mounts for Project 11356 frigates built by
Baltiysky Zavod
shipyard for India. According to unofficial information, the guns were unfinished and are still used in Indian Navy with some restrictions.
Despite the immature design, the gun had quite powerful potential. Thanks to its light weight (more than two times lighter than its predecessor – AK-100 gun mount) and advanced ballistic features, it could be mounted on smaller ships and even boats. The gun was included into armament of Russian Navy's newest ships – Project 20380 corvette
Stereguschiy
and Project 21630 small-size gunnery ship
Astrakhan
. By the way, the latter one became the first ship in Russian Navy armed with that gun mount.
Technical problems inevitably arisen after introduction of the new weapon system in service provoked long-lasting workout and still have not been resolved. In addition to the hardware problems, the monopolist Arsenal plant failed to meet a schedule and deliver gun mounts in time. That directly affected delivery dates of the ships. For instance, second Project 21630 small-size gunnery ship
Volgodonsk
built by JSC
Almaz Shipbuilding Firm
(St. Petersburg) started test firings of major caliber gun just a while ago, almost half a year behind schedule. Another fact must be mentioned here. Launched in spring without gun mount, the ship took part in the International Maritime Defense Show. For that purpose, the gun mount being tested at Rzhevka Range was hastily mounted on the ship, but right after the show it was dismantled and sent back to Rzhevka. The gun was finally mounted on
Volgodonsk
for trials only in September.
Seeing that JSC
Arsenal Machinery Plant
failed to complete contracts in time (including export ones for gun mounts AK-176M) and – according to Admiral Vysotsky – "groundlessly drove up prices", the Navy had to seek for a different gun supplier and chose
Burevestnik
Central Research Institute (Nizhniy Novgorod). It is the leading developer of cannon artillery for Russian Army and Navy. Except for developing of new artillery systems, the institute has own production facilities and is capable to manufacture weapons in lots. It was the
Burevestnik
institute who had developed the Universal gun system late in 80's, and that was another reason for selection. It was proposed to find alternative supplier of A-190 guns far back in 2010, but only in this year defense ministry formed the order for a batch of 10-mm gun mounts for new Russian frigates and corvettes. JSC
Motovilikha Works
was engaged as the
Burevestnik
's contractor in order to produce tipping parts for the guns. Being located in Perm, this company is the oldest and the most experienced manufacturer of field and self-propelled artillery and MLRS systems claiming to be the Russia's number one artillery producer.
The contract cost is noteworthy as well. According to the president of JSC
United Shipbuilding Corporation
Roman Trotsenko, the price would be 30% less than the Arsenal plant demanded.
As may be supposed, gun systems built by the
Burevestnik
institute jointly with the Motovilikha plant would be mounted on Project 11356 frigates (first 3-ship batch is being constructed by
Yantar Shipyard
, plans to build other 3 frigates have been already voiced), and a series of Project 20380/20385 corvettes built by
Severnaya Verf
shipyard in St. Petersburg and
Amur Shipyard
at the Far East.
Basic characteristics of A-190 Universal 100-mm ship-based gun mount
Firing rate – about 80 rounds per minute
Lateral firing range – 21,000 meters
Altitude capability – 15,000 meters
Elevation angle – from minus 15 to plus 85 degrees
Horizontal pointing angle – from minus to plus 170 degrees
Shell weight – 15.6 kg
Ammunition load – 80 shells
Gun mount weight – about 15 tons
The system uses fixed munitions with high-explosive impact-fuzed shells and anti-aircraft radar-fuzed projectiles. In prospect, use of guided missiles is possible as well.
Key advantages of A-190 gun mount:
fully automated combat operating mode with use of main and reserve control methods in severe jamming environment
minimal dead zones when firing at different targets
reaction time when repelling air attacks – 2-5 seconds, rapid shift of fire between targets
A-190 guns have been already mounted on Russian warships of several projects (20380, 20385, 21630, 21631, 11356 – stealth shielded variant A-190-01) and Indian Navy's ships (Project 11356/17 frigates – export variant A-190E).