Combat Capability [42%]
,
Role and Missions
,
Structure of the Navy
,
in-service ships
,
surface ships
,
submarines
,
chronology
.
US and Iranian Navies: A Love Story
During protracted Iran-Iraq War (1980-1988), both sides were trying to cripple the opponent's economy and thereby degrade him. A so-called "Tanker War" actively continued in the Persian Gulf since 1984. Both Iran and Iraq used to attack oil tankers of third countries from the air and the sea. Those actions were aimed at breaking of oil shipments and, by that, delivering a blow to the enemy's economy. As a result of that warfare, international shipping in the Persian Gulf was put at serious risk. Such tactics led to internationalization of the conflict.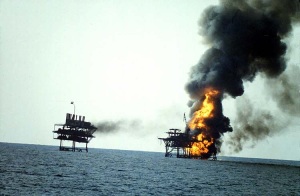 Iranian oil platform aflame after strike by US warships on April 18, 1988. The platform was used by Iranian boats as a base for attacks on tanker convoys
The Tanker War reached the largest scale in the period since April 1984 till December 1987 ã. Nearly every three days there were reports about new scuppered tankers. Officially, 451 attacks were held including 283 on Iraqi Navy and Air Force, and rest 168 – upon Iranian ones. Most frequent targets were oil tankers. Out of 340 damaged vessels, only 3% were classified as irrecoverable losses. In 1984, three tankers were wrecked, in 1986 – two, and in 1987 – six. Personnel losses were considerable though; roughly, over 300 crewmembers of attacked vessels died. Belligerents used various assets in the Tanker War, i.e. surface ships, aviation, coast-based missile and artillery systems. In some particular periods, sea mines were laid at key sea lanes as well. 
In 1986, facing continuous strikes upon tankers and associated appreciable damage (including ecological one), Kuwait applied to the USSR and the US with request to protect Kuwaiti tankers from attacks. At first, America threw cold water on that request, although changed its stance when the Soviet Union put several tankers at Kuwait's disposal. US Navy deployed additional assets to the Persian Gulf which started to escort Kuwaiti tankers since July 24, 1987 protecting them from Iranian attacks, since Kuwait furnished a wide financial assistance to Iraq. That date was the starting point for Operation
Earnest Will
, the largest maritime convoy operation since the World War II.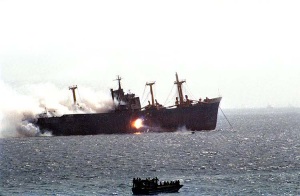 Iranian boat attacks cargo ship in the Persian Gulf
A number of incidents and encounters occurred during the Operation
Earnest Will
, including:
– incident with Iran Air ship – Operation
Prime Chance
;
– Operation
Nimble Archer
against Iranian oil-extracting platforms;
– collision of frigate USS
Samuel B. Roberts
with mine;
– Operation
Praying Mantis
;
– incident with shot down Iranian
Airbus A-300
.
Operation
Praying Mantis
was a response to collision of an
Oliver Hazard Perry
-class American frigate USS
Samuel B. Roberts
(FFG58) with a mine on April 14, 1988 in central part of the Gulf. Ten crewmen suffered then. After sweeping the area, several other mines were found which serial numbers were similar to those earlier captured on board Iranian vessel Iran Air detained while mine-laying at tanker sea lanes during the Operation
Prime Chance
. The latter incident happened on September 21, 1987. American mariners by night vision devices located a vessel mining the water area. SEALs successfully boarded the ship, having killed five Iranian sailors in skirmish and captured 26. Some of them were picked up from the water. On board the ship, Americans found mines of the same type as that damaged the US Navy's frigate. Iran Ajr was sunken on the next day.
US Navy command planned a response and prepared the Operation
Praying Mantis
which main objective was destruction of two Iranian oil-extracting platforms used as observation posts and launch platforms of anti-ship missiles. The operation was carried out on April 18, 1988. A US marine unit boarded one of those platforms. In contrast to analogous Operation
Nimble Archer
conducted by US Navy in October 1987, that time Iran showed serious resistance with aviation and naval assets involved.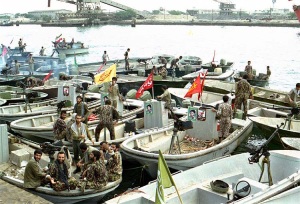 Base of Iran's "mosquito fleet"
Two frigates, several missile boats and fast-speed craft were engaged in Iran's retaliation. Two F-4
Phantom II
fighter bombers tried to deliver an air strike. Several
Harpoon
and
Standard
missiles were launched against American ships, although missed. Besides, Iranian frigates fired a bunch of antiaircraft missiles at attacking A-6
Intruder
strike fighters.
That was the first battle in US Navy's history when
Harpoon
surface-to-surface antiship missiles were used. The warfare was over by the end of the day.
Iran sustained considerable losses that day. American warships and aviation wrecked frigate
Sahand
, a missile boat, and at least three fast-speed boats. Another frigate –
Sabalan
– and two sea platforms were seriously damaged. Presumably, one F-4
Phantom II
fighter bomber was shot down.
US Navy lost only one helicopter AH-1
Cobra
, both pilots died. However, according to American officials, that was a non-combat loss.
Operation
Praying Mantis
was the biggest military face-off between the US and Iran during the Iran-Iraq War. Decisive actions of US Navy persuaded Iranian leaders that the war was hopeless and made them agree to a truce with Iraq.