Combat Capability [42%]
,
Role and Missions
,
Structure of the Navy
,
in-service ships
,
surface ships
,
submarines
,
chronology
.
Black Sea Submarine Fleet Holds Back Tears
For the first time no Russian submarines left in hero city of Sevastopol.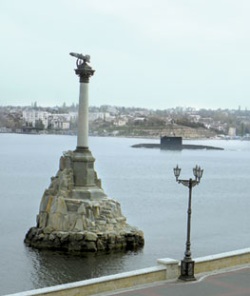 The Sunken Ships Memorial, the symbol of Sevastopol
Sevastopol. Hot day of September 1, 2011. Boatmen were inviting tourists on the pier: "Sea trips around Sevastopol harbors, Black Sea Fleet ships and submarines!" One of them even obtrusively pulled my sleeve.
My nerves snapped there:
"Stop it! Black Sea Fleet has no subs at all!"
"How come? Let's go, I'll show you!"
Indeed, he showed me two vessels hardly resembling submarines. Black Sea Fleet (BSF) has 247-th Submarine Division stationed in Sevastopol. But unfortunately, Russia no longer operates subs in the Black Sea, and heaven forbid that the 100-year long history of BSF submarine force would see its end there.
Iundred years ago
Two small-size submarines
Losos
and
Sudak
arrived in Sevastopol from Petersburg by rail in the fall of 1907. Both were built by
Nevsky Shipyard
from drawings of American firm
Goland
in 1904-1907. The subs had displacement of 105/124 tons (surface/submerged), and armed only with one 456-mm torpedo tube.
December 8, 1907 can be considered a birthday of Black Sea Fleet submarine force, when the Navy's order No. 273 established BSF submarine navigation unit. Initially, the unit included submarines
Losos
,
Sudak
, and floating base
Penderaklia
.
On April 22, 1908 other three submarines were delivered to Sevastopol by rail –
Kambala
,
Karas
, and
Karp
. They were built in Germany, sailed from Kiel to Libava (Liepaja), and then transported to Sevastopol. Those subs were larger, with displacement of 210/240 tons, and armed with three torpedo tubes.
Submarines started tactical drills in 1908, including interaction with BSF surface ships. In the night of May 30, 1909 submarine
Kambala
exercised attack on a squadron maneuvering off Sevastopol and was rammed by battleship
Rostislav
. That was the first loss among BSF subs.
First seagoing submarines
Morzh
,
Nerpa
, and
Tulen
were laid down in 1911 in Nikolayev.
Nerpa
was commissioned in December 1914, the rest two – in March and April 1915. Their displacement was 630/758 tons; speed was 10/12 knots (submerged/surface). Armament included eight torpedo tubes and two small-caliber guns.
In 1913 three subs were keel-laid (
Kashalot
,
Kit
, and
Narval
), in 1915 – other three –
Burevestnik
, Gagara, and
Utka
. In August-September 1915, Kit and
Narval
joined Russian Navy;
Kashalot
– in May 1916. The second trio was put in service in 1917. As of performance characteristics, they differed from
Morzh
insignificantly. On January 2, 1919 other two old small-size submarines
Som
and
Schuka
arrived in Sevastopol from Vladivostok by rail. However, small subs could only defend Crimean coastline.
Legendary records
The first real combat cruise was carried out in the Black Sea in February 20-23, 1915 by submarine
Nerpa
which had spent several hours covering attack of our ships on
Zunguldak
and holding position between Kefken Island and Bosporus. On March 5-9, 1915 submarines
Nerpa
and
Tulen
performed cruise Sevastopol – Kefken Island – Bosporus – Sarych Cape –Yalta – Sevastopol.
In April 29 – May 7,
Nerpa
occupied position at
Zunguldak
-Bosporus. She scuppered six loaded feluccas on May 1 under rifle firing from coast and attacked two schooners in Kefken-Ados Bay. On May 2,
Nerpa
sent a schooner to the bottom of Bosporus.
Since July 26 till August 3 submarine
Tulen
was on the way to Bosporus. On July 28, she torpedoed coal-carrying steamship
Zunguldak
(displacement 1,545 tons) out of four steamers escorted by cruisers
Geben
and
Gamidie
and three
Milet
-class destroyers. On July 29,
Tulen
attacked cruiser
Geben
escorted by two torpedo boats, but unsuccessfully. The sub scuppered a sailing ship near Kefken Island on July 30, and on the next day she skirmished with Turkish two-mast decoy schooner
Dere
armed with 47-mm gun. Having taken five 76-mm shells, the ship was washed ashore Kefken Island. On August 14, the Turks towed the schooner to Istanbul and disarmed her.
Since operating range of small-size submarines was not enough to operate at Turkish coast, it was decided to tow submarine
Skat
through the sea. On August 3, 1915 landing ship
Elpidifor
took
Skat
in tow and brought her to Zunguldak. Then the sub entered the port but, having found no serious targets, returned to
Elpidifor
which safely delivered her back to Sevastopol on August 8.
On July 29, submarines
Som
and
Schuka
left Sevastopol heading for Nikolayev and were sent to Petrograd by rail on August 30.
As is seen, achievements of Russian submarines in 1914-1917 were insignificant, but the reason was simply lack of targets. The most important Turkey's sea lane was coal shipment from Zunguldak to Bosporus. Turkish small-size coalers plied on the 210-km route in littoral and shallow waters, and all naval operations were nothing more than flash-like raids of
Geben
and
Breslau
. Of course, our subs could not intercept cruisers heading at 20-25 knots.
Destruction and salvation
On November 25, 1918 the Entente fleet arrived in Sevastopol. Democratically-spirited community saluted the allies. British marines and 1,600 Senegalese soldiers of 75-th French regiment lined on the pier. They started with privatization of Sevastopol port's property.
The "enlightened seafarers" exploded most powerful forts in Sevastopol and Kerch, towed new dreadnought
Alexander III
and several turbine-powered destroyers to Turkish port Izmir, and blew up engines of old battleships and cruisers.
The British perceived the special threat in Black Sea submarine fleet. With this in mind, they not only exploded mechanisms of submarines but took 12 subs to high sea on April 23, 1919 (including old and decommissioned ones) and scuppered them nearby entrance to Sevastopol harbor.
Despite allies' will, Russian "White Guard" officers managed to take away three submarines to Novorossiysk. By the way,
Tulen
moved by own power while non-serviceable
Utka
and
Burevestnik
were towed.
However, Bolshevists escaped combat actions against "white" subs because they had not fleet in the Black Sea. Russian submarines were quite weighty argument in strained relations between General Denikin and allies.
On November 14, 1920 four submarines –
Tulen
,
Burevestnik
,
Utka
, and
AG-22
put into operation on August 5, 1919 – along with Admiral Vrangel's fleet left Sevastopol for Constantinople, and then to Bizerta. The subs were scrapped there early in 1930's.
By that time, Red Navy operated only one submarine
AG-23
completed in Nikolayev in spring 1920. The sub left Odessa on November 13 under command of Alexander Ikonnikov to intercept Vrangel's armada. However,
AG-23
managed to detect only destroyer Pylkiy at too long distance. It's curious that London was mortally scared of Soviet submarines and on September 26, 1920 sent a note threatening to scupper all Soviet subs in the Black Sea.
In February 1921 the only Soviet submarine
AG-23
patrolled Georgian coast to prevent interference of the Entente's warships into Transcaucasia's affairs.
Meanwhile, completing and assembling of submarines was going on in Nikolayev. On July 16, 1921 naval ensign was hoisted on
AG-24
; commissioning of
AG-25
was held on May 26, 1922; the 4-year long extensive overhaul of
Nerpa
was finished on June 3. In a year, the division comprised floating base Georgy and five submarines (including
AG-26
put into service on July 11, 1923). Newly commissioned submarines were at once engaged in ultra secret deliveries of diplomats, military officials, gold and pouches to Turkey.
In March 1921, Soviet government concluded a military alliance with administration of General Mustafa Kemal (Ataturk) settled in Ankara. Lenin and Trotsky overestimated the threat proceeded from Entente fleets and troops and 60,000-men Vrangel's army deployed in the Straits zone. But actually, neither England nor France had real plans to invade Soviet Russia.
However, fear has big eyes, and 200 kg of gold were sent to Mustafa Kemal by submarines. Bolshevists delivered 40,000 rifles, 327 machineguns and 54 guns to Turkish nationalists by different ways. The worst of it was that Lenin and Trotsky gave Karskaya and Ardaganskaya regions to Turks; those territories belonged to Russian Empire before.
Revival of Russian submarine fleet in 30's
Three
Dekabrist
-type submarines –
Revolutsioner
,
Spartakovets
, and
Yakobinets
– were laid down in Nikolayev on March 25, 1927. Revival of Black Sea submarine fleet started then. Late in 30's, number of subs increased significantly.
Black Sea Fleet had in inventory 44 serviceable submarines by June 22, 1941 including 6 large, 19 medium, and 19 small ones. Twenty five subs were in service, 19 – under repair. Sevastopol ship repair plant conducted capital overhaul of D-4, D-6, L-6, A-1; interim overhaul – Sch-207, Sch-212, A-2, M-55; current repairs – L-4, Sch-203, Sch-213, A-3, A-5, M-51. Nikolayev shipyard repaired Sch-214, Sch-215, M-59, and M-60. Interim overhaul of M-54 was at final stage at
Comintern Shipyard
(Kherson).
Other 17 submarines were in different phases of completion. Among them, Sch-216, M-111, M-112, M-113, M-117, M-118, M-120, and L-23 were commissioned in July-October 1941, and L-24 – on April 29, 1942.
Except for five
AG
-type submarines (A-1, A-2, A-3, A-4, A-5), all subs were commissioned into Black Sea Fleet in 30's-40's and had quite high performance characteristics. However, pre-war plans to use submarines and the entire Soviet naval doctrine were far from objective reality.
Since late 20's main task of our Navy was repelling attacks of British "Grand Fleet" on Kronshtadt and Sevastopol bases. Submarines and surface ships were supposed to attack enemy squadrons nearby home bases and patrol littoral waters. Actions at opponent's sea lanes were not excluded, but were actually ignored. According to our admirals, torpedo boats and fighters were to be used only around naval bases.
Valorous contribution in wartime
Before the World War II, Soviet aircraft designers developed and tested several types of twin-engine long-range fighters. Finally, the Soviet Union could have just copy German
Me-110
fighter, five of them were purchased in 1940. But unfortunately, for some reason neither Air Force nor Navy purchased any long-range fighters.
As a result, in 1941 neither torpedo boats nor fighters could support our subs off Romania, Bulgaria, and Turkey. And make no mistake – Black Sea Fleet had 78 torpedo boats at that time, more than any navy worldwide!
By June 22, 1941 Black Sea Fleet naval aviation operated 624 airplanes including 346. Is it much or few? To compare, by August 1, 1939 Poland had 771 airplanes including 280 fighters, so Black Sea Fleet's fighter park was 1.2 times as large as Polish one.
What is more, Black Sea Fleet Commander Admiral Philip Oktyabrsky sent most of submarines to defend approaches to Soviet bases from virtual Italian fleet but not to the enemy's sea lanes. For one, twelve subs were dispatched to protect Soviet coast on June 23, 1941 and only 3 – Sch-205, Sch-206 and Sch-209 – to patrol Romanian and Bulgarian coast.
Keep in mind that our historians carefully sidestep the fact of huge cargo traffic between mouth of Danube River, ports of Romania and Bosporus. In 1941-1944 that sea lane was used not only for oil traffic but military and commercial cargoes from the Third Reich via Danube River. German bases on the Aegean Sea islands, in Greece and Balkans drew supplies through the Black Sea. Leaving Danube River, Nazi river/sea class ships could reach Naples, Genoa, Marseilles, and Toulon.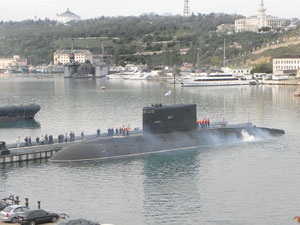 Russian submarine
Alrosa
moored at Sevastopol quay
In severe conditions BSF submariners attacked that sea lane, and then the route Constantinople – Odessa – Sevastopol – Anapa, but unfortunately could not break them.
In 1941-1944, Soviet submarines had conducted 152 attacks in the Black Sea. As a result, Germans and Romanians lost 12 transport ships, 2 tugs, 3 barges, 6 fast-speed landing barges, a ferry, and 19 Bulgarian and Turkish coastwise vessels and schooners. In return, 27 Soviet subs were scuppered or lost.
Obviously, actions of Soviet submarines might have been much more successful if only our admirals direct warfare adequately. The question is that instead of wearing patrols around home bases, it would be better to support subs at enemy sea lanes by torpedo boats, destroyers, and fighters. And, of course, it should be mentioned about functions unusual for submarines such as cargo transportations from Caucasus to Sevastopol. Who made Admiral Oktyabrsky help Germans, 'pepper' approaches to Sevastopol with thousands of mines and remove most of antiaircraft artillery and munitions from Sevastopol in November-December 1941? And then submariners had to clear up the mess made by admirals and deliver munitions back to Sevastopol.
Anyways, Black Sea Fleet submariners had done their duty to the country completely and made substantial contribution to defeat of Germany and Romania, as well as safeguarded Turkey's neutrality.
Golden age and 'Perestroika'
Reinforcement of BSF with new types of submarines began in 50's. For instance, no later than in 1950 and first half of 1951 the fleet commissioned nine
M
-type subs of XV series. New-generation Project 613 submarines started to join Black Sea Fleet in 1951. First of them – S-61 – arrived in Sevastopol on May 5, 1951 and performed maximum dive (217 meters) on July 14.
In 1960, two Project 644 submarines reached the Black Sea via inland waterways; each of them carried two cruise missiles P-5. At normal conditions (+20 degrees centigrade), their firing range was 574 km and average velocity was 345 mps. That was pretty effective weapon for that time. Missiles P-5 launched from neutral waters of the Black Sea Fleet could destroy any object in Turkish territory, and reach Istanbul even when launched from bases in Balaklava and Sevastopol.
First two Project 644 subs – S-46 and S-69 – were commissioned into 155
th
Submarine Brigade in November 1960 and were stationed in Balaklava. Their dimensions matched sizes of Object K-825 (underground base for submarines).
Later on, diesel submarines S-158 and S-162 (Project 644), S-164 (Project 665), B-67 and B-318 (Project 651) arrived in the Black Sea via inland waterways. All of them carried P-5 cruise missiles as well.
In the period since 60's till 80's all missile-carrying subs conducted missile firing drills at least once a year. For instance, in 1980 BSF submarine S-158 held a two-missile salvo launch against a 4x4-km square zone (standard target for P-5 missiles) with a wooden shield mounted in the center. As a result, one missile P-5D impacted in the center of the square zone, and another fell neat the shield.
It is noteworthy that by virtue of precision radar altimeter RV-5M, flight level of P-5D missile was reduced from 400 meters (first versions of P-5 missile) to 250 meters. With regard to supersonic speed and short flight time (10-20 minutes), that significantly hindered the missile's interception. Warhead yield of P-5 missile was 200 kilotons, and then was increased up to 650 kilotons.
Take note that in 70's the use of that submarines and P-5 missiles in the Atlantic against the US no longer had chances of success. But in conditions of the Soviet Union's overwhelming dominance in the Black Sea, P-5 missiles were still effective weapon even in 80's.
Since 1973 Black Sea Fleet submarines had been stationed in the 5-th Mediterranean Squadron on the permanent basis. Moreover, they regularly held exercises in the Atlantic.
Early in 1990, Black Sea Fleet had following submarine force:
– 153-th Submarine Brigade based in Yuzhnaya Harbor, Sevastopol having in inventory 13 submarines (four Project 641, one Project 641B, and four Project 877);
– 155-th Submarine Brigade based in Balaklava. It operated 10 submarines – two Project 651 missile subs (another such submarine was supposed to arrive from the north, although failed due to breakup of the Soviet Union), two Project 641, one Project 633L, two Project 613 and three experiential submarines;
– 475-th Submarine Division based in Feodosiya. It operated 12 submarines – five Project 613, three Project 633KS and 633RV subs armed with newest missile systems, and three Project 690 target submarines.
There was one Project 641 and three Project 613 submarines in division of mothballed ships based in Odessa.
Perestroika and breakup of the Soviet Union smashed up Black Sea submarine fleet. Eleven Project 613, one Project 641, and one Project 651 subs were written off at once in 1990.
In 1991 three Project 613 submarines and BS-159 (Project 619) sub were decommissioned; the latter tested the newest submarine-launched ballistic missiles. Take note, almost all maritime ballistic missiles used to pass pop-up tests at the Balaklava Range. They were launched from submerging platforms or special refitted submarines. Early in 90's some "experts" asserted such tests were needless, and could be substituted by computer modeling. Results of this substitution are clearly seen while tests of our new submarine-launched ballistic missiles.
The history of submarine decommissioning is as follows. In 1992, two Project 613, two Project 641, one Project 633L, and one 633RV submarines were written-off. In 1993, two Project 641 and one Project 613Ts submarines were decommissioned. In 1994, three Project 641 and one Project 613 and one 633KS subs left the fleet. In 1995, four submarines were written-off (Project 641, 651, 633RV, and 690), and so forth.
Nothing to charge
So what does our Black Sea submarine force represent at the moment? Since 1996, Russian Black Sea Fleet operated two submarines – B-871
Alrosa
(Project 877V) and B-380 (Project 641B). Both were built by
Krasnoye Sormovo
shipyard in Gorky (now Nizhniy Novgorod) and delivered to Sevastopol via inland waterways.
B-380 was commissioned in December 1982. She was taken under patronage of Gorky's young communists and obtained the name of
Gorkovsky Komsomolets
. But the times came when not only Komsomol disappeared but even the city of Gorky was renamed. Then the patronage over the sub was handed over to Nizhniy Novgorod authorities, and
Gorkovsky Komsomolets
was renamed into
Svyatoi Knyaz Georgy
.
But while patrons and names were changing, the submarine was quietly moored at the quay of Sevastopol Ship Repair Plant since 1991. At last, in June 2000 Russian Government decided to repair the sub. She was placed in the floating dock PD-16. The submarine's overhaul was evaluated as RUR 1.248 bln, including RUR 800 mln spent by mid-2010.
Nevertheless, the rusty submarine is still staying in the dock. Her crew is a bunch of watchmen protecting her from full plunder. Saint Andrew's flag is still fluttering on the conning tower. Everyone had understood long ago (or, maybe, since the very beginning) that it would be almost impossible to withdraw the sub from the floating dock PD-16 captured far back in the Second World War. Just because the dock will fall apart when flooding.
And then muckamucks tried to figure out how to get the sub out of sight. According to Sevastopol experts, the latest decision provides placing of PD-16 with the sub into a bigger floating dock. It is planned to dismantle PD-16 there, and B-380 would be refitted into a submarine charging plant if succeed to leave the dock. Why? It is hard to tell. Take note, BSF 247-th Submarine Brigade does have one charging plant PZS-50 (former submarine SS-49). In the past, one submarine charging plant was enough to serve the full submarine brigade. But now there is nothing to charge.
So what about the second submarine B-871? Since 1992 till May 1996 she had no batteries at all, and the sub was staying idle. Then batteries were installed and the submarine took the sea several times. Since August 1998 till April 1999 she was under repair in Sevastopol. In January 2001, B-871 obtained the name of
Alrosa
after the same-named company had taken her under patronage.
On November 21, 2009 diesel engines of
Alrosa
broke down during an exercise. The sub was towed to Novorossiysk. Finally,
Alrosa
and auxiliary vessels took part in the
Bold Monarch 2011
joint rescue exercise held in May-June 2011 off Spain.
When the exercise was over, the long-suffering
Alrosa
being escorted by salvage ship Epron (just in case anything happens underway) headed for the Baltic for repair. They say it would finish in 2012. Theoretically, it is quite possible. But alas, overhaul in present-day Russia may last years or even decades. For instance, large ASW ship
Ochakov
. Her repairs started in 1991 and finished with decommission and writing-off for scrap on August 20, 2011, i.e. twenty years after the repair began.
The government solaces submariners that in August 2010
Admiralteyskie Verfi
shipyard laid a keel for Project 636.6 diesel electric submarine
Novorossiysk
which is to be commissioned into Black Sea Fleet in 2013. In addition, other three subs of this kind are expected to take the Black Sea in 2015-2017.
Curiously, in 1944-1945 Germany used to build large-size XXI-series submarines in three months. Now we need years to construct a vessel, and sometimes things come not to launching but to dismantling on slipways. Besides, Ukraine interprets the Black Sea Fleet Treaty in such a manner that newly-built ships cannot be stationed in Sevastopol. But unfortunately, there is no other place in the Black Sea to base Russian submarines.