Combat Capability [42%]
,
Role and Missions
,
Structure of the Navy
,
in-service ships
,
surface ships
,
submarines
,
chronology
.
Fifteen world-class precision weapon systems are put into full production.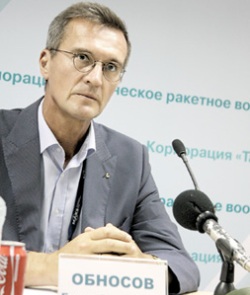 Boris Obnosov, Director General and Chief Designer of JSC
Tactical Missiles Corporation
Stand of
Tactical Missiles Corporation
displayed at the MAKS-2011 aerospace exhibition attracted hordes of people. Visitors were literally fascinated by shape perfection and eye appeal of air- and ship-based missiles. And experts were intrigued by performance characteristics of shown novelties.
In this year,
Tactical Missiles Corporation
participated in the MAKS International Aviation & Space Salon for the first time. But if one start counting from the corporation's predecessor –
Zvezda-Strela
State Scientific and Production Center – the company attended all MAKS salons beginning from the first one in 1993.
First MAKS aerospace show held in 1993 was a success for
Zvezda-Strela
center. Foreign specialists were captivated by firstly demonstrated antiship missile Kh-35E (letter 'E' in names of all weapon systems stands for 'export') for
Uran-E
ship-based missile system. The new advanced system attracted interest of Indian naval servicemen at once. And the most striking thing was that in contrast to usual years of negotiations, the contract for
Uran-E
missile system was tied with Indian Navy no later than in 1994. This fact indicates high combat characteristics and effectiveness of the shipborne missile system, as well as its relevance and great demand.
Early 90's were disastrous for Russian defense industry. The contract with India helped the
Zvezda-Strela
center not only hold out but set up batch production of new systems. The company spent the income assiduously; it was directed for serial manufacturing of the ship-based missile system. First
Uran-E
system was mounted on Indian destroyer INS
Delhi
in 1996. Later on, other ships were equipped wit it as well. And other countries followed India then.
Thus,
Tactical Missiles Corporation
has no doubts whether to take part in the exhibition. It has been always an active MAKS participant. For the first time the corporation showed itself as an integrated structure at MAKS-2003. At that time it consisted of six enterprises with longstanding production ties. And at the salon of 2005 there were 14 companies representing products in the common stand. Among them were such recognized suppliers of high-precision weapons as
Vympel
,
Raduga
, and
Region
which were originators of new trends in up-to-date weapons. These three pillars along with the parent company had kicked
Tactical Missiles Corporation
to the world top level. So, it is no wonder that the corporation is permanently within the world's top hundred arms producers.
As for now, the corporation contains 18 large enterprises. It is an integrated technological complex comprising network of design bureaus, pilot and batch production factories providing closed technological cycle of designing, production, testing, after-sale service, repair, modernization, and disposal of delivered products. All that was rooted in designing and production traditions developed for decades.
Zvezda-Strela State Scientific and Production Center
Decree of Russian Government No. 149 issued on March 13, 2002 established open joint-stock company
Tactical Missiles Corporation
. Apart from
Zvezda-Strela
center, it included state-led companies
Avtomatika Factory
(Omsk),
Iskra
Engineering Design Bureau,
Detal
Planning and Design Bureau,
Krasny Gydropress
Plant, and JSC
Soyuz
Engineering Design Bureau. Later on, list of the corporation's affiliates was enlarged in accordance with presidential decrees No. 591 and No. 930 issued on May 9, 2004 and on July 20, 2007 respectively.
But considering the fact that
Zvezda-Strela
center is core of the corporation, starting point of the company's history must be June 3, 1942 when the State Defense Committee issued a decree to establish 455
th
Plant within People's Commissariat of Aircraft Industry.
In 1955, the plant was tasked to create air-to-air missile systems. It kicked off batch production of the first national guided missile RS-1-U for fighters
MiG-17PFU
and
Yak-25P
in 1956.
On May 17, 1957 a design bureau was established on the basis of the plant's design department. In 60's the plant was producing surface-to-air guided missiles for
Kub
air defense system and air-to-air missiles R-8M, R-8M1R, R-8M1T, K-98, K-98MR, K-98MT, R-4, R-40. Along with combat missiles, the plant was manufacturing small-size target missiles ITs-59
Olen
and ITs-60
Zayats
used for training of pilots.
On April 30, 1966 the 455
th
Plant was renamed into Kaliningrad Machinery Plant (KMP). Till 1996 Kaliningrad was the name of current Korolev, Moscow region. In November 1976 the plant was transformed into
Strela
Production and Design Association. On December 26, 1994
Strela
machinery plant and
Zvezda
design bureau amalgamated. In 1995 that industrial formation obtained the name of Federal State Unitary Enterprise "
Zvezda-Strela
State Scientific and Production Center" (FSUE
Zvezda-Strela
). And in March 2003 the center was transformed into JSC
Tactical Missiles Corporation
.
Through its history, the parent company has created 9 and mastered production of 19 guided missiles of different classes. Most of them top the world ratings. Their basic advantages are:
small size and weight with quite high warhead yield
modular design
all-weather capability
low signature, ability to overcome opponent's fire and radar countermeasures
versatility of platform (Kh-35E) – airplanes, helicopters, ship- and coastal-based systems
simplicity of operation
All these features form a "corporate style" of FSUE
Zvezda-Strela
preserved and developed by
Tactical Missiles Corporation
. It is clearly seen in the most known Soviet air-to-surface guided missiles. They are Kh-25M type multipurpose modular guided missiles, Kh-31 type high-speed guided missiles (antiradar version Kh-31P/PK, antiship version Kh-31A, target missile MA-31), and antiship guided missiles Kh-35E versatile in platform (in particular, 3M-24E naval version used in
Uran-E
ship-based missile system and Bal-E coastal defense missile system).
Vympel State Engineering Design Bureau
JSC
Vympel
State Engineering Design Bureau named after I.I. Toropov was established in 1949 and located at 134
th
Aircraft Factory in Tushino (Moscow). That was a base factory for design bureau of Pavel Sukhoi. But after crash of prototype fighter
Su-15
, the bureau of not-yet famous designer was disbanded. Sukhoi was offered to engage in aircraft missiles, but he refused. The bureau was headed by Ivan Toropov then who became the founder of Soviet air-to-air missile engineering school.
Within few months the new design bureau had created the first Soviet fire protection system PV-20 for long-range strategic bomber
Tu-4
mounted in sighting stations, guns and machineguns, and remote control devices. For that project, Ivan Toropov and a number of designers won the Stalin Prize 1950.
The bureau started to work on aircraft weapons since 1954. It was tasked to design missile K-7 for supersonic interceptor aircraft
T-3
produced by Pavel Sukhoi. The missile's construction was based on modular principle which became distinctive feature of Soviet missiles. But the first completed project of
Vympel
design bureau was air-to-air missile K-13. The task was received in 1958. Test launch was held on October 21, 1959, and on December 1 – the first combat launch at target aircraft. In 1960 the missile was put into batch production under code number R-3S. It became a weapon of fighters
MiG-19PG
,
MiG-21
,
MiG-23
,
Su-20
,
Yak-28P
. Modifications of R-13R, R-13M, R-13M1 were manufactured in India, China, Czechoslovakia, and Poland.
Up to the present day,
Vympel
State Engineering Design Bureau remains Russia's leading organization designing air-to-air guided missiles for land- and sea-based air defense systems and air-to-surface guided missiles (Kh-29T/L, Kh-29TE). Enjoying the right for foreign economic activities, the bureau offers modernization of previously sold air-to-surface missiles Kh-29T/L up to Kh-29TE with longer flight range.
<>h2>
Raduga
State Engineering Design Bureau JSC
Raduga
State Engineering Design Bureau named after A.Y. Bereznyak is located in Dubna, Moscow region. Initially, it was established at 1
st
Plant in accordance with the resolution of Cabinet Council issued on September 1, 1951 providing researches in "Subject B", i.e. cruise missiles. Structurally, it was an affiliate of Artyom Mikoyan's design bureau OKB-155. Order of Mikhail Khrunichev, the then-minister of aircraft industry marked activity areas of the new bureau: "...preparation for batch production, outfitting works and tests, and further development of unmanned airplane
KS
". In addition, the affiliate was tasked to work on first Soviet guided weapons, such as missile planes, missiles of air-to-surface, ship-to-ship, and surface-to-surface classes. That design bureau named OKB-155-1 was headed by talented designer Alexander Y. Bereznyak.
The first task was to finish and prepare for unmanned jet airplane
KS
designed by OKB-155 for batch production. Alexander Bereznyak organized perfect coordination amid designers, workshops and the plant's design office. As a result, no later than in 1953 state trials of
Kometa
missile system (carriers are
Tu-4
K, Tu-16) were completed, and it was put into service.
In 1955 the affiliate of OKB-155 was ordered to design radically new sea-based cruise missile P-15. Within a year the bureau had completed technical documentation and put the missile into production. Seven months later, on October 16, the first test of P-15 was held in the Black Sea by Project 183E missile boat. In 1960 the missile was commissioned. For creation of P-15 missile, designers were awarded the Lenin Prize in 1961. The missile left its mark in the world rocketry history on October 21, 1967 during Arab-Israeli conflict when it scuppered Israeli destroyer
Eilat
. That was the first combat use of homing cruise missile with liquid propellant jet engine.
In 1966 OKB-155-1 was transformed into independent organization –
Raduga
Engineering Design Bureau. By that time the bureau's projects had won several Lenin Prizes and State awards. High professionalism of
Raduga
designers is proved by the fact that in 1970 Mikoyan's bureau handed over all development works on Project
Spiral
experimental piloted orbital aircraft to
Raduga
bureau. Although the work was going on effectively, the project was shut down in 1979. However, best practice of
Raduga
was widely used at
Energia-Buran
space rocket system.
Through 60 years being the leader in missile system engineering,
Raduga
bureau has accumulated unique scientific, technical, and designing experience in the whole cycle of missile weapons' development, production, operation, and modernization. Only within the recent five years, 5 types of precision weapons have been developed and commissioned into Russian Air Force and Russian Navy. Throughout is history, the bureau has designed over 50 systems of missile weapons. Most of them had breakthrough nature opening new horizons for development and use of missile arms.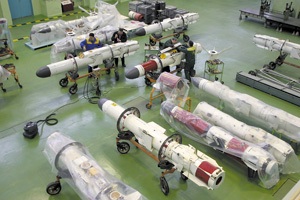 In workshops of
Tactical Missiles Corporation
In particular:
development of anti-ship systems armed with missiles P-15 and Termit provoked creation of a radically new class of warships having no analogs worldwide – missile boats;
development of air-based attack missiles Kh-20, K-10S, KSR-5, and Kh-22 transformed Soviet/Russian bomber and naval aviation into the missile-carrying one;
cruise missiles 85R known as "unmanned torpedo carriers" have become the main weapon of antisubmarine warfare ships;
development of missiles Kh-28, Kh-58, Kh-59, Kh-59M transformed front-line aviation into the attack missile-carrying one;
Moskit-class attack antiship missiles are over two decades ahead of projects designed by the world's leading aerospace companies;
development of Kh-55 class missiles added a new dimension to national long-range aviation, and recent projects of autonomous mid- and long-range precision weapons provided national command authorities with the strategic non-nuclear deterrence argument;
scientific and technical background for creation of hypersonic missiles.
Region State Research and Development Enterprise
JSC
Region
State Research and Development Enterprise is leading designer and supplier of guided air bombs for front-line aviation which is one of the most prospective classes of precision weapons. The enterprise was established in 1969 as research institute of applied hydromechanics, and its basic activity was development of guided antisubmarine weapons.
Priority areas are related to design and production of:
glide and guided air bombs for front-line and naval airplanes;
underwater antisubmarine/antisurface weapons including those based on fast-speed underwater missiles;
anti-torpedo and mine-disposal weapons.
Having appropriate laboratory and testing facilities,
Region
State Research and Development Enterprise places high emphasis on research and development work in the area of aerodynamics and hydrodynamics of underwater fast-speed objects, as well as propulsion systems for underwater weapons.
Glide bombs designed by
Region
are classified as high-precision weapons and notable for high combat effectiveness, jamming resistance, and reliability proved out during service in Russian Air Force. Key feature of glide bombs is combination of high accuracy sometimes comparable to guided missiles and considerable warhead yield.
Today, glide bombs are equipped with television/correlation, laser/gyrostabilized, and satellite guidance systems providing impact accuracy within the limits of 3-10 meters depending on altitude of bomb release and speed of aircraft. As of cost-effectiveness ratio, such bombs outclass regular ones in 10-30 times. Under certain conditions, glide bombs are comparable to guided missiles in this criterion, but are much cheaper and powerful.
Presently,
Region
State Research and Development Enterprise produces 250-, 500-, and 1,500-kg glide bombs. They can be armed with wide range of warheads (concrete-piercing, penetrating, and fuel-air explosive). Specially designed warheads are capable to destroy high-tensile targets bunkered or ambushed in terrain.
Further development of glide bombs is primarily associated with improvement of guidance accuracy and range which would make possible to drop bombs beyond an opponent's air defenses. Obviously, in the near term reconnaissance and attack unmanned aerial vehicles will gain considerable positions in military aviation. Therefore, there is a trend to develop small-size glide bombs, i.e. no heavier than 100 kg.
Lineup of novelties
Integral innovative activity index of any company is its rate of production update and competitiveness amid the world leaders. Given that through recent two decades JSC
Tactical Missiles Corporation
has made very few new or upgraded products, it presently prepares 15 new types of high-precision weapons to be put into batch production at once. In particular, the whole lineup of air-based guided missiles.
Following export variants of air-to-surface guided missiles are being designed:
general-purpose missiles:
Kh-38ME missile (designed by parent enterprise). Modular construction provides possibility to equip missiles with various combined guidance systems including inertial one and variants of terminal accurate guidance based on laser/IR/radar/satellite target seekers;
Ovod-ME missile system with Kh-59M2E guided missile (designed by Raduga State Engineering Design Bureau) is capable to hit land- and sea-surface targets identified by operator on multifunction display. The system can be used day and night and under limited visibility conditions;
Kh-59MK2 missile (designed by Raduga State Engineering Design Bureau) equipped with optoelectronic correction and terminal guidance system is capable to destroy wide range of land-based targets with known location coordinates including those not radiating and having no radar, infrared and optical contrast against surrounding background.
special-purpose missiles:
antiradar guided missiles:
- Kh-31PD (parent enterprise);
- Kh-58UShKE (Raduga bureau);
Both missiles are equipped with wide-range passive radar seeker and navigation/automatic control system on the basis of BINS strapdown navigation system. Numerous performance characteristics were improved (guidance accuracy, range, warhead effectiveness etc);
air-based antiship guided missiles:
- Kh-31AD high-velocity missile powered by advanced ramjet engine (parent enterprise);
- Kh-35UE low-altitude missile (parent enterprise) with terminal flight altitude of 4 meters); it is a sequel to the well-reputed air-based missile Kh-35E;
- Kh-59MK extended range missile (Raduga bureau) capable to destroy wide range of sea surface radar-contrast targets with radar cross section of over 300 sq meters (including cruiser-type targets), 'fire-and-forget' principle, day-and-night, all-weather. It is adapted to all Russian front-line aircrafts.
New developments (
Region
State Research and Development Enterprise) of glide bombs include:
ÞKAB-500S-E glide bomb with satellite guidance system and high-explosive warhead; capable to destroy targets with known location data input prior to drop zone. Correction upon the carrier's navigation system is capable as well. Hitting accuracy is 7-2 meters; release altitude is 500-5,000 meters; 'fire-and-forget' principle; day-and-night; all-weather.
KAB-1500LG-F-E glide bomb with high-explosive warhead and semiactive laser gyro-stabilized homing system; capable to destroy static land- and sea-based targets like railroad and highway bridges, military industrial assets, ships, and fortifications including those ambushed in terrain. Single or salvo releases are possible from front-line aircraft equipped with laser illumination system or simple collimating sight for initial targeting (when used ground-based illuminator). Guidance accuracy is 4-7 meters; release altitude is 1,000-8,000 meters.
Following air-to-air guided missiles are being developed for export (
Vympel
State Engineering Design Bureau):
RVV-MD short-range guided missile for close-in highly maneuverable air battle to be based on present-day and prospective fighters, attack aircraft, and combat helicopters. Comparing to preceding version (R-73E), it has longer range, larger targeting angles, improved maneuvering performance and jamming protection (including optical jamming). Missile guidance system based on passive infrared homing (dual band inertial gyro-stabilized system) with combined air/gas/dynamic control;
RVV-SD mid-range guided missile for present-day and prospective fighters. Having launch range up to 110 km, it is capable to hit targets with acceleration of up to 12 g, day and night, at all angles of approach, under electronic countermeasures, over ground and sea surfaces, including multichannel launches by 'fire-and-forget' principle. Guidance system is inertial with radar correction and active radar homing;
RVV-BD long-range guided missile firstly demonstrated at MAKS-2011 exhibition. Comparing to previous long-range R-33E, the new missile has considerably improved performance characteristics. High aerodynamic features of RVV-BD, dual-mode solid engine, and launch weight up to 510 kg increases the missile's launch range up to 200 km (R-33E has 120 km) and gives the capability to hit targets with acceleration up to 8 g (R-33E – up to 4 g) at altitudes from 15 meters to 25 km.
It should be noted that despite some mentioned projects reserved names of previous items, they are virtually new weapons. All of them have been designed at new engineering level based on wide use of digital technologies, state-of-the-art principles and guided systems which significantly expanded combat capabilities.
New generation of high-precision weapons demonstrated at MAKS-2011 exhibition contribute much to the brand of
Tactical Missiles Corporation
as large diversified effectively functioning company capable to deliver world-class production.