Combat Capability [42%]
,
Role and Missions
,
Structure of the Navy
,
in-service ships
,
surface ships
,
submarines
,
chronology
.
Centenary Is Not Senility
JSC Almaz Marine Yard was established 100 years ago as workshops of Finland Light Steamship Company. On the eve of the yard's centenary, Reporter of Central Navy Portal met with Viktor M. Ivanov, Director General of JSC Almaz Marine Yard. The talk was about current state and near-term prospects of the shipyard.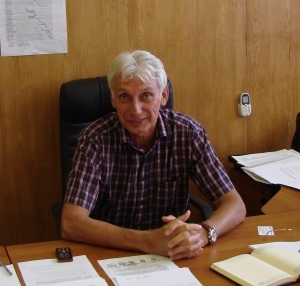 Viktor M. Ivanov, JSC
Almaz Marine Yard
, Director General
– Viktor Mikhailovich, your company turns 100 this year. For a production site, it looks like a venerable age. Is it known how everything started?
– I'd like to show you a copy of the authentic historical document called "Inspection protocol of the wood-working shop established by
Finland Light Steamship Company
at Uralskaya Str.19, Vasilievsky District". This protocol was followed by certificate authorizing production works. It is the standard 8-page document with 35 questions, beginning fr om the purpose of production and ending with domestic issues. Senior factory inspector of Saint Petersburg Province and commissioners issued detailed report and on June 16, 1911 permitted production activities by affixing signatures.
– Historical sources must be preserved for future generations…
– That's true enough, and we have opened the shipyard's museum. That was my idea to found it because the yard had no museums before. However, JSC
Almaz Shipbuilding Company
on the other bank of the Malaya Neva River does have a museum with very interesting exposition. By the way, some showpieces were taken from there. On the plant's jubilee, June 29, our workers, guests and veterans could visit the museum and view its exposition.
– Let's get down from history to present-day matters. How does the company feel today? What are marketing prospects in general?
– The yard works steadily and has quite good prospects. In fact, we're the only shipyard in the North West specialized in light aluminum alloys. Since 60's the plant has been building serial air-cushion ships and boats with aluminum hulls. In hard 90's, directors managed to keep the backbone of skilled shipwrights. And now it has a positive impact on production quality – our vessels not only meet world standards but even top the global positions.
– Does the shipyard lack qualified staff, which is a real scourge of present-day Russian shipbuilding industry?
–
Almaz Marine Yard
does not face such problem. Moreover, people come to us looking for a job, including the most demanded specialty – anglesmith. So, now we can even select candidates.
– What about young generation and new working shift?
– There is not much to be proud. Unfortunately, today there are no any special programs to teach aluminum alloy welding. We resolve this problem right there, in the shipyard, and make good progress. Indeed, there are young specialists wishing to study and work. We pay them good money, provide fair working conditions, so people hold on their job and work conscientiously. We control all issues related to improvement of labor and living conditions and constantly care of them. General Director of JSC
Almaz Shipbuilding Company
Leonid Grabovets pays special attention to workers' labor and everyday life. His care of those matters is clear, since capacities of
Almaz Shipbuilding Company
will move to our production yard soon.
– Viktor Mikhailovich, what is going to happen to the company after amalgamation of both production sites and moving them to this bank of Neva River?
– Shutting down of JSC
Almaz Shipbuilding Company
has not been settled so far. Probably, covered slipway would remain there in order to execute orders for ships and boats. But generally, we are also capable to build not only boats but quite big surface warships like Project 10410, and in the near prospect – Project 22460 littoral patrol ship. You can watch it with your own eyes in our workshops. About 300 employees work in the shipyard, but we can provide job for more people – up to 400-450 persons – and complete all scheduled orders, including the export ones.
– Patrol craft with hull number 050 has recently left the shipyard. As is known, it is planned to lay down the second ship of this kind for coast guard.
– We have already started to work on this ship and are preparing metal. Technically, the keel has been laid, although official ceremony will be held later. The ship will be constructed on the other bank, in the big slipway.
– Would lim ited sizes of production spaces on this bank affect perspective orders?
– Not at all. We don't build large-tonnage vessels; our speciality is boats and small-displacement ships. While building Project 22120 patrol craft
PS-824
, we joined bows and stern at open platform. Of course, it'd be better to do that in covered slipway, but there are no serious problems – this technology is not so complex. Besides, we plan to expand sizes of our slipways, but this is a long-term prospect.
The shipyard's leadership recently displayed an initiative to demonstrate technical capability by building and offering Project 10410 corvette which is a sort of our signature piece. The ship's hull is being presently shaped at the slipway, and her construction presents no problems. In the same manner
Almaz Marine Yard
can execute new orders, for instance, to continue
Rubin
class patrol ships. This is the work we're preparing for.
At 5
th
International Maritime Defense Show we presented the line of our products. Among them was
Zubr
class air-cushion landing ship
Mordovia
which is the world's biggest ship of this class, and
Sobol
class fast-speed boats – the yard will build 4 of them only in this year.
– Thank you very much for informative and interesting conversation. Central Navy Portal congratulates you and the shipyard staff on the jubilee and wishes further progress!
Background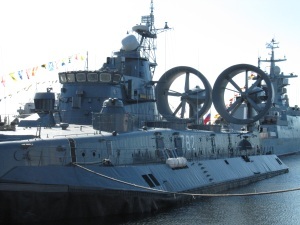 Project 12322
Zubr
air-cushion landing ship
Mordovia
at IMDS-2011
On June 29 one hundred years ago
Finland Light Steamship Company
established a wood-working shop at 19, Uralskaya Str, St. Petersburg. The company carried out almost all passenger transportations within the city at that time. The shipyard's area was purchased earlier, in 1899, for winter moorage, coal bunkering, and employee accommodation. The base gradually developed - moorage wall, coal storages, residential quarter consisting of 6 two-storey timber houses and a bricked office building had been erected in several years. A bit later, in 1908, they constructed a longitudinal slipway for ship-repair needs which had been in use right up to 60's.
Developing its activities beyond repair of ships and boats, in 1911
Finland Light Steamship Company
opened machine and wood shops "for building and repairing small ships and yachts". In the same year those shops built two wooden boats –
Chaika
and
Bazis
– powered by internal combustion engines in contrast to steaming machines used in other ships of the company. In 1913 the workshops were transformed into the Shipyard of
Finland Light Steamship Company
.
During the World War I the shipyard executed orders of Central Military Technical Department for construction of the world's first 60 motor pontoons. The new phase in the shipyard's activity started in 1918 after nationalization. In 1920 the yard joined
Northwest
Inland Navigation Company. On 5
th
anniversary of the October Revolution, the shipyard obtained the name of F.E. Dzerzhinsky. Having no possibility to reequip the obsolete shipyard, in 1928
Northwest
Inland Navigation Company decided to shut it down. By that time, Soviet Coast Guard was developing its ship park and, being in need of own ship-repair base, offered Soviet Government to reassign the shipyard. In 1929 the
Dzerzhinsky Shipyard
joined Soviet Coast Guard as a main basing and ship-repair site of Finnish-Ladoga Coast Guard Flotilla. There were flotilla's headquarters, warehouses, and barracks of frontiersmen. Up to the Great Patriotic War, the shipyard was used for its purpose, and with the beginning of the war it started to repair and recommission damaged Baltic Fleet's boats.
After the war, the shipyard was assigned to Coast Guard, and in 1947 obtained the status of Ship-Repair Plant. Due to reductions in Soviet Armed Forces early in 60's, the Ship-Repair Plant of Leningrad Coast Guard Dept was handed over to Fishing Industry Department and then – to State Committee of USSR Ministers Council as a pilot plant and was renamed into
Pilot Marine Plant
. The name was changed again in 1966 for
Nevsky Marine Plant
. The yard started to develop the new trend for that period, i.e. air-cushion vessels. Representative class hydrofoil ships
Strela-2
and
Strela-3
were built and delivered in the next few years. To build them, the shipyard mastered light alloy technology for hulls and stainless steel technology for foil systems. In 1968 the yard built air-cushion ship
Breeze
, and since 1969 it set up batch production of
Skat
-class landing amphibious boats. At the same time the yard had resolved challenging technical problem and constructed the first Soviet automatically controlled hydrofoil vessel
Typhoon
.
Since 1970 the yard joined
Almaz Production Association
as No. 2 Production Unit, established construction of air-cushion ships
Skat
,
Calmar
,
Jeiran
, and was technically reequipped then. New 72x36-meter covered slipway, 5-storey building for hull details manufacturing, pipe yard, computer center, and boiler house. The second 72x36-meter covered slipway was constructed in 1981 specially for the world's biggest air-cushion landing ship
Zubr
. The shipyard reconstruction was not completed due to the breakup of the USSR, although available capacities are still enough to build modern ships and boats meeting the world standards of the 21
st century.

In 1993 Almaz Production Association was funded and renamed into JSC Almaz Shipbuilding Company which established affiliate enterprise JSC Almaz Marine Yard in 1997. The plant was building EcoPatrol - class ecological monitoring ships in 90's, and in 2002 delivered the unique passenger twin-hull vessel made of light alloys – Superfoil-40 Linda – which was effectively used on route Tallinn-Helsinki. At the same time the shipyard resumed and strengthened contacts with Coast Guard which ordered training and patrol boats of projects A-66, A-67, A-99-1, and Project 21960 general service boats (also built for Russian Navy). In 2005 and 2007 the plant built two Khosta -class representation yachts designed for members of Russian Government, onboard meetings and negotiations. In 2006 the yard started construction of a new project – an ice-class patrol ship which successfully passed trials and was handed over to Far East frontiersmen in 2010. In the same year, the plant delivered two Sobol -class fast-speed boats equipped with unique automatically controlled spoiler system and capable to accelerate up to 50 knots. The shipyard continues construction of such effective interceptors, including those for export.

Number of vessels built by JSC Almaz Marine Yard in the first decade of 21st century provides strong evidence of significant output growth. The shipyard celebrates its centenary having perfect development dynamics and sound plans to provide national and foreign customers with up-to-date boats and ships.