Combat Capability [42%]
,
Role and Missions
,
Structure of the Navy
,
in-service ships
,
surface ships
,
submarines
,
chronology
.
Northern Fleet's Ocean Watches
Successfully performing training tasks, Northern Fleet's mariners daily contribute to sustention and strengthening of national defense capacity at northwest frontiers. That is the assessment of personnel serving at Russia's northern outpost given by Vice Admiral Nikolai Maksimov, Northern Fleet (NF) Commander.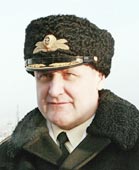 Vice Admiral Nikolai Maksimov
Meeting with journalists, the admiral told about combat training activities of NF servicemen in winter training period. One of the basic achievements of NF submariners at the turn of 2009 was successful test launch of ballistic missile carried out by SSBN
Bryansk
from the Barents Sea; impact point was Kura Range at Kamchatka.
Large ASW ship
Admiral Chabanenko
continues her long range cruise started in October 2009. At present, the ship's crew secures civil shipping by escorting Russian and foreign merchant vessels in the Gulf of Aden and near Horn of Africa. Antisubmariners face critical tasks which have to be accomplished during that long-term cruise, said Vice Admiral Nikolai Maksimov.
Heavy nuclear-powered missile cruiser
Pyotr Veliky
is also being prepared for distant cruise. In accordance with combat training schedule, the cruiser's crew presently carries out course tasks at the berth and at sea.
"For Northern Fleet mariners this year will be no less tight than the previous one", pointed out Vice Admiral Nikolai Maksimov. "Surely, all objectives of 2010 will be successfully attained".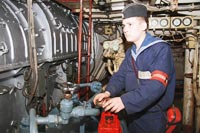 Practical training at Northern Fleet
As early as in May Northern Fleet will host the practical training course
Kumzha-2010
to be given to trainees of Military Academy of the General Staff. Then NF servicemen will participate in international naval exercises
FRUKUS-2010
and
Northern Eagle-2010
along with NATO warships.
Operational-strategic exercise
Vostok-2010
is among the prime tasks of NF mariners in 2010, said Northern Fleet Commander. The fleet will be represented by surface ships, submarines, naval aviation, and NF marines; in addition, units of Leningrad Military Command will also take part in maneuvers.
Vice Admiral Nikolai Maksimov reported that development prospects of Northern Fleet up to 2012-2016 had been already shaped. Reformation of the fleet had almost been finished by the end of 2009 and the new look of NF was formed. Transformation of military authorities is close to its completion. In the commander's opinion, staff reform will redound to advantage of the fleet and make it more compact and mobile in control. These changes are called to provide prompt and effective control of the fleet's forces, and modernization based on prospective development. For instance, a new Northern Fleet's submarine force was recently formed which comprises all divisions of nuclear-powered submarines.
Commission of new warships and upgrading of acting ones arouse great interest. Not long ago, SSBN
Karelia
returned to native base after qualitative overhaul and modernization at
Zvezdochka
shipyard in Severodvinsk. According to NF Commander, well done repair permitted to prolong service life of the sub for 10 years. At present, the crew performs course tasks so in the nearest future the submarine will join constant readiness force.
Project 1155 large ASW ship
Vice Admiral Kulakov
has passed repairs in St. Petersburg and soon will be tested at the Baltic Sea; afterwards, the ship will be commissioned into Northern Fleet.
NF Commander Vice Admiral Nikolai Maksimov attended keel laying ceremony of a new ship, frigate
Admiral Flota Kasatonov
. This ship opens a new project and was laid down at
Severnaya Verf
shipyard. Frigates of this type are designed for operations in distant and littoral zones; they can also be deployed in the World Ocean.
NF command considers social welfare of servicemen as one of the primary objectives. A working conference was recently held in Severomorsk with the participation of the fleet commander and envoys of Deputy Minister of Defense for building construction. They discussed the problem of housing provision of servicemen subject to retirement. This issue is more than topical for northerners, since those who finish military service in Polar Region are keen to move to favorable climatic zones.
"The task to provide all retired servicemen with housing in 2010 was given by Supreme Commander and Minister of Defense, so its executing is permanently monitored", underlined NF commander. "In 2009 we had received 1,332 apartments under housing certificate program; in 2010 it is expected to obtain about 3,000 apartments".
The housing problem was thoroughly studied at the conference. And there are some positive outcomes. According to Vice Admiral Nikolai Maksimov, it is expected that in March 2010 Northern Fleet will be furnished with about 530 apartments in various regions of Russia.