Combat Capability [42%]
,
Role and Missions
,
Structure of the Navy
,
in-service ships
,
surface ships
,
submarines
,
chronology
.
Black Sea Dominator
This year Black Sea Fleet has completed a huge array of critical tasks, such as participation in international exercise, interfleet cruise of task unit to the Baltic for taking part in Zapad-2009 exercise, maintaining stability near Caucasus coast etc.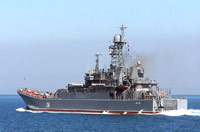 As it was said, the exercise under command of Vice Admiral Alexander Troyan, BSF Chief of Staff was conducted in the end of summer training period. The purpose was to train fleet's ASW force in search and destroy an "enemy" submarine.
Surface ships, naval aviation and Black Sea Fleet submarine took part in the exercise. BSF aviation was represented by two Be-12 aircrafts which placed buoys. Destroyer
Smetlivy
, small ASW ships
Suzdalets
(under flag of BSF Chief of Staff),
Muromets
and
Aleksandrovets
executed combat drills with combined use of ASW weapon.
Frigate Ladny under command of Capt 2 rank Alexander Shvarts had been in long-range cruise in the Atlantic for several months. It successfully performed a search mission of disappeared cargo vessel
Arctic Sea
and its release from pirates' captivity. The ship then continued accomplishing new tasks in the Mediterranean.
Four Black Sea Fleet large landing ships were also in distant cruise. Three of them took part in large-scale exercise
Zapad-2009
and having sailed the Atlantic Ocean they had spent weeks in the Mediterranean. After brief rest and maintenance, those ships continued performing their missions. In terms of duration, cruising region and level of tasks that cruise can be definitely called unprecedented in the recent history of Black Sea Fleet. Large Landing Ship
Caesar Kunikov
– a participant of
IONIEX-2009
– had entirely completed assigned tasks of
BLACKSEAFOR
international exercise held in August among countries of the Black Sea region. Right now the ship is performing critical international missions within the framework of Large Landing Craft unit.
Apart from five combat ships the auxiliary vessels have been and continue acting in the Mediterranean as well. They are rescue tugs
Shakhtyor
,
SB-5
recently returned back to Sevastopol, intermediate ocean-going tanker
Iman
, workshop vessel
PM-56
under command of Capt 2 rank Igor Bakuradze. It has anti-terror marine group aboard headed by platoon commander Lt. Vladimir Litvinenko.
Through the whole training year Black Sea Fleet has been accomplishing critical missions at Caucasus coast maintaining the necessary operational situation there and keeping stability in the region near Abkhazia coast. Small ASW ships and minesweepers from brigade of sea area close protection (BSACP) led by Capt 1 rank Valery Zubkov regularly sailed in east part of Black Sea. By the way, this Red Banner brigade turned 70 this year. This is not the whole story, Sevastopol GM boats brigade under command of Capt 1 rank Yury Zemsky celebrated 90th anniversary! Its missile boats have also fulfilled combat training plan and, like their BSACP colleagues had been maintaining favorable operational situation near Caucasus coast as well.
I had a chance to ship out on one of the vessels. That was GM boat commanded by Capt 3 rank Igor Vorobyov who is companion of medal "For Military Merit". Summarizing training year, commander of Red Banner GM boats division Capt 2 rank Igor Koval distinguished the crews of Capt 3 rank Igor Vorobyov and Capt 3 rank Vadim Lopatko.
The only BSF sub
Alrosa
under command of Capt 2 rank Anton Zaitsev excellently attacked "enemy" combat detachment during firings at Navy Commander's Prize contest.
Besides, the record-long field drill of SAM regiment headed by Col. Mikhail Glushich has been completed. Antiaircrafters trained actions of crews in intensive flights zone. The much longer combat exercise of marine brigade is drawing to close at Opuk naval range.
During recent fifteen years one could hardly recall such breathless and eventful combat training period for Black Sea mariners as they sailed in Baltic, Mediterranean, Black and other seas, Atlantic Ocean and explored new regions for training and practical use of force.
Source:
Krasnaya Zvezda
, Author: Vladimir PASYAKIN. 20.11.09
Translation:
RusNavy.com