Combat Capability [42%]
,
Role and Missions
,
Structure of the Navy
,
in-service ships
,
surface ships
,
submarines
,
chronology
.
Uzbek Navy: past, present and future
Mariners are not novelty here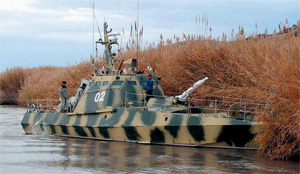 Naval exploration of Central Asia was started by Russians as early as 19 century. Russian Empire possessed here Aral Naval Flotilla (1852-1883) acted also at Syr-Darya River; and then Amu-Darya Military Flotilla (1886-1917). During Civil War, Soviet Russia also acquired flotillas there – Aral Flotilla (1919-1920), Amu-Darya Flotilla (1920-1921) and Syr-Darya Flotilla (1922). In 1923 Amu-Darya Frontier Squadron was created for protection of Soviet-Afghan border; it was the first frontier ship unit at the theater. During postwar period a special Caspian Flotilla's division of warships operated at Lake Aral providing search-and-rescue support of space launching at Baikonur and securing secret military biological range at Vozrozhdeniya Island.
By now, there is Russian naval base Koisary at Lake Issyk Kul still used for ASW arms test center established as torpedo range as early as 1943. That is why presence of mariners in Central Asia – though not only Russian ones for now – has historical background and is anything but novelty.
After 1991 Termez brigade of frontier escort ships fell within jurisdiction of Uzbekistan; formerly, the brigade had been subordinated to KGB and protected Soviet-Afghan border at Amu-Darya River. By early 2000-ies only three Project 1204
Shmel
river-going armored boats were still in service at river force of Uzbek Frontier Service; those boats were inherited from Soviet frontiersmen and nearly depleted their resources. It was an attempt to repair the boats and prolong service life for 10-15 years but it is uncertain whether or not that attempt was successful.
River force of Uzbek Frontier Committee is manned by enlisted draftees for the term of 12 months. Following ranks based on the model of Soviet Navy were established for shipborne staff (for Uzbek - kema tarkib):
matros
[Seaman];
ikinzhi darazhali starshina
[Petty Officer, 2nd class];
bosh starshina
[Chief Petty Officer];
kichik leitenant
[Junior Lieutenant];
leitenant
[Lieutenant];
katta leitenant
[Senior Lieutenant];
kapitan-leitenant
[Captain-Lieutenant];
uchunzhi darazhali kapitan
[Capt 3rd rank];
ikinzhi darazhali kapitan
[Capt 2nd rank]; and
birinzhi darazhali kapitan
[Capt 1st rank].
Development of Uzbek river force is supported by the U.S. which financed building of two Ukrainian-made Project 58150
Gurza
armored boats for Uzbekistan under Export Control and Related Border Security (EXBS) Program. Project developer is governmental enterprise Nikolayev Research and Design Shipbuilding Center (chief designer is Sergei Krivko). The armored boats were built at
Leninskaya Kuznitsa
shipyard (Kiev); lead boat
Zhaikhun
(ship No. 01) was delivered to Termez in November 2005 by heavy cargo aircraft
An-124-100
of Antonov Airlines. The second boat –
Saikhun
(ship No. 02) – was delivered in the same way. Designing and construction of two boats cost American taxpayers $5.6 mln. Remarkable fact is that Russia was nonparticipating party in this process.
Each boat has total displacement of 34 tons and powered by two 1,000-shp US-made diesel engines
Caterpillar
. Both vessels have water-jet propulsors and quite good speed for river-going ships – up to 55 kph (30 knots). Endurance is one week; each boat is capable to cover about 1,000 km at 20 kph. Main mechanisms are protected by Swedish-made 10-15-mm thick aluminum-steel armor. The crew is only 5 men, although the boat can accommodate landing assault or SR team. Each boat is well-conditioned – microwave oven, reefer and even bath.
Original arms of Gurza-class armored boat consists of:
a) artillery module including 30-mm automatic gun
2A42
and
Konkurs
antitank missile launcher (used at
BMP-2
turret; load is 300 rounds; it is possible to carry additional 300 rounds and 4 missiles);
b) 14.5-mm
KPVT
machinegun (used at
BTR-70
turret; load is 500 rounds);
c) two 7.62-mm
PKT
machineguns (one is coaxial with 30-mm gun; another – with 14.5-mm machinegun; total load is 4,000 rounds) and 8 smoke grenade launchers.
Radioelectronics comprises navigation radar and optical-electronic night vision equipment.
The U.S. has also declared intentions to deliver 14 small patrol boats to Uzbekistan totaling in $2.9 mln. All this "river power" is primarily meant for countering drug traffic and terrorists escaping from Afghanistan.