Combat Capability [42%]
,
Role and Missions
,
Structure of the Navy
,
in-service ships
,
surface ships
,
submarines
,
chronology
.
Aden Notes. Shipmaster's Evidence
All events described below happened since June 26 till August 9, 2011. The author graduated fr om St. Petersburg Ship Navigation Academy and has spent years sailing on various merchant ships, including a period of being a master's mate on LNG tankers. This story deals with some aspects of present-day shipping which can be useful for crews of commercial vessels and officers of Russian Navy's warships.
Outfit of hired security guard.
Central Navy Portal
To sail on a vessel as a shipmaster was my old ambition for years. Finally, an opportunity came and I arranged with crewing agency in Riga to be a shipmaster of an LNG tanker being repaired somewhere in Greece. It turned out to be Perama, a satellite port of Piraeus. Since it was my debut as a shipmaster, the company wanted ςξ look at me and "perhaps, offer a kind of test".
They told me it was very important "to look better than a pig, because employers are going to make feast in restaurants". I was not surprised, because it is a popular method to entertain a shipmaster and a ship's engineer. By the way, "restaurants" happened to be a narrow kitchen wh ere we all who passed the tests had by no means restaurant-class meals once a day and felt like godforsaken strangers.
Having arrived in Athens, I naturally hoped to be met in the airport, just like it had always been. But the driver whose phone number I had even hadn't heard about me. Finally, they picked me in a couple of hours.
Then they brought me to immigration service, although I had EU residence permit and did not need any formalities. However, that surprised much both the agent and immigration service. No wonder, Greek authorities have been always unaware of these matters.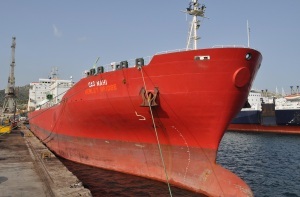 LNG tanker
Gas Mahi
.
marinetraffic.com
After a while, they showed me a "steamer" being under repairs for 3 months. The ship looked well and seemed to be sea-worthy. Getting on board, I realized that none of repairmen had seen gas tankers at all before. Some details of their work caught my eyes at once making me understand the ship would need a long time to get into shape. Then I met my predecessor, a cool 45-year old guy, and we found common language soon. But as long as the ship had no first mate for 1.5 months, I had to drift into routine without handovers.
The company ignored recommendations of the previous shipmaster and lost 2 months and $1.5 mln.
First 4 days were full of various poor-quality tests and exams. But examiners strongly believed those "brain busts" were useful. It seemed they treated us like stupid monkeys.
I had passed all tests excellently including interviews on "gas-carrier" issues with a man who had never worked with LNG tankers, judging by the conversation.
Barbwire "fence" along the tanker's boards.
Central Navy Portal
When my predecessor left, we anchored off the harbor to complete an array of works which normally must have been done at port. Then my poor handicapped mother called me and asked to come and help her. Recruitment manager just laughed in reply to my request to relieve me for a couple of weeks. Crewing agency could not help me either. I wonder what they would do if their own relatives feel bad?
And since that moment adventures came.
At first, we had run the main engine only for 6 hours instead of 24, and really tested it on move for about 4-5 hours. Take note, it is a risk of being stuck at high sea.
Then we were inspected in a row by Lloyd's Register, Flag State, Port State Control, and CDI (a tanker testing agency). Take note, our vessel had no chance to pass those inspections. Nevertheless, things ended well and we had passed all inspections. How? I've no idea and let's keep guesses by ourselves.
Next morning we were literally chucked out of repairs with threatening tone, although could not heave the anchor since there was no real repair. The depth was 93 meters and they forced us to make three additional attempts. In total, anchor chain was released to bitter end (93 meters!) five times, but after second attempt I called for repairmen's aid. Anyways, they did nothing.
Finally, our engineers built a makeshift and we sailed off after the visit of Lloyd's inspector who seemed to hear nothing about anchor windlasses.
And then was Suez Canal. "Authorities" and "pilots" bled us white as usual. I have been always wondering whether such countries really need assistance. But that was only child's play to what was on the way.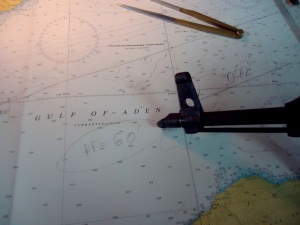 "We're somewhere around".
Central Navy Portal
Having sailed a bit through the canal, chief engineer called:
– We got to stop!
– We're in the canal, grandpa. No thruster, nothing at all, we'll block the canal!
I went down to engine room. It was flooded with fuel; the 3-meter stream was welling out of main engine making fuel mist around. There was no choice – we counted people in engine room, pulled fire extinguishers closer, and sent 3
rd
engineer to sit standby in CO2 station. The rest crewmen were called together in one room to be in touch with captain's bridge. Procedures were simple – if the fire occurs, everybody is out and switch on CO2 station.
We had wasted 19 tons of fuel in few hours in the risk of having engines dead every second if we would have failed to boost fuel as fast as we were losing it.
Having stayed 4 hours in the bay and tested the engines, we were going to move ahead, but the "repaired" automatics broke down and did not start main engine. Again meeting with Lloyd's, again screams why we're not going to navigate a non-navigable ship. And of course, they pushed us to the sea again.
Then we entered the Red Sea. Engines died out two times.
Since that time began adventures of passing the Gulf of Aden. All I got was email letter with coordinates of rendezvous point with guards. No agent, no authorities, no guards left their contact information. All we knew was that we must head for Yemeni port Hodeida. The operator was keeping silent, a kind of "sail by yourselves, guys".
In ship's books we found only a couple of mail reports and phone numbers with no English-speaking responders.
So, we moved to nowhere. Having approached the port, we tried to call port control or coast guard, but with no luck. Anyways, I decided to head for rendezvous point; they would call us if they need. However, they could shoot at us as well. We arrived at the point but there was nobody around. We waited several hours, but no one came. When twilights fell, some boats began to crowd around our ship, but our "barbwire fence" was not ready yet. No space for underway maneuver either. We could only rely on reports to MSCHOA and our Iridium-equipped "citadel". Then I was ordered to head for another point and wait there. We arrived at that point which was 12 miles away from the first one and spent few hours waiting for the guards. When they finally came, we let them board the ship. However, the guards were not armed.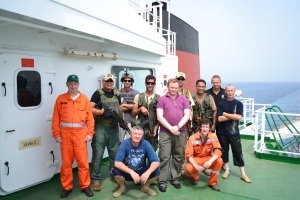 The ship's crew and guards.
Central Navy Portal
Stout fellows told us to move to the third point to take arms. All right, we sailed there... Silence, nothing happened. New information in a couple of hours: "Boat with arms will wait at the first point, get back there". We did so, but nobody was there. Another order in two hours: "Leave 12-mile zone, you can't take arms within it". We left the zone, silence again. The crew was all crocked up. Engineers – by handling of automatics, sailors – by mounting a barbwire fence, and everyone – by our maneuvers. Then started promises like "the boat will come in an hour". Day and night passed away, but no boats came. I informed Russian Maritime Security Service. Being aware about passage time of Russian antisubmarine ship
Severomorsk
, I called them on 16
th
channel. The warship replied, although refused to send marines since it was unclear how to take them back. However, they invited us to join a convoy coming on August 3. We were waiting again. New canard was that the boat "cannot find you". What the heck – at 12 miles westward from entrance buoy! We were told to move 1.5 miles closer to let the boat see us, get back beyond 12-mile line together and then we would get rifles. So did we and anchored again for a day. A kind of a "groundhog day" – they couldn't find us! "Get 1.5 miles closer to entrance buoy and say your coordinates". I got ropeable and wrote them not to take us for idiots – we're 166-meter long, freeboard is 10 meters, beam is 26.5 meters, red-colored hull – it's impossible to miss us at 1.5 miles! And we couldn't maneuver at shallow waters because of deep draft.
Things were close to evening of August 2
nd
(remember, the day before convoy). I called to the office, and they said I couldn't join the convoy just because they had paid for the guards. Then I called to shipowner and was cleared to skip guard's escort. I frightened American guards with
Severomorsk
and "promoted" her from antisubmarine warfare ship to heavy cruiser. It was like "you guys may do what you want, but I'll join
Severomorsk
tomorrow". It was a pleasure to hear that both
Severomorsk
crew and RMSS were worrying about us and asked about the situation in a business way, not like they dulled in St. Petersburg security service.
The guards were scared and promised the guns would be at noon August 3rd. That was it – at 11 am next day came used-up fishing boat with two grubby amigos on board. At first we turned it away thinking they wanted to change fish for paint, but after a while they happened to be those who brought us four Kalashnikov rifles, 2 000 rounds, and a "Mickey Mouse" document saying all that stuff was legal.
Having reported to RMSS, we headed for Aden. Later on,
Severomorsk
called us specifying was it true that we sailed alone. To tell the truth, I'd like guards would not had received guns, and our marines come instead, but shipowners were annoying – we had to move ahead.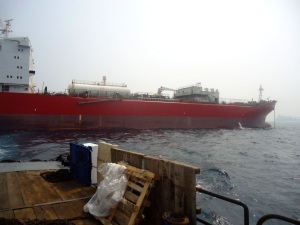 Off the harbor of Fujairah.
Central Navy Portal
On the next day guards trained us how to use arms in case they're shot down. Basically, they were sane guys having Iraq and Afghanistan under belt (let us separate national policy and people). We also trained them a bit – showed the ship and, particularly, the citadel, and agreed upon the signals.
We passed Aden without problems except for being told to clear by dry air, and silica gel was not replaced during repairs.
The guards were supposed to get ashore in Muscat, Oman. But silence again. The agent got on contact only at approach to the port and said there would be 15 local officials to come on board. That aroused a question – what to do with Kalashnikov rifles? No documents except for a "fig-leaf" with two rifle register numbers printed incorrect. The guards also felt uncomfortable, since they were expecting for clear documents on guns. We were about to drop rifles overboard in case gun permits would not been brought. Becoming arms smugglers was not our plan. At last, guards received papers they needed, but instead of local authorities came a boatman, took entry declaration and sailed away without even boarding our ship – that was a time of Ramadan. We let the guards ashore and moved ahead for Fujairah. That was the end of Aden adventures. And what happened while cargo loading of the "post-repaired" ship is another story.
P.S. On behalf of my crew, I express great thanks to the complement of large ASW ship Severomorsk and the staff of Russian Maritime Security Service for their professional support in problematic situation early in August 2011 off Hodeidah port, Yemen.
September 10, 2011. Tallinn