Combat Capability [42%]
,
Role and Missions
,
Structure of the Navy
,
in-service ships
,
surface ships
,
submarines
,
chronology
.
Nerpa vs Chakra: which is to fail first?
Military procuracy recently reported in a demure way that causers of the tragedy happened to nuclear submarine Nerpa had been already found. Sure, one may fold hands and relax now…but our law bodies have run out of credit in the recent years. What if not everything was accidental in this story?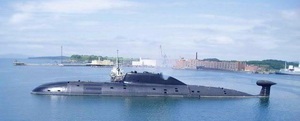 SSN K-152
Nerpa
We remind that firefighting system accidentally operated on board nuclear-powered attack submarine (SSN)
Nerpa
on November 8, 2008 during trials in the Sea of Japan; as a result, anti-fire agents released. Two bow compartments were pressure-sealed, so 20 persons died – 3 crewmembers and 17 civilian experts. Other 21 sufferers were intoxicated and hospitalized then. It was reported 10 days later that the number of injured persons increased twice; totally, there were over 40 men called in medical aid.
During the sea trials there were 208 men on board the sub – only 81 servicemen, the rest were the shipyard's leading engineers and experts (although none of big bosses). Sailors managed to evacuate 40 persons on the top deck. Then the crew spent 10 hours in the strength hull (in self-contained atmospheric protection suits) trying to return the sub to the base without any help from trial team.
Unscheduled version
Imagine for an instant that the accident did not occur in November 2008. What would happen next? Most likely, the yard would manage to hastily deliver the sub late in 2008, then she would be delightedly handed over to Indians in spring, and no later than in May or June 2009 they would head for their Indian Ocean... However, carbon dichloride (instead of freon) unspent on November 8 would remain in tanks, automatic firefighting system
Molibden-I
would be programmed in the same way, and Indian sailors differ from the Russian ones only that they do believe in re-incarnation... Finally, is that a sailor who makes a problem? And then, in August 2009 (damn, all our troubles always happen in this month) the world would be shocked by a tragedy eclipsing even the
Kursk
accident – INS
Molibden-I
leased from Russia for 10 years failed to return from a regular cruise with 150 Indians on board (73 are standard crew plus backup crew and staff officers). The sub lost radio contact, so her exact location (as well as the accident causes) would never come to light... Probability of such developments would be 98 per cent (2% is a mere "wind allowance" here).
And now try to guess how Russia and its valiant defense industry would look in such situation? And what would happen to other Russian-Indian contracts (considering that India is perhaps the largest importer of Russian arms)? And the main thing – excuse my chronic paranoia – who would make a hand of that or pierce hole for a medal?
Okay, perhaps that was just a chain of accidents – activation of firefighting system in the Sea of Japan, flock of people in one compartment, salvage of the sub, and so on. But! Unique modification "I" of
Molibden
system is NOT an accident ("India's insistence"?). Composition of firefighting gas is NOT an accident. Gas entry into 2
nd
compartment (the most crowded one including commanding officer's battle station) by three feeders – with triple "guarantee" – is NOT an accident either. NOT accidentally Indians had been harping on
Chakra
for several years before, and our military "gave no confirmation" in every way disavowing ties of Russo-Indian contract and the certain sub.
And what connection all these things have with our further views on development (more specifically – destruction) of Russian-Indian relations? It comes that originally everything was against… Indian submariners but not ours (they just happened there prematurely, namely – by accident)? So what –
Chakra
is a might-have-been Indian hybrid of
Wilhelm Gustloff
and Nautilus?
"The devil is in the details…"
After unauthorized operation of firefighting system the submarine urgently surfaced, and her compartments were ventilated. This helped to keep the sub navigable. Despite the lack of official information and inconsistency of media reports, following details of the accident leaked out no later than in two weeks:
1) laid down at
Amur Shipyard
far back in 1991, the submarine had undergone numerous alterations;
2) for the first time in this class of subs, firefighting system was automated (besides, all inscriptions were in English);
3) instead of regular freon gas, there was another kind of anti-fire agent (with extraneous additives or even entirely carbon dichloride).
There was no need to be an eminent lawyer or an experienced engineer to discern main causes of the tragedy and trace directions for search of guilty persons:
1. English software of
Molibden-I
system (thank God, it wasn't Hindi). Guilty are those who posted non-English-speaking crew to the submarine, i.e. headquarters.
2. Modernized design provides feeding of triple dose of anti-fire agent into one compartment. Guilty are orderers of this modification.
3. New software allowing activation of firefighting system without authorization of central station, i.e. automatically (that has been always done manually before). Guilty are orderers or designers of such software.
From the viewpoint of common sense, a logical question arises. What's the use of this "innovation" with simultaneous gas feeding from three compartments into one? To extinguish fire, one portion is well enough, otherwise there's no need for this system at all... Okay, let's assume the second portion is just as a backup from adjacent compartment when there are no survivors at the fire site... But triple portion into one compartment!
Simultaneously and automatically! That's a real nonsense …

4. Off-standard composition of anti-fire gas. Guilty are suppliers and their supervisors.


Specific look "from above"
At last, on March 30 Pacific Fleet judge advocate endorsed indictment on the criminal case initiated 2.5 years ago "on the basis of the Nerpa accident caused 20 deaths".

According to his assistant for public relations Roman Kolbanov, "the submarine's commanding officer Captain 1 rank Dmitry Lavrentiev and bilge engineer Petty Officer II class Dmitry Grobov are put on trial. Investigation has found out that their actions and inactions led to the submarine's accident with 20 dead and 38 injured persons".

In particular, officer Lavrentiev is charged of excess of service powers. Namely, "performance of acts which are directly beyond the scope of his authority and caused significant infringement of rights and legitimate interests of persons and organizations, public and state interests protected by law, with grievous consequences (death by negligence of two or more persons), i.e. commission of a crime stated in clause 286/3/c, RF Criminal Code". Sanction of this clause provides up to 10 years of imprisonment.

Petty officer Grobov is accused of a crime stated in clause 109/3, RF Criminal Code – "reckless homicide of two or more persons due to improper execution of professional duties" (providing up to 5 years of imprisonment), and "causing of grievous harm by negligence to the health of two trial crew members due to improper execution of professional duties" (clause 118/2, RF Criminal Code).

Mr. Kolbanov refused to disclose details, having only added that the case files would be submitted for consideration on the merits to Pacific Fleet Court Martial.

Commenting this report to Kommersant newspaper, deputy director of Pacific Fleet investigation department Yury Sazonov was also sparing of words: "Lavrentiev failed to train subordinated crew properly; that led to such grievous consequences". He turned off detailed comments as well.


"…and other officials…"
Lavrentiev's defender Alexander Kulakov told to the same press agency that material of investigation makes possible to name all true causers of the accident, "although investigators don't want even to find out why the sub's firefighting system was filled with cheap poisonous carbon dichloride instead of expensive but relatively safe mixture", and that "the real cause of people's death is misconduct of duties by some officials in defense industry and impudent stealing of federal funds while the submarine construction".

Another newspaper (Vzglyad) earlier published information that in the beginning of 2010 investigators had completed identification of suspected persons. Apart from two figurants of the final indictment, there was ex-commander of 72nd repaired ship brigade Captain 1 rank Sergei Zakharchenko. As for now, he is retired on reaching the age limit. His guilt in negligence and improper training of subordinated personnel was not proved. Pacific Fleet HQ also refuses to give official comments on the case inquiry, saying that "investigative activities cannot be debated". Off-the-record, however, staff officers say they boil over the inquest conclusions. As for them, the accident was caused by the sub's technical imperfection and software failures.

"Similar incident with firefighting system happened again after the tragedy in the Sea of Japan, right at the shipyard's fitting-out quay. People say the reason is flaw software…", wrote Rossiyskaya Gazeta recently.

"That is just why we still cannot complete the sub and hand it over to the Indians. Speaking of Lavrentiev, he did right in the accident of Nov 8. Thanks to excellent actions of the crew, many people and the submarine survived", said one officer, having added that the fleet command still commits the sub to Lavrentiev's trust. Pacific Fleet HQ also officially confirmed the information that Dmitry Lavrentiev is still commanding officer of SSN Nerpa. Regarding Dmitry Grobov who allegedly activated the sub's firefighting system without any permission and need (as investigators say), colleagues still have strong concerns that he admitted guilt under constraint.


Hitting the rock-bottom
Here is another sore comment given by a workfellow of Captain 1 rank Lavrentiev: "Now the man who saved lives of two crews has to face trial on a thin case. In this manner the most experienced CO in Bars class is being kicked out".

Logically, such "criminal" commander should have been immediately suspended from command over the sub and the crew to prevent him from further "crimes". But this does not happen. Just because they are well aware that only Lavrentiev can complete trials and hand over the sub to the Indians… there are only two such officers in Pacific Fleet…

The main thing incriminated to Lavrentiev is that he did not refuse to fulfill the Navy Commander-in-Chief's order to terminate crew training period prematurely. They say, by fulfilling that order the sub's commander did not let the crew finish training. Also, he violated damage control instructions when ordered to depressurize compartments and ventilate them after surfacing.

That is a pretty kettle of fish. Trial experts who were in the sub that day are solidly behind Lavrentiev, but nobody listens to them. Officers of the fleet's secret service also stand up for him, because in contrast to prosecutors they sail in submarines and understand what is what…

As a man who had spent 11 years in strength hull, I can clearly imagine what happened: firefighting system is suddenly activated (either spontaneously or with somebody's help, no matter), toxic gas begins to enter the compartment, and only after that alarm sounds (that is important!), people react on that (jump out, awake mates, and plug in breathing masks), faint away ("half of masks were inoperative", but green submariners most likely forgot or could not make initial breath-out into mask to start air regeneration). Then gas enters the compartment again (some sufferers say even about "triple dose of freon just flowing down the bulkheads" without spraying)…

In the same way I can visualize the "crime" recorded by meticulous procuracy – the sub surfaces in emergency, hatches are opened (of course, in violation of submarine damage control regulations relevant to past-age subs without automated firefighting); people are getting on the top deck while ventilation lasts quite long – "they spent 10 hours standing in the cold".

It is my belief that only by virtue of prompt and decisive actions of commanding officer who ignored old instructions – what now he is charged of – the rest of sufferers managed to survive. Otherwise, there would be at least fifty dead bodies more…


"Awarding" of the blameless …
Some media agencies still continue to spread a fake that "a fire occurred in SSN Nerpa while trials in the Sea of Japan. As a result of unauthorized actuation of firefighting system, freon gas entered compartments". Jeez, there was no a shade of fire and – unfortunately – freon either! The city website of Komsomolsk-on-Amur adds fuel – here are some posts of those who had built the sub:

"What an absurd! There were so many violations in technology while assembling this sub… hot-shots always press for deadlines, although there are neither spare parts nor equipment. People were forced to hurry up under threat of dismissal, so they weaseled out again… and as a consequence – accident and victims. Big bosses draw good money, and people die and face trial. This is Russia, gentlemen";

"Managers who purchased cheap toxic gas and executives who gave the green light to use it are those who must go on trial first. Military accepter responsible for firefighting system requested the certificate, but since it was forged, nobody showed it. A less exacting (or maybe less experienced) accepter changed him and he accepted the firefighting system because of tight deadlines and pressure. So, there are two links remaining in the shadow – the military accepter and the shipyard scrounger (won't name his position) who pushed that lemon to the Navy";

"Now it got about that true authors of the tragedy will escape punishment. At the bar are whipping boys… But why don't those who are at the head of the accident face trial? Who had made conditions for the tragedy? Why defense ministry's high-rankers are not in the dock?"

Apparently, prosecutors strenuously tried just to cover up "big men" and find "whipping boys"… Unfortunately, defense of "public and state interests protected by law" is not seen in this case, only interests of those who cashed in on the Indian contract. Indeed, even after the trial against the two submariners is over, production process of "ship junk" will remain the same.

Thus and so, we'll get other Nerpas, and they'll get other Chakras. But nobody will save people under a risk of going to jail anymore.