Combat Capability [42%]
,
Role and Missions
,
Structure of the Navy
,
in-service ships
,
surface ships
,
submarines
,
chronology
.
Arab Winter 2012
While the world stares at the Persian Gulf discussing date of military operation against Iran, the situation in Syria has fallen into the shade. Any military intervention in one of these countries would instantly trigger reaction of another one. Moreover, the odds are it is Syria but not Iran who would fall the next victim to "Arab Spring" which is unfortunately turning into "Arab Winter".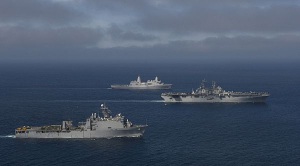 US Navy's amphibious ready group
Why Syria may become a Number One Target?
Just because Iran possessing nuclear technology looks more prepared for retaliation and can inflict unacceptable damage. Just because Syria is drawn in mass civil commotions. Just because Syria is a secular state where religious fanaticism and terrorism are out of favor.
At the same time, Syria is the only ally of Iran in the Middle East. As for political analysts, much of Iran's stability is owed to Syria, and if the regime of Bashar Assad falls down, Iran would either go into compromise or share the fate of Iraq. Looks attractive for those who got used to pull chestnuts out of fire by someone else's hands, doesn't it?
Of course, it does. Especially if one takes into account that it is Iraq where Iran strives to augment its power with the view to reconstruct the Shia "crescent" Iran-Iraq-Syria as a counter to Turkey and the pro-American Sunni Arab world headed by Saudi Arabia. In such a way it is possible to determine fate of the three formerly independent countries at a time.
Besides, "civilized global community" is pretty well tired of Syria. Through recent 25 years, Syria has strengthened
Hezbollah's
standing in Lebanon becoming a bridge between Iran and that organization.
It is Syria who intermediates Iran's armament exports to Palestine and relations with Hamas. Syria and Lebanon are states which territories may be used by Iran for a strike upon Israel in case of direct confrontation. Syria is the only country in the Mediterranean and worldwide where Russian Navy has overseas base, i.e. technical maintenance center in Tartus.
Setting up control over Syria where Sunnites constitute majority would give, say, Turkey access to the Arab Middle East.
"Considering all those things, we may say that overthrowing of current Syrian government – as was seen in Egypt and Libya, implying collapse of political system and causing chaos – may have disastrous effects on Iran's regional policy. In this context, keeping Assad's regime in Syria looks regional priority for Iran", said Sevak Sarukhanyan.
It can be expected that it is change of leadership in Syria but not interfering in Iran's nuclear program which is a prime objective of political game played in the Middle East, because Iran would remain alone then. It is Syria who may become the next-after-Libya Mediterranean country where outcome of inside political storm would be determined by no means a civil war but intervention of a third force (Arab League, Turkey, and Israel) jointly with air-sea operation of the US and Allies.
UN Resolution will imply opening of hostilities
Such actions must be only legitimated. For instance, by UN Security Council's resolution analogous with notorious Resolution 1973 on Libya.
As is known, in October 2011 Russia and China vetoed the resolution on Syria. British foreign minister William Hague commented it as a "great mistake". On January 23, 2012 when Syria declined to adopt an anti-crisis plan made by Arab League, the UK repeated that a UN resolution on Syria was a long-felt need. And it won't be a long time coming even though not only Russia and China oppose force scenario in the UN but all other BRICS members.
The conflict escalation is inevitable. But there must be a casus belli!
Situation will definitely become aggravated either at attempt of economic embargo on Syria (scenario offered by League of Arab States), or as a result of Iran's countermeasures to pressing on its nuclear program, or in case of an incident in the Strait of Hormuz (scenario offered by NATO).
Anyway, casus belli implies a response by means of NATO's air-sea operation (using language of current US seapower strategy). It means simultaneous strikes upon Iran and Syria with further land invasion of Syria involving Turkish armed forces fr om the north and Israeli troops from the south.
Then events may develop in different ways.
Syria would manage to avoid regional blockade with assistance of Iran. Now it is apparent that neither Lebanon nor Iraq will accept sanctions imposed by League of Arab States against Syria, and their borders with Syria will remain open. Moreover, leader of
Hezbollah
Hassan Nasrallah declared Lebanon would keep friendship with Syria. He warned that any military intervention into Syrian affairs would "explode" the region, having confirmed expectations that
Hezbollah
and Iran could directly engage in potential armed conflict.
If Iran does not retract former statements and continues struggle, consequences seem to be unpredictable and would inevitably led to drawing Middle East countries into the war and escalation of conflicts in Caspian and even Black Sea regions. Such scenario is possible but unlikely today considering Iran's intentions to strengthen economic and political ties with Turkey and convince the world community of its peace-oriented nuclear program.
If damage inflicted by missile and bomb attack in the first phase of operation leads to Iran's renunciation of further confrontation, Syria would face the superior enemy and wouldn't resist for a long time under conditions of active internal conflict and outer blockade; Assad's regime will be inevitably overthrown, it's the matter of time, and the country would be controlled by armed forces of Turkey and, perhaps, some Arabic countries until new administration is formed.
Russia's contribution to conflict containment
Until recently, the situation was complicated by Russian warships of Northern, Baltic, and Black Sea fleets stationed off Syria. Their presence was nothing greater than brilliant demonstration of partnership relations between Russia and Syria. Task force consisting of one ASW ship, two frigates and supply vessels headed by the Russia's only aircraft carrier could not hinder an aggression for obvious reasons of force imbalance and lim ited combat support.
Russian ships had been withdrawn from the Mediterranean Sea before UN Security Council convened. Even Black Sea Fleet's floating workshop
PM-56
deployed in the region for half a year hastily left the Mediterranean. So, Russian Navy has removed all surface ships from the zone of potential conflict. Presence of one or two Northern Fleet's nuclear-powered submarines conducting reconnaissance and monitoring is assumed, but their engagement in the conflict is very unlikely.
To all appearances, Syria and Iran would have to be prepared for sovereignty protection in the nearest future.
Military capabilities of Syria and Iran
Undoubtedly, Iran does have sufficient military potential to counter possible aggression firmly. It depends on many factors to what extent that capability would be used. Considering Iran's intentions to strengthen economic relations with Turkey and not to provoke the US in the Strait of Hormuz, one can suggest that Iran would accept compromise under certain conditions and leave Syria unsupported.
What Assad's regime could rely on then? Only on its own armed forces.
Prior to internal tensions, Syrian armed forces numbered about 320,000 men. They consist of land troops, air force, navy, and air defense.
Syrian officers are trained in specialized institutions within the country and abroad, including Russia and possibly Egypt. Training standards are not high, commanding staff has no experience of planning and conducting operational and tactical warfare unless one counts few military units participated in urban police actions. Many servicemen deserted due to internal crisis; it obviously weakens combat capabilities. I will not analyze potentials of Syrian land and air components leaving that to more competent authors.
What I will address myself is Syrian naval force numbering two Project 159 small-size ASW ships, three Projects 1258 and 266 minesweepers, three Project 771 middle-size landing ships, up to sixteen Project 205M missile boats, and somewhat ten patrol cutters. Personnel qualification level and condition of ships cannot imply serious actions at sea. Perhaps, they would make an attempt to block approaches to ports by mining, if only such measures are taken in time. Most likely, warships would not leave bases by the beginning of active aggression so would be soon destroyed by aviation like it was in Libya in 2011. Of course, missile boats can be used against opponent's warships, but their effectiveness would not be considerable due to lack of reliable targeting means and incompetent control.
Coast defense force poses more serious threat to an enemy thanks to Russian missile systems K-300P
Bastion with Yakhont
antiship missiles. Such missiles are effective against large-size sea targets like aircraft carriers, cruisers, or destroyers. Their use against small-size fast targets like missile boats and amphibious crafts at 1-15 miles off the coast (observation range of available assets) can be justified only by an extreme need. Although enemy ships would try to stay as far as possible, it would be quite problematic to hit them by K-300P even within engagement zone for the same reason – lack of proper targeting.
As was seen in the Libyan conflict, it would be impossible to use other coast defense assets like mobile missile systems or coastal artillery because of enemy's air supremacy.
Naval aviation operating about 20 helicopters can be used only under air defense's "umbrella", but air defense and administrative assets are top-priority targets for enemy's missile strikes. Syria's Mediterranean coast would become absolutely unprotected from landing troops, reconnaissance and sabotage groups, and enemy warships supporting coastal operations.
What is in opponent's hand?
Forces countering Syria and Iran could be US Navy's Fifth, Sixth, and Seventh Fleets, as well as warships of British, Canadian, French, Italian, and Spanish navies; they would participate in air-sea operation and maritime economic blockade. Turkish and Israeli naval assets would support actions of land troops and amphibious forces, and maintain economic blockade in littoral zone. As practice shows, small-size fast cutters may accomplish tasks of naval blockade. Both Turkey and Israel do operate such vessels and can properly use them.
Actions of Israeli missile boats were successful many times.
Turkish Navy has over 40 various landing ships and boats in inventory. Moreover, amphibious assault operations and other activities supporting land forces are integral element of present-day Turkish naval doctrine.
In the first strike of air-sea operation, NATO may launch up to 40 sea-based long-range cruise missiles against Iran and up to 90 – against Syria. In the second and further strikes – about 86-124 cruise missiles; both ship-based aviation and NATO air force stationed in Europe and Turkey would be involved in air attacks.
US Navy's Sixth Fleet which area of responsibility is the Mediterranean Sea numbers at least 40 surface ships and 2-4 submarines armed with long-range cruise missiles, about 175 airplanes and 21,000 personnel. The fleet is headed by Vice Admiral Frank Pandolfe. The flagship is USS
Mount Whitney
(LCC20). Aircraft carrier USS
George HW Bush
(CVN77) will be soon shifted by USS
Enterprise
(CVN65) with escort ships. The latter was visited by US Secretary of Defense Leon Panetta during the pre-deployment exercise. That obliquely indicates of special importance of tasks assigned to that carrier group.
Canada postponed withdrawal of frigate HMCS
Vancouver
which – according to Canadian defense minister Peter MacKay – tracks vessels suspected of international terrorism. Take note, the ship participated in the NATO operation in Libya.
Areas of responsibility assigned to the US Navy's Fifth Fleet headquartered in Manama, Bahrain are the Persian Gulf and the Red Sea.
The fleet consists of a carrier strike group, an amphibious ready group, submarines, patrol and reconnaissance aircraft, and supply vessels.
Down to recent time, two American carrier strike groups had been deployed in the Persian Gulf.
Led by USS
Carl Vinson
with 90 aircraft on board, a carrier strike group arrived in the Fifth Fleet's area of responsibility on January 9, 2012. The group including guided missile cruiser USS
Bunker Hill
and guided missile destroyer USS
Halsey
provides navigation security in the Arabian Sea.
Carrier strike group headed by USS Abraham Lincoln was deployed to the Persian Gulf on January 22, 2012. The group comprises guided missile cruiser USS Cape St. George and two guided missile destroyers USS Momsen and USS Sterett. Apart of US naval assets, British destroyer HMS Daring (Type 45 lead ship) was dispatched to the Arabian Sea on January 11.
The amphibious ready group of Seventh Fleet consists of Wasp-class amphibious assault ship USS
Makin Island
, amphibious transport dock USS
New Orleans
, dock landing ship USS
Pearl Harbor
, marine battalion, special operations team, reinforced helicopter squadron, and logistic battalion.
Seventh Fleet is the largest US Navy's task force numbering up to 60 ships, 350 aircraft, and up to 60,000 men. The fleet's area of responsibility is the Pacific and the Indian oceans and the Persian Gulf. Headquarters is located in Yokosuka, Japan. Flagship is USS
Blue Ridge
(LCC19).
Is UN resolution so necessary to open hostilities?
However, legitimization of armed intervention into Iran and Syria is not mandatory. Hostilities can be opened by other countries.
Highly probable scenario is if some terrorists deliver a strike from Syria by weapons captured from governmental forces. According to Jordanian newspaper
Al-Bawaba
, about 600 militants from reserve of Libya's National Transitional Council were airlifted to Turkey, carried over Turkish-Syrian border and joined so-called Free Syrian Army consisting of military deserted from Syrian armed forces.
Response from Turkey and Israel would not keep waiting. Chairman of the US Joint Chiefs of Staff General Martin Dempsey recently visited Israel in order to allegedly talk Tel-Aviv out of preventive strike and not to let do silly things.
Perhaps, NATO would start its own "humanitarian operation to protect Syrian peaceful population". As was reported by Israeli online portal DEBKA, a special-purpose joint military grouping is deployed in Iskenderun (Hatay Province, Turkey) consisting of units from NATO and some Arab countries. Their major task is to create humanitarian corridors in Syrian territory and maintain their security.
Operational plans of invasion to Syria have been already drawn out, reports DEBKA.
According to media, Israel, Jordan, and Turkey have put their armed forces on alert.
Syrian local news agencies actively mention about over 60 American B-61 nuclear bombs deployed in Turkish territory.
The Arab Spring seems to be followed by the Arab Winter. Chaos will definitely cause another chaos.
And, by the way, in close proximity to Russia this time.