Combat Capability [42%]
,
Role and Missions
,
Structure of the Navy
,
in-service ships
,
surface ships
,
submarines
,
chronology
.
Anchor with Red Crescent: modest present of Azerbaijanian Navy
Some historians in Baku say that a sort of navy emerged in feudal state Shirvan [located at the territory of Azerbaijan] as early as in XII century during governance of Shah Akhsitan I. Having warships at disposal and being supported by Baku fortress, he managed to repel attack of Russians arrived at numerous boats to seize the city.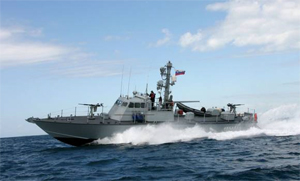 Ship of Azerbaijanian Navy.
1news.az
In XVIII century Persian Empire headed by Nadir Shah collapsed and consequently several small khanates appeared fighting with each other. Among them was Baku Khanate governed by Mirza Muhammad Khan in the period of 1747-1768. He was not a stranger in marine affairs and promoted both merchant and military shipbuilding in Baku.
Little is known about Azerbaijanian seafarers. Although their vessels were unlikely the masterpieces of shipbuilding, the fact is that attempts to create Azerbaijanian fleet go far back.
Main base of Caspian flotilla
Baku naval port is located at western part of Baku Harbor (Bailov area). In 1867 the main base of Russia's Caspian Flotilla moved from Astrakhan to Baku. February revolution and October upheaval of 1917 exerted corrosive influence on Caspian Flotilla, too. For instance, the flotilla commander Rear Admiral E.V. Klupfel was expelled on demand of sailors' gang.
Revolutionary mariners supported bolshevist Baku Commune. After a while those dashing guys easily made a bolt to socialist-revolutionary CentroCaspy (Central Committee of Caspian Flotilla). After downfall of Baku Commune and then decline of short-lived CentroCaspy's dictatorship, almost whole Caspian Flotilla of former Russian Empire passed to the control of Azerbaijanian republic.
At first, when Azerbaijan was invaded by Turks seized Baku in September 1918 and brought Musavat government, Azerbaijan had not navy. In November 1918 Turks got beaten in WW1 and Baku fell within jurisdiction of 5,000-man British garrison headed by Gen. Thompson. Englishmen handed over to Azerbaijanian government ships of Russian Caspian Flotilla which were taken to Petrovsk [presently Makhachkala] by order of CentroCaspy and returned to Baku after withdrawal of Turks.
Late August 1919 started evacuation of British troops from Baku. Royal Navy Caspian Flotilla led by commodore Norris had also finished their mission at the theater of naval operations launched in 1918. Royal Navy handed over to Azerbaijan some of their ships and auxiliary floating craft which were Russian merchant vessels captured and armed by the British. In particular, among them were support cruiser Pushkin, gunboat Gretsia, advice ships Kursk and Orel, and hospital ship Alesgerier.
Eventually, in spring 1920 Azerbaijanian Navy went over to bolshevists in full strength. Then the navy was headed by Chingiz Ildrym, Azerbaijani bolshevist, engineer and ethnic Kurd. When bolshevists won, Ildrym became people's commissar of Azerbaijan Soviet Socialist Republic for military and naval affairs and Commander of Red Fleet of Soviet Azerbaijan – that was the new name of national navy.
In summer 1920 Red Fleet of Soviet Azerbaijan joined the Caspian Fleet of Russian Soviet Federative Socialist Republic and transformed into Naval Force of Caspian Sea (in 1931 renamed into Caspian Flotilla). Since that time the history of Azerbaijanian national navy was shut down for 72 years.
Soviet heritage
Breakup of the Soviet Union had impact on Caspian Flotilla as well. In summer 1992 Baku-based flotilla was carved-up between Russia and Azerbaijan. Apart from warships and auxiliary vessels of almost all classes, Azerbaijan obtained well-equipped Baku naval base with huge ammunition and logistic reserves, defense shipyard No. 23 and other components of fleet infrastructure.
The fist ship hoisted Azerbaijanian national flag was patrol ship
Bakinets
. That happened on July 26, 1992 and this date was a sort of Azerbaijanian Navy's revival. Capt 1 rank Rafik Askerov became the Navy Commander, although unremarkable on this position; in 1999 the Navy was headed by Shakhin Sultanov, now Vice Admiral and graduate of Caspian Red Banner Naval Academy named after S.M. Kirov.
At the rise of independence, Azerbaijanian leaders sank in interior political and economic problems; in conditions of disgraceful war against Armenia there were no thoughts of national navy and maintaining warships in appropriate state. Mariners were dispatched to land front.
Having found several shipborne guns
B-13
at Caspian Flotilla's depots, Baku can-do men mounted them on railway flatcars and used against Armenian positions from railroad section Yevlakh - Stepanakert. Azerbaijanian warships were involved in subjection of separatists in southern regions; rebels tried to proclaim Talysh Mugan republic there.
In 1994 on the initiative of then-president Heydar Aliyev combat actions at Nagorny Karabakh were ceased and that saved the region from national disaster. Alongside with that, Aliyev being a talented politician and experienced state figure made vigorous efforts to put armed forces in order; it was his governmental period when Azerbaijan fell on systematic military development.
It is noteworthy that in 1997 Milli Mejlis [Parliament of Azerbaijan] approved the system of naval flags and pennants which design obviously resembled influence of Soviet style. Aesthetically, white and azure colored ensign with anchor and red crescent can be ranked as one of the world's beautiful ones. Present-day ships of Frontier Service also fly traditional flags of Soviet design (naval flag on green background).
With appointment of activist Shakhin Sultanov to the post of Navy Commander, a new page of the national navy's history was opened. Vice Admiral Sultanov appeared to be a gifted initiator, since combat capabilities of Soviet warships fell to Azerbaijan were recovered; besides, some auxiliary vessels were transformed into combat ones.
Force, assets, and strength
Presently, manpower of Azerbaijanian Navy numbers about 2,500-3,000. Training of naval officers is conducted by Azerbaijan Naval Academy (former Caspian Red Banner Naval Academy) and Turkish military educational institutions; warrant officers and chavushs [petty officers] study at Navy Training Center.
Flagship of Azerbaijanian Navy is Project 159A 1040-ton patrol ship
Bakinets
(
SKR-16
) built in 1967 and renamed into
G121 Kusar
(after Azerbaijanian town of Kusar, in Soviet times known as Kusary). During long-term overhaul two 400-mm quintuple ASW torpedo tubes
PTA-40-159
were removed from the ship (some time later two tubes were installed at the aft), a couple of ASW rocket launchers
RBU-6000
remained and artillery armament was enhanced – in addition to 2 coupled gun mounts
AK-726
Azerbaijani shipbuilders installed two coupled 30-mm AA automatic guns
AK-230
.
They removed container launchers of
P-15U
antiship missiles from Project 205U
Tsunami
missile boat, renamed her into
S-008
and handed over to Frontier Service Cost Guard along with two Project 205P
Tarantul
gunboats (former
AK-234
and
AK-374
). 400-mm ASW torpedo tubes were removed from those gunboats.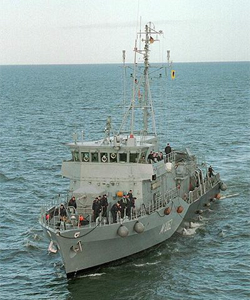 Patrol boat.
day.az
To increase strength of warships, Azerbaijani designers refitted two auxiliary vessels into patrol boats. The first one was former NBC reconnaissance ship of Project 1388R (former
KRKh-1
) having installed two 14.5-mm coupled AA machineguns
2M7
(the ship obtained hull No P212 then); the second was former rescue cutter of Project 368U (hull No P219). The latter was armed more thoroughly – with 25-mm coupled AA automatic gun
2M3M
, 14.5-mm coupled AA machinegun
2M7
, and two ASW rocket launchers
RBU-1200
. Consequently, a kind of a small old-fashioned chaser came to hands.
"Doubled" AA machineguns
2М7
were also mounted on three Caspian Flotilla's former training boats of Polish project
UK-3
; now they are also classed as patrol boats and have hull numbers P213, P214 and P215. There are also two patrol boats P217 and P218 of Polish project 722 (former Soviet dispatch boats; after commission into Azerbaijanian Navy also armed with
2М7
mount).
Azerbaijanian Navy also has in disposal patrol boat P222 of well known in many countries Soviet project 1400M
Grif
armed with 12.7-mm coupled machinegun
Utes-M
.
The only one exterior acquisition of Azerbaijanian Navy is old ASW boat P223
Araz
, former Turkish
AB-34
built far back in 1949.
Mine clearing force is represented by more or less up-to-date ships – three Project 12650
Yakhont
coastal minesweepers (M325, M326 and M327) and two Project 1258
Korund
harbor minesweepers (M237 and M328).
Amphibious force of Azerbaijanian Navy includes four Polish-built (Project 771A – D433, Project 770MA and 770T – D431, D432 and D434) and two Project 106K (D435 and D436) small landing ships. There is also Project 1785 landing cutter D437.
Auxiliary fleet of Azerbaijanian Navy comprises over 20 various ships. Most remarkable are Project 10470 deep-submergence support ship A671 (former
Sviyaga
), Project 1844 coastal tanker T752, two small hydrographic survey vessels of Projects 871 (hull No. H561) and 872 (both Polish-built), two Project 1893 firefighting ships (former
PZhS-551
and
PZhS-552
), two Project 364 firefighting boats A643 and A644, small cable-laying ship T750 (former
Emba
) of Finnish project 1172, diving boats of Project 1896 (A641) and Project 1415 (A648), ambulance boat A649 of Polish project SK-620, harbor tugs of Project 737 (T757) and Project 9.8057 (T758, built in East Germany) etc. There is also 106-meter long non-propelled floating repair dock.
Divers, submarines, aircrafts
Almost all ships are based in Baku (historical naval region of Bailov). Azerbaijanian Navy also includes marine battalion and naval center of subversive operations – military unit 641 (diver team) deployed at the seashore near Zykh, outskirts Baku (nearby Naval Academy). Some sources classify this unit as a brigade. It was established on facilities of former naval reconnaissance center of Soviet Caspian Flotilla.
641st unit is armed with
Triton-1M
and
Triton-2
type midget submarines (diver carriers), and individual submarine vehicles –
Sirena
class torpedo-type carriers and so on. At present, former Soviet officers have passed the baton of training Azerbaijanian Navy Special Forces to NATO instructors; in particular, US SEAL and private company Blackwater USA.
Apparent disadvantage of Azerbaijanian Navy is absence of own special aviation; several helicopters
Ka-27PS
and three hydroplanes
Be-12
inherited from Soviet era have depleted their service lives. However, to provide air support to its fleet, Azerbaijan can use Air Force aircrafts and helicopters such as frontline bombers
Su-24M
, attack aircrafts
Su-25
, operational trainers
L-39
, frontline fighters
MiG-29
, helicopters
Mi-8
and
Mi-24
. Mobilization reserve of naval aviation are helicopters
Mi-8
,
Sikorsky S-76
,
Eurocopter Super Puma
, and
Dolphin
of civil air company
Azalhelicopter
which actively uses them for supply needs of Caspian oil platforms. The newest rescue hydroplane
Be-200ChS
recently bought from Russia can also be used on behalf of the Navy.
Active reserve of Azerbaijanian Navy is Coast Guard of Frontier Service. Apart from three patrol boats (on Soviet classification – 3rd rank coast guard ships, in the Navy – gunboats) of Project 205P (now S-005, S-006 and S-007) inherited from Caspian Flotilla and 17th independent brigade of patrol ships of Soviet Frontier Service and above-mentioned S-008 (former Project 205U missile boat), Azerbaijanian Coast Guard has patrol boat S-201 built in 1969 and decommissioned by US Coast Guard (former Point Brower of Point-type D-class).
Moreover, from the U.S. came two small patrol boats of 48-feet
Silver Ship
type (S-11 and S-12) and smaller floating craft, including
RIB-36
type inflatable motor cutters with rigid frame S-09 and S-10.
Azerbaijanian Coast Guard commissioned large oceangoing tugs and supply vessels previously belonged to
Caspnefteflot
oil company. These are four Polish-made ships:
Vikhr
-type (Project V-99) – S-703 and
Neftegaz
-type (Project V-92) – S-701, S-002 and S-003. Specific feature of
Neftegaz
-type vessel designed to supply sea oil platforms is possibility of use as auxiliary landing transport ship.
Neftegaz
deck is capable to accommodate 13 amphibious armored personnel carriers
BTR-60/70/80
; such vehicles can also come off the deck to the water. One of coastguard's
Neftegaz
vessels has heliport for
Mi-8
helicopter; another one is equipped with powerful antenna system which implies carrying out electronic reconnaissance and acting as a control ship.
The highest potential in post-Soviet Transcaucasia based on oil production makes Azerbaijan quite capable to have small but powerful navy in the Caspian Sea.