Combat Capability [42%]
,
Role and Missions
,
Structure of the Navy
,
in-service ships
,
surface ships
,
submarines
,
chronology
.
Bulava fault: controversy in reasons
On Tuesday two different sources in Russian military industrial complex (MIC) specified reasons of the latest faulty launch of sea-launched ballistic missile (SLBM) Bulava carried out in December 2009. However, their versions are much different; one source tells about constructive error and drastic measures to be assumed; another insists on the version of manufacturing defect which would be easily eliminated. Meanwhile, Navy Main HQ has already set approx terms of trials resumption.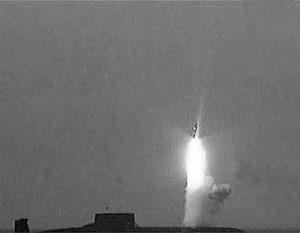 Photo from russianboston.com
Two mutually exclusive statements were made on Monday by officials of Russian MIC familiar with design features of SLBM
Bulava
. The source of
RIA Novosti
reported outputs of inquiry board searched into the reason of faulty launch performed in Dec 9. According to him, the in-flight failure was caused by constructive error.
"The inquiry board completed its work in December and found out the cause of the latest faulty launch of
Bulava
was constructive error in one of third stage discard units", said the source. "On the basis of investigation outputs, drastic and decisive actions may be taken in terms of further tests of
Bulava
".
On the other hand, the source of Interfax insists on the version that behind breakdown is simple manufacturing defect but not design error. "The reason was faulty operation of third stage solid engine. Probably, burnout of engine wall occurred that led to changing of flight trajectory and missile self-destruction", he said.
"It is reasonable to suppose that after elimination of defects in engine production process, such breakdowns will not happen again", expressed hope the source.
According to him, processing flaws including offgrade materials and supplies were the main cause of preceding abortive launches of Bulava missile.
Developer of third stage engine of SLBM
Bulava
is
Iskra
scientific production association (Perm).
Recall that 12th test launch of
Bulava
which was the seventh faulty one was carried out on December 9, 2009 from SSBN
Dmitry Donskoy
.
"It was learned upon results of the launch that first and second stages had operated normally; however, at the third phase of trajectory a malfunction happened. When the submarine returned to base, telemetrical data was studied; according to telemetry, uneven operation of third stage engine was registered. Causes of malfunction are being inquired by state commission", said the source in defense ministry.
Formerly, breakdowns were related to off-nominal operation of first stage.
Meanwhile, on Tuesday Navy Main HQ specified terms of missile trials resumption. According to Navy spokesman, at least two launches will be performed from SSBN
Dmitry Donskoy
this summer. Besides, the procedure of missile flight development tests may be changed, said the source.
"Once these launches are successful, it is planned to continue tests on "standard carrier" of the missile – SSBN
Yury Dolgoruky
– in autumn. At first, a single launch will be conducted; then, in case of success, a multiple one", says
ITAR-TASS
citing Navy spokesman.
The worst thing in
Bulava
trials is so called "gliding error" which every time occurs in another place, noted the source in Navy Main HQ.
Recall that Admiral Vladimir Vysotsky, Navy Commander-in-Chief, speaking of trials resumption late December 2009 did not set certain terms.
"The trials will be resumed when the reasons are found", said Monday Navy CIC having noted that "we need to reveal the deeper causes why it happens systematically".
Intercontinental sea-based ballistic missile
R30 3M30 Bulava-30
(in international contracts –
RSM-56
; on NATO classification –
SS-NX-30
) is capable to carry up to 10 nuclear multiple independently-targetable reentry vehicles (MIRV) with yield about 150 kiloton each. Operational range of
Bulava
is 8,000 km.
The missile is expected to be installed on Project 955
Borei
nuclear-powered ballistic missile submarines which are currently under construction at
Sevmash
shipyard – SSBN
Yury Dolgoruky
, SSBN
Alexander Nevsky
, SSBN
Vladimir Monomakh
.
Source:
Vzgylad
, author: Roman Kretsul. 12.01.19
Translation:
RusNavy.com