Combat Capability [42%]
,
Role and Missions
,
Structure of the Navy
,
in-service ships
,
surface ships
,
submarines
,
chronology
.
Not Just Divers
Sevastopol provides underwater specialists not only for Russian Navy.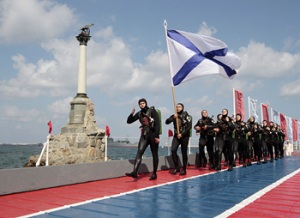 Russian SEALs stepping up Sevastopol quay fr om the water.
reuters.com
Sevastopol celebrated Russian Navy Day very demurely. The reason is known. On the June's last Sunday Ukraine was in mourning because of tragedies happened to coal mines in Lugansk and Donetsk regions. Russian and Ukrainian presidents Dmitry Medvedev and Viktor Yanukovich had canceled a prescheduled meeting in the Crimea's maritime capital (they still can't agree on gas price). So, Russian leader went to celebrate the holiday in Baltiysk.
Only presidential assistant Sergei Naryshkin arrived to the city of Russian glory. Alongside with him, at the platform appeared his Ukrainian counterpart Sergei Levochkin and Ukrainian Navy Commander Admiral Viktor Maksimov. Naval parade of warships fr om both countries was reviewed by Russia's Black Sea Fleet Commander Rear Admiral Alexander Fedotenkov and Ukrainian Navy Deputy Commander Vice Admiral Sergei Yeliseyev. By the way, instead of planned flagship of Ukrainian Navy frigate
Getman Sagaidachnyi
, there was large landing ship
Konstantin Olshansky
.
National flags of the both countries were half-masted in sign of mourning, and some festive events were cancelled. According to UNIAN news agency, military sport festival was replaced with demonstration of Black Sea Fleet's combat capabilities. Nonetheless, trainees of 17th Diving School managed to show their skills to the guests. Dressed in black wet suits and half-faced glass masks, divers climbed on the quay from the sea like thirty three fabulous sea knights. They saluted with bursts of Kalashnikov rifles brought from underwater.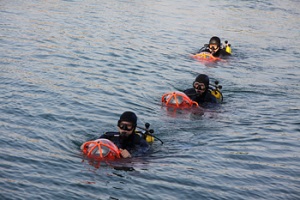 "Iron horses" of Russian divers.
ng.ru
One week prior to that, our group of reporters arrived from Moscow at Black Sea Fleet on invitation of Russian defense ministry. We were lucky to attend the divers' drill at their school base located in Karantinnaya Bay opposite St. Vladimir's Cathedral. Bearing scubas behind their backs and dressed in black wet suits, trainees went downstairs to the sea in the 3-men rows upon signal of training company commander Capt Lt Alexander Neklesa. Then, in 15-20 minutes they went upstairs in the same synchronous manner, discharged wet Kalashnikov rifles with blank bursts and went to barracks.
Chief of 17
th
Diving School Capt 1 rank Nikolai Sedov told us:
"We train not just divers but specialists able to perform underwater works. Among other things, we teach them how to lift sunken objects including all kinds of munitions.
Besides, our divers pass special course of underwater arms, they practice underwater firing and mining. Of course, all that follows thorough preparation ashore. After passing-out examination, divers are posted to all fleets of Russian Navy".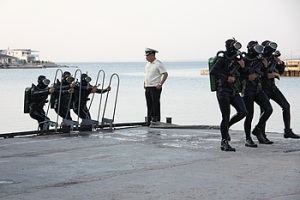 SEALs come out of the sea.
ng.ru
We managed to watch the training process at one of the lessons on scuba construction. A trainee preparing equipment for dive repeated each operation aloud. Not only instructor heard that but all his course mates. They even seemed to move lips soundlessly repeating the words of their course mate.
As was explained by divers' platoon commander Master Chief Petty Officer Maksim Gavrilin, this is the best way to fix in mind the scuba operation process. Not only hands and eyes are used but hearing too. Such well-fixed skills will help to avoid perplexity, panic and so – the tragedy in critical situation under water.
As it turned out, the school has a pretty wide experience of underwater works. It has become apparent heir of analogous school established in Kronshtadt by order of Emperor Alexander III in 1882. At that time, the school had trained 200 enlisted men and 40 officers. It even took part in the first industrial exhibition in Chicago in 1893. Advanced diving systems invented by the school's scientists were awarded bronze medal and diploma then, and golden medal at the exhibition in Nizhniy Novgorod in 1896.
The school moved from Kronshtadt in 1919 due to the notorious rebellion. First it moved to St. Petersburg, then to Saratov, Kazan, Volsk, and in 1922 settled in Sevastopol. It worked for EPRON (special-purpose underwater expedition), and after the war – for the Navy.
According to Capt 1 rank Sedov, "since 1882 till 2010 the school had trained 86,000 divers. And today, it trains over 160 young draftees from all across Russia in one course (five months including 3-month theory and practice, and 2-month probation at Black Sea Fleet salvage ship Epron). So, 320 specialists graduate the school every year. For that purpose, we have 25 special classrooms and 11 diving stations located at training range in the school's territory; 50 men can dive there at once. Moreover, the school has own diving boats used by trainees to practice dives at 10-45 meters. Deep-sea divers practice only at
Epron
".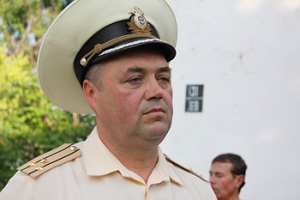 Chief of 17
th
Diving School Capt 1 rank Nikolai Sedov.
ng.ru
Despite the fact that the school's graduates have only 7 months remained to serve in the Navy, some of them either continue service under contract or find a job in civilian companies specialized in underwater works. A diver able to perform various underwater operations such as metal welding is well-payable profession. Nikolai Sedov told me he had seen the school's graduate even on TV during salvage of sunken passenger liner Bulgaria. Divers also work at pipelining operations, so wh erever the water is. Graduates of the 17
th
school took part in SSN
Kursk
salvage operation and on motorship
Admiral Nakhimov
, and were awarded orders and medals. They also distinguished themselves at the
Bold Monarch 2011
exercise recently held off Spain along with NATO ships.
Diving bells from
Epron
were attached to escape hatchways of foreign submarines, and Russian divers helped to evacuate crews from "sunken" subs. Once they had to do that really. When it was a gale in the exercise area, and all Western partners "secured" themselves at Spanish quays, one British Navy's observer heavily injured his leg when stepping from Spanish submarine to the boat. Only Russian rescue ship
Shakhter
headed for succour.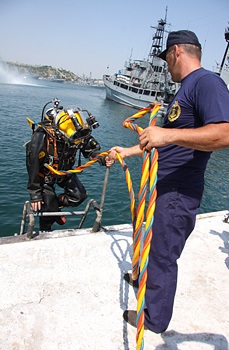 With this device a diver can transmit image to a display. Photo by Viktor Litovkin.
ng.ru
Then Russian servicemen received a telegram from Capt David Dittmer (US Navy), director of the
Bold Monarch 2011
joint search-and-rescue exercise. The American officer thanked Russian rescuers for proficiency displayed while working in the multinational team. As for Dittmer, versatility and high qualification of Russian specialists were very effective. He thanked them for taking on board 13 foreign observers in severe weather conditions and rendering qualified assistance to suffered expert. Dittmer expressed hope that participation in the
Bold Monarch
exercise had helped Russian Navy to acquire additional experience in international cooperation, and wished luck in the future rescue exercises.
Unfortunately, we failed to talk to the crew of
Shakhter
in Sevastopol. After the exercise in Spain, the ship headed for the US and attended similar maneuvers jointly with American colleagues. Crewmen of BSF Rescue Service's flagship Epron who witnessed the
Shakhter's
success told us that was basically a common work. Nothing special.
For his "not special work", Senior Warrant Officer Sergei Bolshakov – an experienced diver able to do the whole range of underwater works, from deep-sea welding to mine-laying and mine-clearing – earns UAH 3,500 per month (about RUR 16,000) plus UAH 2,000-2,500 (somewhat RUR 10,000) for diving works. That is quite good money in Sevastopol wh ere average wage is UAH 2,500-3,000. However, the warrant who has been serving in the Navy for 20 years still has no service apartment and has to pay UAH 1,500 rent.
He has no idea what will be next. According to Russian laws, he will obtain a single-room flat upon retirement. His wife and son who are Ukrainian citizens have not right to dwelling in Russia. And what should Bolshakov do as well as thousands of his colleagues in Black Sea Fleet? This issue seems much more knotty than deep-sea diving works.