Combat Capability [42%]
,
Role and Missions
,
Structure of the Navy
,
in-service ships
,
surface ships
,
submarines
,
chronology
.
Moskva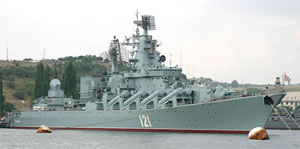 Moskva. Photo from defense-update.com
Moskva
is a Project 1164
Atlant (Slava)
lead ship, Guided Missile Cruiser.
REGISTRATION
Sevastopol, Black Sea Fleet
CONSTRUCTION, NAME
The cruiser was laid down on November 4, 1976 at Nikolayev
61 Kommunara
Shipyard and launched on July 27, 1979 with the name of
Slava
. Naval flag was hoisted on January 30, 1983 and the cruiser was commissioned into Navy. Since June 22, 1995 the cruiser is known as
Moskva
.
MILESTONES
The cruiser repeatedly deployed in the Mediterranean, paid numerous calls at ports of the region.
In December 1989 it enhanced security of Soviet side at meeting between Mikhail Gorbachev, Secretary General of USSR Communist Party and the US President George Bush at Malta.
In 1990 the cruiser was inactivated for modernization at Nikolayev Shipyard where stayed for 8.5 years.
On May 13, 1998 it obtained flag and guard rank from Guard ASW destroyer
Krasny Kavkaz
.
In 2003 the cruiser took part in
INDRA
joint Russian-Indian naval exercise.
In September 2004 it participated in
IONIEX-2004
joint Russian-Italian naval exercise.
At the beginning of 2008 the cruiser was deployed at the Mediterranean along with Northern Fleet's ships –
Admiral Kuznetsov
and its carrier group.
Early 2009 it took part in memorial activities at Italian port Messina associated with 100th anniversary of ruinous earthquake at Sicily.
PERFORMANCE
Powerplant: gas turbine; 2 screws
Power: 4 x 22,500 hp
Maximum speed: 32 knots
Endurance: 30 days
Crew: 510 men
DIMENSIONS
Displacement: 9,800 tonnes (total displacement: 11,490 tonnes)
Length: 186.4 meters
Beam: 20.8 meters
Draft: 8.4 meters
ARMAMENT
16 antiship missile launchers (16
P-500 Bazalt
missiles; after modernization – 16
P-1000 Vulkan
missiles)
1 x 2 130-mm gun mount
AK-130
, 6 sextuple 30-mm gun mounts
AK-630
8 x 8 B-204 launchers of
S-300F Rif
SAM system (ammunition load is 64 missiles)
2 x 2 launchers of
Osa-MA
SAM system (ammunition load is 48 missiles)
2 x 5 533-mm torpedo tubes
2 x 12
RBU-6000
antisubmarine rocket launchers
Ka-27
helicopter