Combat Capability [42%]
,
Role and Missions
,
Structure of the Navy
,
in-service ships
,
surface ships
,
submarines
,
chronology
.
Tambov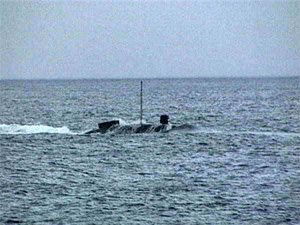 Tambov. Photo from silent-hunter.narod.ru
Tambov
is a Project 671RTMK nuclear-powered attack submarine.
REGISTRATION
Vidyaevo, Northern Fleet
CONSTRUCTION, NAME
The sub was enrolled on February 20, 1989 under name of
K-448
. She was laid down at
Admiralteisky Zavod
shipyard in Leningrad on January 31, 1991; launched on October 17, 1991; commissioned on February 5, 1993 under name of
B-448
. The sub was renamed into
Tambov
on March 25, 1995 in commemoration of 360th anniversary of the ancient Russian town.
MILESTONES
On November 18, 1995 the sub was blessed by archpriest Mikhail Ilinsky.
Since commission till 1997 the sub had conducted 4 patrols.
In June 22-26, 1999 she took part in strategic head-quarter exercise
Zapad-99
under command of Marshal I. Sergeev, Minister of Defense.
In August 20-26, 1999 the sub supported tests of sonar system of large ASW ship
Admiral Chabanenko
sailing from the Baltic to permanent basing site at Northern Fleet.
In 1999 the sub won Navy Commander's Prize for torpedo firing.
In Feb-May 2000 the sub carried out patrol.
In April 2001 she participated in cruise of Northern Fleet ships and performed combat training exercise contesting in Navy Commander's Prize.
In Aug-Oct 2001 the sub carried out patrol.
In June 2003 she took part in Northern Fleet's head-quarter exercise. The sub executed short-term search of foreign submarines, performed nominal strikes at sea and coastal targets, supported ships of NF 7th operational squadron in completing combat training tasks.
On July 27, 2003 the sub submerged and surfaced off Severomorsk at naval show on the occasion of Russian Navy Day.
PERFORMANCE
NATO classification:
Victor-III
Surface speed: 11.6 knots
Submerged speed: 31 knots
Operating depth: 400 meters
Test depth: 600 meters
Endurance: 80 days
Crew: 96 men
DIMENSIONS
Surface displacement: 6990 tons
Submerged displacement: 7250 tons
Extreme length (at design waterline): 107.1 meters
Extreme beam: 10.8 meters
Mean draft (at design waterline): 7.8 meters
PROPULSION
Two
VM-4
-type water-cooled and water-moderated reactors, turbine-geared propulsion unit
GTZA-615
, total power 31,000 shp. One shaft line, multi-blade screw, two auxiliary motors 375 shp each.
ARMAMENT
2 x 600-mm torpedo tubes
4 x 533-mm torpedo tubes