Combat Capability [42%]
,
Role and Missions
,
Structure of the Navy
,
in-service ships
,
surface ships
,
submarines
,
chronology
.
Part IV. Delicate hints
"For whosoever commands the sea commands the trade; whosoever commands the trade of the world commands the riches of the world, and consequently the world itself"
Walter Raleigh, British seafarer
"I am not a hawk but actually a heavily armed dove"
Jack Kemp, the US congressman
In previous parts we briefly reviewed what happens to naval arms in some countries of near abroad. The overall conclusion is that Russia has no prospects in this area with those countries. The given part deals with other three post-Soviet republics. However, speaking of those states it's reasonable to use a distinctly different tonality.
The question is Azerbaijan, Turkmenistan, and Kazakhstan. The different tonality implies the following.
Speaking of naval issues, those countries have some serious common denominators. The first one is that fleets (ship groupings, coast guard, whatever) of Azerbaijan, Turkmenistan, and Kazakhstan can be assigned with absolutely realistic and non-contrived combat mission, i.e. to protect their national interests in the Caspian Sea. The second common denominator is that those fleets by no means twiddle their thumbs because of strained situation in the region. For instance, the well-known fact when an Azerbaijanian geological survey vessel was forced out of disputable waters by Iranian warships in 2001. The Caspian Sea has not become quieter since that time; thus, close attention to the fleets of Caspian states is more than reasonable.
We do not contemplate any review of Azerbaijanian, Turkmenian, and Kazakhstan ship groupings as a subject-matter. For this reason we will just nibble at this subject in the context of perspectives and potentialities of naval cooperation with Russia.
So,
Azerbaijan
. Formally, its navy is second combat capable in the Caspian Sea. But if one looks at the matter from a different angle, it'll be obvious that the basis of Azerbaijani ship groupings is what this country got after partition of Caspian Flotilla in 1992. Although modernized and upgraded (like Project 205 missile boats re-armed with gun mounts), Soviet-built ships are unlikely can be treated like a real combat force. It means that the issue of ships renewal is quite urgent for Azerbaijanian Navy, and this problem is being handled not so much with regard to economic but mostly to political circumstances.
Azerbaijanian naval parade in Baku.
kvvmku.ru
Presently, Azerbaijanian Navy is being renewed basically through the help of the U.S. and Turkey. In particular, one of the most significant acquisitions is thirty Turkish-built fast-speed patrol boats. Those vessels are behind Russian analogs in performance characteristics, but the question of Russo-Azerbaijanian cooperation in this area is not on the agenda. And will unlikely be until the high wall of specific relationship between Russia and Armenia exists.
Intercourse between Azerbaijan and Armenia warmed up by Nagorny Karabakh issue could be described as armed neutrality ready to escalate into local conflict on occasion. That is one side of the problem. Another one is that Armenia declared Russia its strategic ally and got not a word of rejection in return. And to top it all, Azerbaijan is a member of GUAM (an organization established by Georgia, Ukraine, Azerbaijan, and Moldavia), so Russia naturally gives no encouragement to it. So, it goes obvious that in current situation it is more than prematurely to talk about any military technical cooperation between our countries.
That's a pity though. Just because Azerbaijanian Navy could become a pretty good customer of Russian naval equipment. Navy of this country really needs renewal; in addition, there's a quite good staff potential for a future navy. That potential had been formed not only by virtue of Azerbaijanians graduated from naval academies but seafarers of Caspian Steamship Company which used to be the largest technical fleet servicing Caspian oil explorations.
Turkmenistan
. This country created its national navy from scratch. Caspian Flotilla's harbor defense brigade had been based in Krasnovodsk till 1992, and part of its ships was handed over to Turkmenistan. Experts rightly suppose that Soviet-built harbor defense ships are of doubtful combat value. Nevertheless, as it was pointed out above, navies of all Caspian countries do have real tasks.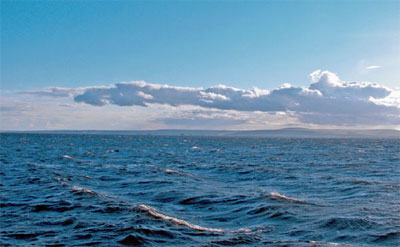 Turkmenian Navy might be stationed in this sea…
znaite.com.ua
For this reason, Turkmenistan once conducted a range of activities aimed at creation of operable core for national navy, even though absolutely littoral. And then the Turkmenian leadership declared maximal diversification of acquisition sources of naval engineering and relative services.
For instance, Turkmenian naval officers took training in Pakistan and Ukraine. The latest huge acquisition was twenty Grif-1 and Kalkan class patrol boats built in Feodosiya, Ukraine. Prior to that, the Americans gifted USCGS
Point Jackson
which was then handed over to Turkmenian Coast Guard.
Present strength of Turkmenian Navy is not worth much, so the ships replacement seems to be an urgent issue. Once we add the diversification principle of deliveries and recall the recent ones were from Ukraine, it'd be reasonable for Russia to strive for this segment of naval arms market. Note, here is a negligible portion of policy, just pure economy. Russian shipbuilding industry does have production capabilities. Turkmenian Navy does need new ships. The diversification principle has been also fulfilled so there are no objective obstacles for real cooperation. Or at least they must not appear.
Kazakhstan
. That is another prairie state feeling the need to protect its interests at sea. More precisely, at the Caspian Sea. So far the matter does not exceed a couple of boat divisions based in Aktau (former Shevchenko) and Bautino (Tub-Karagan Gulf). As for open information sources, however, Kazakhstan is keen to have a pretty powerful navy. You can judge it in your own wisdom.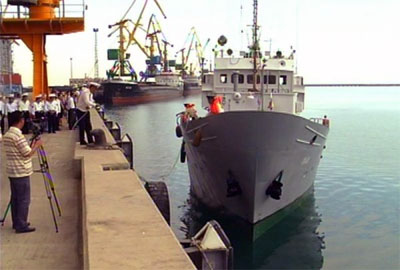 Soviet-built vessel of Kazakhstan Navy.
radikal.ru
Here comes a report of
Izvestiya
newspaper dated October 30, 2008. The point is that Kazakhstan leadership made a decision to acquire six Project 21632
Tornado
small-size missile/gun ships built by Zelenodolsk Design and Construction Bureau. For reference: displacement of
Tornado
class ship is 560 tons, length is 62 meters, draft is 2 meters, beam is 9.6 meters, speed is 26 knots. The ship is armed with various weapon systems like 100-mm bow gun mount
A-190 Universal
; machineguns; two 6-barreled 30-mm rapid-firing aft gun mounts
AK-630M
with firing rate of 5,000 shots per minute; attack missile system
Uran-E
with two quadruple launchers; SAM system
3M-47 Gibka
with
Igla
missiles;
DP-64
light anti-frogmen rocket launcher designed by
Bazalt
. The ship can be optionally armed with a multiple launch rocket system to support land troops during coastal operations. Also, Zelenodolsk Design and Construction Bureau developed a Project 21632
Tornado
ship armed with attack missile system
Yakhont
(citation of
ITAR-TASS
).
Central Asia
on-line had reported that Kazakhstan was about to purchase six warships till 2010 – three patrol vessels and three corvettes capable to control 150-km zone off the shore. Observers and analysts say that after such acquirement Kazakhstan Navy would come near with Azerbaijanian Navy in combat capabilities. This statement can be rightfully treated like a "Freudian slip". By all appearances, some experts consider relations between Kazakhstan and Azerbaijan as potentially strained. Let us avoid saying "combat" and keep it only in mind.
Kazakhstan's defense minister Danial Akhmetov said in the interview to
Interfax-Kazakhstan
on December 29, 2008 that creation of the national navy would be completed by 2015. Along with that, the minister said the following (quote of Interfax-Kazakhstan): "Bilateral naval cooperation with the Russian Federation is reaching a totally new level. I can tell that appropriate governmental procedures have been recently completed and Rosoboronexport was determined as a dominant supplier of designing services for naval infrastructure of Aktau [Kazakhstan's seaport in the Caspian Sea]. Besides, this company will deliver a number of warships to Kazakhstan Navy".
In addition, the defense minister specified that some ships with displacement up to 400 tons would be constructed by Russo-Kazakhstan shipyard
Zenit
located in Uralsk. The bigger vessels for Kazakhstan Navy will be built in St. Petersburg and Tatarstan.
We have reviewed only the most interesting and general reports on this matter. Relying on those reports, one could make a conclusion that Russia has managed to form naval cooperation only with Kazakhstan out of all post-Soviet republics. If we take a formal look on those reports, it would come obvious. But once we try to analyze this issue closely, there would be some nuances.
Main nuance lies in the fact that even quite close monitoring of open media sources does not reveal a whisper of reports telling that any Russian shipyard had already completed a ship for Kazakhstan Navy. Here comes the reasonable assumption – successful military technical cooperation between Kazakhstan and Russia has an entirely declarative nature. And as long as the leaders of both countries are interested in development of such partnership, it's time to turn words into real deeds. It's a high time, indeed. Just because all other things are present.
One more conclusion can be made on the grounds of abovementioned. Both declared and real development trends of Caspian countries' navies fully conform to dynamics of interstate relations in the region. Those relations form a tangled skein of direct and indirect interests and collisions. Plus natural resources including hydrocarbons. Plus some hot spots and flash points of real tension near the Caspian Sea. So, there is small wonder why right after reports of Kazakhstan's intentions to substantially strengthen its ship grouping some experts started talking of armaments race at the Caspian Sea.
Read more
Contents
Part I. Who and What
Part II. Non-geographical policy or non-political geography
Part III. Friends or competitors?
Part IV. Delicate hints
Part V. Naval cooperation: geography, economy, or… policy?