Combat Capability [42%]
,
Role and Missions
,
Structure of the Navy
,
in-service ships
,
surface ships
,
submarines
,
chronology
.
B-380 Svyatoi Kniaz Georgy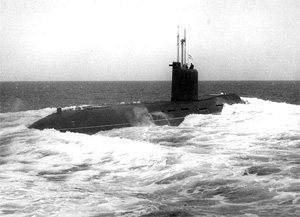 B-380 Svyatoi Kniaz Georgy. Photo from flot.sevastopol.info
B-380
is a Project 641B diesel submarine.
REGISTRATION
Sevastopol, Black Sea Fleet
CONSTRUCTION, NAME
The sub was laid down on October 15, 1981 at Krasnoe Sormovo shipyard (Nizhniy Novgorod) and launched in August 1982 under name of
Gorkovsky Komsomolets
. The sub was commissioned in the same year. In 1992 the name of
Gorkovsky Komsomolets
was abolished. In 2008 the sub obtained the name of
Svyatoi Kniaz Georgy
.
MILESTONES
In 1985 and 1986 the sub won the Navy Commander's Prize for attack of surface ships unit. In 1991 she was laid up for repair at Sevastopol shipyard; the crew was reduced to minimum. The sub was planned to be handed over to Ukraine, but in 1996 Ukrainian government refuse to accept the sub due to her poor technical condition. In 2000 Lazarevskoye Admiralty shipyard started to recover and upgrade the sub by governmental investment. Sovetskiy district of Nizhniy Novgorod took the sub under patronage. In 2004 the sub was completely manned. In 2006 she was blessed by priest Viktor Polyakov upon benediction of Georgy Archbishop of Nizhniy Novgorod and Arzamas.
PERFORMANCE
Project designation:
641B Som
NATO classification:
Tango
Surface speed: 13 knots
Submerged speed: 15 knots
Operating depth: 246 meters
Test depth: 300 meters
Endurance: 80-90 days
Crew: 78 men
DIMENSIONS
Surface displacement: 2,770 tons
Submerged displacement: 4,600 tons
Extreme length (at design waterline): 90.2 meters
Extreme beam: 8.6 meters
Mean draft (at design waterline): 5.7 meters
ARMAMENT
6 x 533-mm torpedo tubes; load is 24 torpedoes