Combat Capability [42%]
,
Role and Missions
,
Structure of the Navy
,
in-service ships
,
surface ships
,
submarines
,
chronology
.
B-871 Alrosa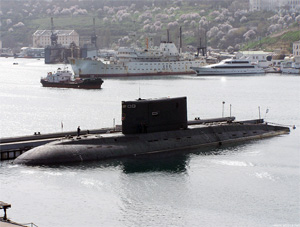 B-871 Alrosa. Photo by A. Brichevsky (alrosa.net)
B-871 Alrosa
is a Project 877V
Paltus
diesel electric submarine.
REGISTRATION
Sevastopol, Black Sea Fleet
CONSTRUCTION, NAME
The sub was laid down on May 17, 1988 at Krasnoye Sormovo shipyard (Nizhny Novgorod); launched on September 10, 1989; commissioned on December 30, 1990; obtained the name in January 2004 in honor of JSC
Alrosa
taken the sub under patronage on September 19, 1997.
MILESTONES
In Dec 1991 - March 1992 the submarine was on patrol.
On March 13, 1992 part of the crew swore the oath to Ukraine and captured the submarine. Further developments were suppressed by executive officer I.F. Leukhin.
Since 1992 till 1996 the sub had not sailed off due to deficiency of storage batteries.
On May 22, 1996 after installation of storage batteries the sub joined constant alert force.
In Aug-Sept 1996 the sub excellently performed patrol tasks.
In 1997 the submarine joined Black Sea Fleet under the treaty with Ukraine; on June 12, 1997 the St. Andrew's flag was hoisted over the sub.
In 1997-2007 the crew five times won Navy Commander's Prize for torpedo attack of surface ships unit.
In 1998-1999 the submarine was under repair at Sevastopol Ship Repair Plant No. 13.
On November 21, 2009 the sub was carrying out training tasks at the Black Sea 150 km off Sukhumi when engine trouble made her to return to base urgently.
Since August 21 through September 21, 2012 the submarine being escorted by Baltic Fleet's rescue tug SB-921 carried out long-range passage from Kronshtadt (Baltic Sea) to Sevastopol (Black Sea) after scheduled repair.
PERFORMANCE
NATO classification:
Kilo
Surface speed: 10 knots
Submerged speed: 17 knots
Operating depth: 240 meters
Maximum diving depth: 300 meters
Endurance: 45 days
Crew: 52 men
DIMENSIONS
Surface displacement: 2,300 tonnes
Submerged displacement: 3,950 tonnes
Extreme length (at design waterline): 76.2 meters
Extreme beam: 9.9 meters
Mean draft (at design waterline): 6.2 meters
PROPULSION
Diesel-generator power plant. 2 x 1,000 KW diesel generators
DL42MKh
, two 120-cell storage batteries, 1 x 4,050-5,500 shp propulsion motor
PG-141
, 1 x 190 shp propulsion economic motor
PG-166
, 2 x 102 shp stand-by reserve motors, 1 pump jet propulsion.
ARMAMENT
6 x 533-mm torpedo tubes; 18 torpedoes or 24 mines
4 x
Strela-3
surface-to-air missiles