Combat Capability [42%]
,
Role and Missions
,
Structure of the Navy
,
in-service ships
,
surface ships
,
submarines
,
chronology
.
K-117 Bryansk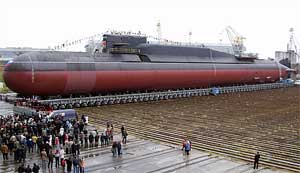 K-117 Bryansk
.
archive.vpk-news.ru
K-117 Bryansk
is Project 667BDRM
Delfin
nuclear-powered ballistic missile submarine (SSBN).
REGISTRATION
Northern Fleet, Gadzhievo
CONSTRUCTION, NAME
The submarine was laid down on April 20, 1985 at
Sevmash
shipyard (Severodvinsk) under the name of
K-117
; launched on February 8, 1988; commissioned into Northern Fleet on November 9, 1988. The sub obtained the name of
Bryansk
on January 27, 1998 when Bryansk city administration took her under patronage.
MILESTONES
On July 31, 1994 the sub surfaced near the North Pole.
Since Nov 2002 till Oct 10, 2007 the sub had been under repairs and modernization at
Zvezdochka
shipyard, Severodvinsk.
PERFORMANCE
NATO classification:
Delta-IV
Surface speed: 14 knots
Submerged speed: 24 knots
Operating depth: 320 - 400 meters
Test depth: 550 - 650 meters
Endurance: 90 days
Crew: 135 - 140 men
DIMENSIONS
Surface displacement: 11,740 tons
Submerged displacement: 18,200 tons
Extreme length (on design waterline): 167.4 meters
Extreme beam: 11.7 meters
Mean draft (on design waterline): 8.8 meters
ARMAMENT
The submarine is armed with four 533-mm torpedo tubes; 16 launch tubes of
R-29RMU-2 Sineva
ballistic missiles; MANPADS
9K310 Igla-1
or
9K38 Igla
launchers.