Combat Capability [42%]
,
Role and Missions
,
Structure of the Navy
,
in-service ships
,
surface ships
,
submarines
,
chronology
.
K-433 Svyatoi Georgy Pobedonosets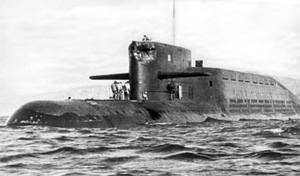 K-433 Svyatoi Georgy Pobedonosets
.
ru.wikipedia.org
K-433 Svyatoi Georgy Pobedonosets
is a Project 667BDR
Calmar
nuclear-powered ballistic missile submarine (SSBN).
REGISTRATION
Pacific Fleet, Viliuchinsk
CONSTRUCTION, NAME
The submarine was laid down on August 24, 1978 at
Sevmash
shipyard (Severodvinsk) under the name of
K-433
; launched on June 20, 1980; commissioned into Northern Fleet on December 31, 1980; transferred to Pacific Fleet on November 3, 1983; obtained the name of
Svyatoi Georgy Pobedonosets
on September 15, 1998.
MILESTONES
In Oct – Dec 1983, firstly in the history of Russian Navy, the sub carried out underice transarctic interfleet cruise from Northern Fleet to Pacific Fleet in conditions of polar night, having sailed round the North Pole and covered shallow Chukchee Sea in submerged position.
On Dec 4, 1984 the sub was rewarded with defense ministry's pennant "For courage and military merit".
In Feb 1993 – July 2003 the sub was under interim overhaul at
Zvezda
shipyard in Bolshoi Kamen, Far East.
On July 12, 2005 Russian Orthodox Church took the sub under patronage.
On Sept 25, 2008 Russian president Vladimir Putin inspected the sub and answered the crew's questions.
On Oct 6, 2009 the sub launched ballistic missile
RSM-50
from the Sea of Okhotsk against Chizha Range.
PERFORMANCE
NATO classification:
Delta III
Surface speed: 14 knots
Submerged speed: 24 knots
Operating depth: 320 – 400 meters
Test depth: 560 meters
Endurance: 90 days
Crew: 130 men
DIMENSIONS
Surface displacement: 10,600 tons
Submerged displacement: 13,050 tons
Extreme length (on design waterline): 155 meters
Extreme beam: 11.7 meters
Mean draft (on design waterline): 8.7 meters
ARMAMENT
The submarine is armed with four 533-mm and two 400-mm bow torpedo tubes (combat load is 16 torpedoes or 24 mines); 16 launch tubes of
R-29R
ballistic missiles; MANPADS
Strela-2M
launchers.