Combat Capability [42%]
,
Role and Missions
,
Structure of the Navy
,
in-service ships
,
surface ships
,
submarines
,
chronology
.
K-152 Nerpa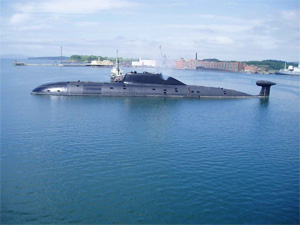 K-152 Nerpa. Photo from media.photobucket.com
K-152 Nerpa
is a Project 971I
Schuka-B
nuclear-powered attack submarine.
REGISTRATION
The submarine passes trials
CONSTRUCTION, NAME
The sub was launched in 1993 under Project 971 at Amur Shipyard. In 2002 the works were frozen due to lack of financing so the sub was launched only in June 4, 2006. In 2004 fitting-out of the sub started under Project 971I to lease her for India.
MILESTONES
As a consequence of freon release happened in Nerpa on Nov 8, 2008 during its sea trials in the Sea of Japan, 20 died and 21 were intoxicated out of 208 attendants. Seaman Dmitry Grobov was accused in "causing death carelessly to two or more persons" as per part 3 clause 109 of the RF Criminal Code which provides deprivation of freedom on term up to five years. Supposedly, the seaman incorrectly adjusted an air temperature sensor in living compartment and that led to emergency actuation of firefighting system.
Recovery works cost RUR 1.9 bln, because some equipment suffered from carbon dichloride which is a strong solvent. The counterfeit fire suppressant was replaced with the standard one. Control procedure of the fire-smothering system was changed as well. All equipment was inspected, and the 200-men trial team passed retraining course.
On January 23, 2012, the submarine was leased to India after a five-year delay. In Indian Navy, the submarine was renamed into INS
Chakra
. Solemn commissioning ceremony took place in Vishakhapatnam on April 4, 2012.
PERFORMANCE
NATO classification:
Akula-II
Surface speed: 11.6 knots
Submerged speed: 30 knots
Operating depth: 520 meters
Test depth: 600 meters
Endurance: 100 days
Crew: 73 men
DIMENSIONS
Surface displacement: 9,830 tons
Submerged displacement: 12,770 tons
Extreme length (at design waterline): 114.3 meters
Extreme beam: 13.6 meters
Mean draft (at design waterline): 9.7 meters
PROPULSION
CONAG; nuclear reactor
OK-650BZ
(190 mW) and 43,000 shp gas turbine
ARMAMENT
4 x 650-mm torpedo tubes
4 x 533-mm torpedo tubes