Combat Capability [42%]
,
Role and Missions
,
Structure of the Navy
,
in-service ships
,
surface ships
,
submarines
,
chronology
.
K-157 Vepr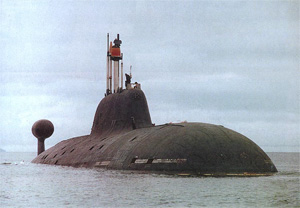 K-157 Vepr. Photo from atrinaflot.narod.ru
K-157 Vepr
is a Project 971
Schuka-B
nuclear-powered attack submarine.
REGISTRATION
Gadzhievo, Northern Fleet
CONSTRUCTION, NAME
The sub was laid down on June 16, 1990 at
Sevmash
shipyard (Severodvinsk); obtained the name of
Vepr
on April 6, 1993; launched on December 10, 1994; commissioned on November 25, 1995.
MILESTONES
In 1999 the sub received a high appraisal by military inspection of Security Council of the Russian Federation; took first place in the fleet for longest tracking of a submarine; won the prize as "Winner of submarine contest in search and destruction of enemy's nuclear submarine by torpedo attack".
In 2004 the sub took part in 9-day joint Russo-French naval exercise having obtained special gratitude of Northern Fleet command for excellent performance of training tasks.
PERFORMANCE
NATO classification:
Akula-II
Surface speed: 11.6 knots
Submerged speed: 30 knots
Operating depth: 520 meters
Test depth: 600 meters
Endurance: 100 days
Crew: 73 men
DIMENSIONS
Surface displacement: 8,140 tons
Submerged displacement: 12,770 tons
Extreme length (at design waterline): 114.3 meters
Extreme beam: 13.6 meters
Mean draft (at design waterline): 9.7 meters
PROPULSION
Nuclear reactor
OK-650BZ
(190 mW)
1 turbine (43,000 shp)
ARMAMENT
4 x 650-mm torpedo tubes
4 x 533-mm torpedo tubes