Combat Capability [42%]
,
Role and Missions
,
Structure of the Navy
,
in-service ships
,
surface ships
,
submarines
,
chronology
.
K-18 Karelia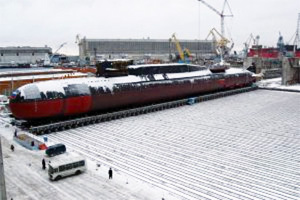 K-18 Karelia. Photo from samoupravlenie.ru
K-18 Karelia
is a 2nd generation Project 667BDRM
Delfin
Nuclear-Powered Ballistic Missile Submarine.
REGISTRATION
Gadzhievo, Northern Fleet
CONSTRUCTION
The submarine was laid down in February 1987 in Severodvinsk; launched in 1988; commissioned in 1989.
MLESTONES
The sub has performed over 14 missile firings and covered more than 140,000 nautical miles. In April 2000 Vladimir Putin sailed on board the sub.
In 2004-2009 the submarine had been modernized at
Zvezdochka
shipyard. Over 100 innovations were applied during upgrade, including installation of rocket torpedo system
TVR-671RTM
and SLBMs
RSM-54 Sineva
.
Reportedly, service life of upgraded submarine will make 10 years.
PERFORMANCE
Surface speed: 14 knots
Submerged speed: 24 knots
Operating depth: 320 - 400 meters
Test depth: 550 - 650 meters
Endurance: 90 days
Crew: 135 - 140 men
DIMENSIONS
Surface displacement: 11,740 tons
Submerged displacement: 18,200 tons
Extreme length (at design waterline): 167.4 meters
Extreme beam: 11.7 meters
Mean draft (at design waterline): 8.8 meters
ARMAMENT
4 x 533-mm bow torpedo tubes (12 torpedoes or 24 mines instead)
SLBMs
RSM-54 Sineva
TVR-671RTM
rocket torpedo system
MANPADS
9K310 Igla-1/9K38 Igla
launcher