Combat Capability [42%]
,
Role and Missions
,
Structure of the Navy
,
in-service ships
,
surface ships
,
submarines
,
chronology
.
K-317 Pantera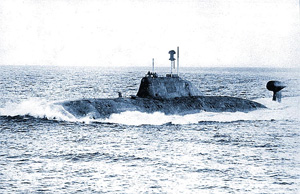 K-317 Pantera. Photo from atrinaflot.narod.ru
K-317 Pantera
is a Project 971
Schuka-B
nuclear-powered attack submarine.
REGISTRATION
Gadzhievo, Northern Fleet
CONSTRUCTION, NAME
The sub was laid down on November 6, 1986 at
Sevmash
shipyard in Severodvinsk; launched on May 21, 1990; on October 10, 1990 she obtained the name of
Pantera
in commemoration of the first Soviet sub joined the Navy in 1919; commissioned on March 14, 1991.
MILESTONES
In 1991 the sub took part in Northern Fleet's antisubmarine search operation in the northeast Atlantic.
In 1993 the sub ranked first in the Navy as for antisubmarine warfare and won the Navy Commander's Prize.
In 2000 she was laid up for repairs at
Sevmash
shipyard.
On November 2, 2006 a fire occurred in 3rd compartment during welding works. Two firefighters were hospitalized with intoxication.
On January 28, 2008 the sub was recommissioned after overhaul. Sonars and C3 systems were upgraded.
PERFORMANCE
NATO classification:
Akula-II
Surface speed: 11.6 knots
Submerged speed: 30 knots
Operating depth: 520 meters
Test depth: 600 meters
Endurance: 100 days
Crew: 73 men
DIMENSIONS
Surface displacement: 8,140 tons
Submerged displacement: 12,770 tons
Extreme length (at design waterline): 114.3 meters
Extreme beam: 13.6 meters
Mean draft (at design waterline): 9.7 meters
PROPULSION
Nuclear reactor
OK-650BZ
(190 mW)
1 turbine (43,000 shp)
ARMAMENT
4 x 650-mm torpedo tubes
4 x 533-mm torpedo tubes