Combat Capability [42%]
,
Role and Missions
,
Structure of the Navy
,
in-service ships
,
surface ships
,
submarines
,
chronology
.
K-456 Tver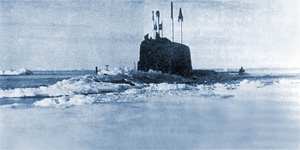 K-456 Tver
.
atrinaflot.narod.ru
K-456 Tver
is a Project 949A
Antei
nuclear-powered attack submarine (SSN).
REGISTRATION
Pacific Fleet, Krasheninnikov Bay
CONSTRUCTION, NAME
The submarine was laid down on February 9, 1988 at
Sevmash
shipyard (Severodvinsk) under the name of
K-456
; launched on June 28 (or August 18), 1991; obtained the name of
Kasatka
on February 15, 1992; commissioned into Northern Fleet on February 5, 1993; transferred to Pacific Fleet on September 28, 1993. The sub was renamed into
Viliuchinsk
on June 20, 1996 when she was taken under patronage by Viliuchinsk city administration. On January 28, 2011, the submarine was renamed into
Tver
; patronage relations with Tver Region were established.
MILESTONES
In 1996 the sub won the Navy Commander's Prize for missile firing.
Since 1997 till 2001 the sub had been under interim overhaul at
Zvezda
shipyard in Bolshoi Kamen, Primorsky Krai.
In October 2003, the submarine was taken over by the crew of K-186
Omsk
headed by V. Dmitriyev. Thanks to the crew's work, by February 2004 the submarine had successfully passed sea trials and was commissioned into constant-readiness force. The sub held missile firing drill during the exercise in September 2009.
PERFORMANCE
NATO classification:
Oscar-II
Surface speed: 15 knots
Submerged speed: 33 knots
Operating depth: 430 meters
Test depth: 600 meters
Crew: 107 men
DIMENSIONS
Surface displacement: 14,700 tons
Submerged displacement: 23,860 tons
Extreme length (on design waterline): 154 meters
Extreme beam: 18.2 meters
Mean draft (on design waterline): 9.2 meters
PROPULSION
2 x 190 MW nuclear reactors OK-650V
ARMAMENT
2 x 650-mm and 4 x 533-mm torpedo tubes, antiship cruise missile
Granit
launcher