Combat Capability [42%]
,
Role and Missions
,
Structure of the Navy
,
in-service ships
,
surface ships
,
submarines
,
chronology
.
B-190 Krasnokamensk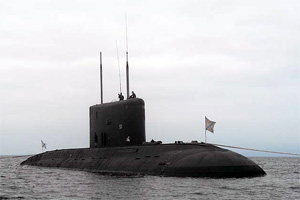 B-190 Krasnokamensk
.
submarina.org
, I. Kurganov
B-190 Krasnokamensk
is a Project 877 diesel electric submarine.
REGISTRATION
Pacific Fleet, Maly Uliss
CONSTRUCTION, NAME
The submarine was laid down on May 8, 1992 at Leninsky Komsomol Shipyard (Komsomolsk-on-Amur) under the name of
B-190
; launched on September 25, 1992; commissioned on December 30, 1992. The sub renamed into
Krasnokamensk
in autumn 2007 when she was taken under patronage of Krasnokamensk town administration.
MILESTONES
The sub won Navy Commander's Prize at least twice.
PERFORMANCE
NATO classification:
Kilo
Surface speed: 10 knots
Submerged speed: 17 knots
Operating depth: 240 meters
Test depth: 350 meters
Endurance: 45 days
Crew: 57 men
DIMENSIONS
Surface displacement: 2,300 tons
Submerged displacement: 3,040 tons
Extreme length (on design waterline): 72.6-73.8 meters
Extreme beam: 9.9 meters
Mean draft (on design waterline): 6.2 meters
ARMAMENT
Six 533-mm bow torpedo tubes (18 torpedoes or 24 mines); also suitable for launches of
Club-S
cruise missiles and
Strela-3M/Igla-1
antiaircraft missiles.