Combat Capability [42%]
,
Role and Missions
,
Structure of the Navy
,
in-service ships
,
surface ships
,
submarines
,
chronology
.
B-388 Petrozavodsk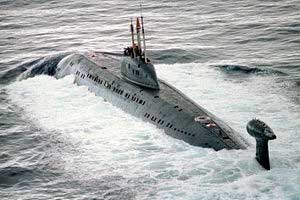 Project 671RTMK
Schuka
submarine.
ru.wikipedia.org
B-388 Petrozavodsk
is a Project 671RTMK
Schuka
nuclear-powered attack submarine (SSN).
REGISTRATION
Northern Fleet, Zaozersk
CONSTRUCTION, NAME
The submarine was laid down on May 8, 1987 at Leningrad Admiralty Association; launched on June 3, 1988; commissioned into Northern Fleet on March 1, 1989 under the name of
K-388
; renamed into
B-388
on June 3, 1992; then she was unofficially renamed into
Snezhnogorsk
on March 2, 1998. The submarine obtained the name of
Petrozavodsk
on February 22, 2005 being taken under patronage of Petrozavodsk city administration.
MILESTONES
The best crew of Northern Fleet in 1991
The best submarine crew in the Navy in nomination "Torpedoing of enemy task force" in Navy Commander's Prize contest of 1996 and 1998.
In 1998 the sub won two Navy Commander's Prizes for torpedo firings and antisubmarine warfare.
In 1999 and 2000 the sub won Navy Commander's Prize for attack of enemy task force.
In 2000 the sub participated in Russian Navy Day parade in Severomorsk.
As of 2008 the sub was in service.
PERFORMANCE
NATO classification:
Victor-III
Surface speed: 11.6 knots
Submerged speed: 31 knots
Operating depth: 400 meters
Test depth: 600 meters
Endurance: 80 days
Crew: 96 men
DIMENSIONS
Surface displacement: 6,990 tons
Submerged displacement: 7,250 tons
Extreme length (on design waterline): 107.1 meters
Extreme beam: 10.8 meters
Mean draft (on design waterline): 7.8 meters
PROPULSION
Two VM-4 type water-cooled and water-moderated reactors, turbine-geared propulsion unit GTZA-615, total power is 31,000 shp. One shafting line, multi-blade screw, 2 x 375 shp auxiliary motors.
ARMAMENT
2 x 650-mm and 4 x 533-mm torpedo tubes