Combat Capability [42%]
,
Role and Missions
,
Structure of the Navy
,
in-service ships
,
surface ships
,
submarines
,
chronology
.
K-44 Ryazan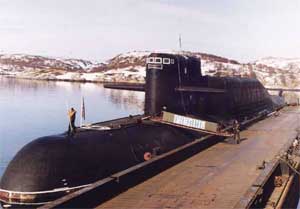 K-44 Ryazan
.
dic.academic.ru
K-44 Ryazan
is a Project 667BDR Calmar nuclear-powered ballistic missile submarine (SSBN).
REGISTRATION
Pacific Fleet, Viliuchinsk
CONSTRUCTION, NAME
The submarine was laid down on January 31, 1980 at Sevmash shipyard (Severodvinsk) under the name of K-44; launched on January 19, 1982; commissioned into Northern Fleet on November 24, 1982. The sub obtained the name of Ryazan on January 10, 1998 when Ryazan regional administration took her under patronage.
MILESTONES
In 1986 the sub conducted a cruise to the North Pole.
In the period of July 28, 1990 – December 31, 1993 (according to some sources – since 01/27/1992 till 10/21/1994) she underwent interim overhaul and modernization at Zvezdochka shipyard, Severodvinsk.
On June 7, 1995 the sub launched carrier rocket Volna from the Barents Sea. The module with mail and scientific equipment landed Kamchatka in 20 minutes. Later on, that episode entered the Guinness Book of Records as the world's quickest mail delivery.
On December 3, 1995 the sub damaged periscope mast device while diving after ice-surfacing in conditions of polar night. The damage was repaired in the basing site.
In May 1996 the sub achieved the title "Northern Fleet's Best Ship".
In 1996 she won the Navy Commander's Prize for missile firing.
On Oct 4, 1999 during underwater missile launch, bottom part of the first stage was torn off while missile was leaving the tube. The warhead was shot by AK-630 gun mount after surfacing. Northern Fleet Commander ADM V.I. Kuroedov was on board the sub then.
In 2005 – 2007 the submarine passed service maintenance at Zvezdochka shipyard (Severodvinsk) in order to prolong periods between repairs.
On Aug 1, 2008 the sub carried out underwater launch of ballistic missile from the Barents Sea.
In Aug-Sept 2008 Ryazan carried out an interfleet cruise to Pacific Fleet via Northern Sea Route.
In Oct 2008 the sub was attached to Pacific Fleet.
PERFORMANCE
NATO classification: Delta III
Surface speed: 14 knots
Submerged speed: 24 knots
Operating depth: 320 meters
Test depth: 400 meters
Endurance: 90 days
Crew: 130 men
DIMENSIONS
Surface displacement: 10,600 tons
Submerged displacement: 13,700 tons
Extreme length (on design waterline): 155 meters
Extreme beam: 11.7 meters
Mean draft (on design waterline): 8.7 meters
ARMAMENT
The submarine is armed with four 533-mm and two 400-mm torpedo tubes; 16 launch tubes of R-29R ballistic missiles.