Combat Capability [42%]
,
Role and Missions
,
Structure of the Navy
,
in-service ships
,
surface ships
,
submarines
,
chronology
.
K-410 Smolensk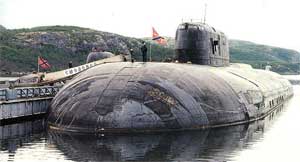 K-410 Smolensk
.
atrinaflot.narod.ru
K-410 Smolensk
is a Project 949A
Antei
nuclear-powered attack submarine (SSN).
REGISTRATION
Northern Fleet, Zaozersk
CONSTRUCTION, NAME
The submarine was laid down on December 9, 1986 at
Sevmash
shipyard (Severodvinsk); launched on January 20 (or February 10), 1990; commissioned on March 14, 1991 under the name
K-410
. The sub obtained the name of Smolensk on April 6, 1993 when she was taken under patronage by Smolensk city administration.
MILESTONES
In Dec 1992 the sub won the Navy Commander's Prize for long-range cruise missile firings.
In Aug 18 Ц Sept 14, 1993 the sub's crew sailed
K-456
along Northern Sea Route from Northern Fleet to Pacific Fleet under Arctic ice. CO Capt 1 rank Arkady Yefanov was titled Hero of Russia and awarded with Golden Star medal for courage and heroism displayed while performing special tasks associated with hazard to life.
In 1993, 1994, 1998 the sub won Navy Commander's Prize for missile firing against sea target.
In 1994 the sub carried out a patrol in the Central Atlantic.
In 1995 the sub performed patrol in the Sargasso Sea.
In June 1999 the sub attended
Zapad-99
exercise.
As of 2008, the submarine was in service.
PERFORMANCE
NATO classification:
Oscar-II
Surface speed: 15 knots
Submerged speed: 33 knots
Operating depth: 430 meters
Test depth: 600 meters
Crew: 107 men
DIMENSIONS
Surface displacement: 14,700 tons
Submerged displacement: 23,860 tons
Extreme length (on design waterline): 154 meters
Extreme beam: 18.2 meters
Mean draft (on design waterline): 9.2 meters
PROPULSION
2 x 190 MW nuclear reactors OK-650V
ARMAMENT
2 x 650-mm and 4 x 533-mm torpedo tubes, antiship cruise missile
Granit
launcher