Combat Capability [42%]
,
Role and Missions
,
Structure of the Navy
,
in-service ships
,
surface ships
,
submarines
,
chronology
.
B-585 Saint Petersburg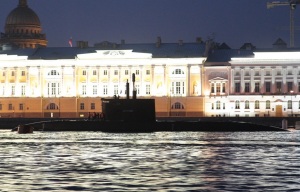 B-585 Saint Petersburg.
Central Navy Portal
B-585
Saint Petersburg
is a
Lada
-class diesel-electric submarine, lead sub of Project 677.
REGISTRATION
Baltic Fleet, Kronshtadt
CONSTRUCTION
The submarine was laid down on December 26, 1997 at JSC
Admiralteyskie Verfi
shipyard, serial number 01570, put afloat on October 28, 2004.
First phase of sea trials finished in December 2005, but then timeline was displaced due to subcontractors.
Commissioning was scheduled in 2006, but was postponed first for December 2007, and then for May 2010. In March 2009, the submarine was passing sea trials in order to test landmark solutions in electric propulsion, detecting devices, and weapons.
MILESTONES
Commission certificate was signed on April 22, 2010. Russian naval ensign was hoisted on May 8, 2010.
PERFORMANCE
The submarine is designed for antisubmarine/antiship/antiaircraft warfare, protection of naval bases, seashore and sea lanes, conducting of reconnaissance.
Displacement: 1,765 tons
Test depth: 350 meters
Speed: 21 knots
Crew: 36 men
Endurance: 45 days
Armament: torpedoes, rocket torpedoes,
Igla
SAM system