Combat Capability [42%]
,
Role and Missions
,
Structure of the Navy
,
in-service ships
,
surface ships
,
submarines
,
chronology
.
B-464 Ust-Kamchatsk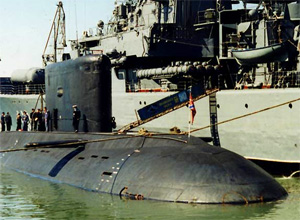 B-464 Ust-Kamchatsk
.
submarines.narod.ru
, K. Romanchuk
B-464 Ust-Kamchatsk
is a Project 877 diesel electric submarine.
REGISTRATION
Pacific Fleet, Viliuchinsk
CONSTRUCTION, NAME
The submarine was laid down on May 26, 1989 at Leninsky Komsomol Shipyard (Komsomolsk-on-Amur) under the name of
B-464
; launched on September 23, 1989; commissioned in 1991. The sub obtained the name of
Ust-Kamchatsk
on March 19 (or November 27), 2003 when she was taken under patronage by Ust-Kamchatsk town administration.
PERFORMANCE
NATO classification:
Kilo
Surface speed: 10 knots
Submerged speed: 17 knots
Operating depth: 240 meters
Test depth: 350 meters
Endurance: 45 days
Crew: 57 men
DIMENSIONS
Surface displacement: 2,300 tons
Submerged displacement: 3,040 tons
Extreme length (on design waterline): 72.6-73.8 meters
Extreme beam: 9.9 meters
Mean draft (on design waterline): 6.2 meters
ARMAMENT
Six 533-mm bow torpedo tubes (18 torpedoes or 24 mines); also suitable for launches of
Club-S
cruise missiles and
Strela-3M/Igla-1
antiaircraft missiles.