Combat Capability [42%]
,
Role and Missions
,
Structure of the Navy
,
in-service ships
,
surface ships
,
submarines
,
chronology
.
NPS Dismantling Issues - newsletter
The bulletin
NPS Dismantling Issues
widely discusses the issue of the handling of reprocessed nuclear fuel and radioactive waste; in particular, it sheds light on the problems related to the decommissioning of nuclear subs and surface ships with nuclear power installations.
We offer here to your attention one issue of the bulletin in pdf format.
¹1 (15) 2008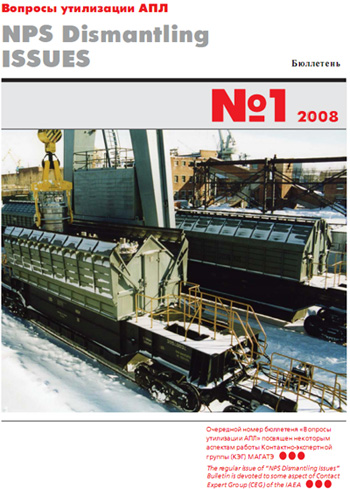 CONTENTS. Introduction by E. Evstratov, Deputy General Director of State Corporation «Rosatom»
OVERSIGHT AND LICENSING ISSUES ASSOCIATED WITH DEVELOPMENT OF RADIOACTIVE WASTE MANAGEMENT SYSTEM IN THE NORTH-WEST OF THE RUSSIAN FEDERATION
M. Sokolovsky, S. Testov, Head of the Russian State Inspectorate for Nuclear and Radiation Safety of Nuclear Propulsion Plants
THE UNIFIED STATE SYSTEM FOR THE SPENT NUCLEAR FUEL AND RADIOACTIVE WASTE MANAGEMENT (CONCEPTUAL APPROACHES AND FORMATION PRINCIPLES)
I. Gusakov-Stanukovich, ROSATOM, S. Kazakov, Federal Center of Nuclear & Radiation Safety, E.†Kudryavtsev, E. Krukov, ROSATOM
GENERAL CONCEPT FOR MANAGEMENT OF THE NUCLEAR LEGACY WASTE IN THE NORTH-WEST REGION OF RUSSIA
A.O. Pimenov, NIKIET, Russia
SCIENTIFIC, ENGINEERING, REGULATORY AND LEGAL PROBLEMS OF ESTABLISHING SYSTEM FOR VERY LOWLEVEL WASTE MANAGEMENT IN THE NORT-HWEST OF RUSSIA
V. Vysotsky, Ph.D.Tech. Nuclear Safety Institute of the Russian Academy of Sciences (IBRAE RAS) «Crystal»
ADMINISTRATIVE AND TECHNICAL SOLUTIONS ON RW MANAGEMENT DURING REMEDIATION OF THE COASTAL BASE SITE IN GREMIKHA
B. Stepennov, RRC KI, Russia, A. Diemin, VNIPIET, Russia
LOCAL CENTER OF RW MANAGEMENT IN BRANCH #1 OF SEVRAO (ANDREEVA BAY)
M. Kashka, Murmansk Shipping Company