Combat Capability [42%]
,
Role and Missions
,
Structure of the Navy
,
in-service ships
,
surface ships
,
submarines
,
chronology
.
B-90 Sarov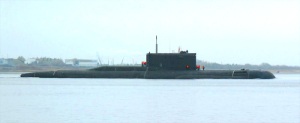 B-90
Sarov
.
militaryrussia.ru
B-90
Sarov
is a test diesel-electric submarine, the only Project 20120 submarine in Russian Navy. The submarine is designed for testing of new weapons and military equipment.
REGISTRATION
Northern Fleet, White Sea Naval Base, Severodvinsk
CONSTRUCTION
The submarine was built by
Krasnoye Sormovo
and
Sevmash
shipyards. On 26 May 2007, the submarine obtained the name of
Sarov
by Navy Commander's order No. 025. The submarine was launched in Dec 2007.
Sarov
was built on the basis of a
Sargan
-class test submarine laid down late 80's but not completed due to USSR's breakup. The submarine's hull was brought to
Sevmash
shipyard in 2003.
MILESTONES
On 7 August 2008, acceptance certificate was signed and the submarine was commissioned into Russian Navy.
Presumably, B-90
Sarov
is used for testing of products developed under
Skif
Project by the
Makeyev Design Bureau
.
PERFORMANCE
Surface speed - 10 knots
Submerged speed - 17 knots
Test depth - 300 meters
Designed endurance - 45 days
Underwater endurance – up to 20 days
DIMENSIONS
Length – 72.6 meters
Beam - 9.9 meters
Draft - 7 meters
Surface displacement – 2,300 tons
Submerged displacement – 3,950 tons
ARMAMENT
Two torpedo tubes and a large-size launcher in bows which is probably a replaceable module. It also can be a revolving-type multiple rocket launcher.