Combat Capability [42%]
,
Role and Missions
,
Structure of the Navy
,
in-service ships
,
surface ships
,
submarines
,
chronology
.
AK-209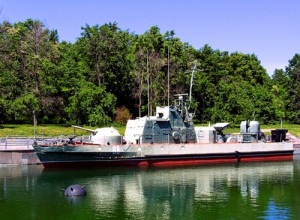 A Project 1204
Shmel
Border patrol boat.
fotki.yandex.ru
AK-209 (hull number 044) is a Project 1204
Shmel
heavily-armoured riverine patrol boat, designed for patrol duties on rivers and lakes, vessels and boats combat sweep, artillery shooting assistance for ground forces; troops with with armament carrying during crossing and acting in river basins; largely unsuitable for open seas operations, but can be used for protecting harbors and acting littoral and shallow-water seas areas.
REGISTRATION
Caspian Flotilla.
CONSTRUCTION, NAME
AK-209 (serial number 346) was laid down at
Zaliv
shipyard in Kerch on September 5, 1972; launched on May 30, 1972; commissioned on September 29, 1972.
PERFORMANCE
Speed: 24 knots
Range: 320 nautical miles (10 knots), 240 nautical miles (20 knots)
Autonomy: 7 days
Crew: 14 men (1 officer)
DIMENSIONS
Displacement: full load - 71 tonnes
Length: 27,4 meters
Beam: 4,32 meters
Draft: 0,85 meter
PROPULSION
2x1200 hp, diesels M-50F, 2 diesel generators DGA-25-9 x25 kW
ARMAMENT
1x1 76 mm D-56TS – 150 rounds
1x2 25 mm 2M-3M (on ¹698-700, 301-347)
1x2 14,5 mm 2M-6 (on ¹651-694, on ¹695 - 2M-6T, later replaced on 2M-3M)
1x1 7,62 mm SGMT – with D-56TS
1x17 140 mm rocket launcher BM-14-17 – 34 rounds OF-949
4x1 30 mm grenade launchers BP-30
Plamya
4 mines UGDM or 10 mines YaM