Combat Capability [42%]
,
Role and Missions
,
Structure of the Navy
,
in-service ships
,
surface ships
,
submarines
,
chronology
.
Astrakhan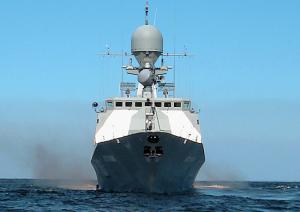 Astrakhan. Central Military District Press Service
Astrakhan
(serial number 701) is a Project 21630
Buyan
river/sea-type corvette designed to reinforce Caspian Flotilla in littoral sea zone and rivers.
REGISTRATION
Caspian Flotilla. City of Astrakhan
CONSTRUCTION
The ship was laid down on January 30, 2004 at JSC
Almaz Shipyard
(St. Petersburg) and launched on October 7, 2005.
MILESTONES
Commissioned on September 1, 2006.
Since 2006, the ship takes part in all exercises and firing drills held by Caspian Flotilla. She is one of the most up-to-date and combat-worthy ships in the flotilla.
PERFORMANCE
Speed: 28 knots
Operational range: up to 1,500 nm
Crew: 29-36 men
DIMENSIONS
Displacement: 500 tons
Length: 62 meters (at design waterline)
Beam: 9.6 meters (at design waterline)
Draft: 2 meters
PROPULSION
Two-shaft CODAD powerplant
ARMAMENT
Navigational aids - one MR-231 radar,
Sigma
tactical data system
Radars - one
Pozitiv-M
radar, one 5P-10
Laska
radar for gun mounts and gun/missile antiaircraft systems
Electronic warfare - 2 x 10 launchers of PK-10
Smelyi
system
Gunnery - one 100-mm gun mount A-190-01
Universal
, two six-barreled gun mounts AK-306, two 14.5-mm machine guns, 1 x 40 122-mm MLRS A-215
Grad-M
Air defenses - one 4-tube launcher 3M47
Gibka
with antiaircraft missiles
Igla
or
Igla-S