Combat Capability [42%]
,
Role and Missions
,
Structure of the Navy
,
in-service ships
,
surface ships
,
submarines
,
chronology
.
BDK-101 Oslyabya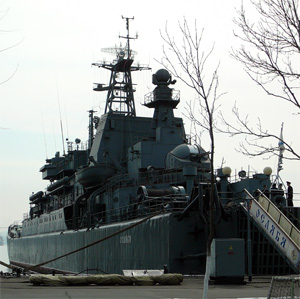 BDK-101 Oslyabya. Photo by Retviz@N from navsource.narod.ru
BDK-101 Oslyabya
is a Project 775 Large Landing Ship (LLS)
REGISTRATION
Pacific Fleet
CONSTRUCTION, NAME
The ship was built in Gdansk (Poland); commissioned in 1981; obtained the name of
Oslyabya
in 2006.
MILESTONES
In 1985-1986 and 1990-1991 the ship was deployed in Indian Ocean.
In 1986 it took part in evacuation of Soviet citizens from Yemeni port of Aden.
In 1991 the ship participated in evacuation of Soviet citizens from Nokra Island (Ethiopia).
In 1996, 1997, 1999 it delivered cargo to Kamchatka peninsula.
In November 2000 the ship's seamen sent complain to Pacific Fleet HQ about permanent derisions of warrants and petty officers. Vladivostok Military Procuracy initiated a criminal case based on the fact of non-administrative behavior.
The ship is under repair.
PERFORMANCE
Speed: 18 knots
Operational range: 6,000 miles at 12 knots
Crew: 87 men
DIMENSIONS
Displacement: 4,080 tonnes
Length: 112.5 meters
Beam: 15 meters
Draft: 3.7 meters
PROPULSION
CODAD powerplant, two screws, total power is 19,200 shp
ARMAMENT
2 coupled 57-mm gun mounts
AK-725
2 launchers of MLRS
A-215 Grad-M
4 launchers of MANPADS
Strela-2
Capacity is up to 500 tonnes of armor vehicles and 225 marines