Combat Capability [42%]
,
Role and Missions
,
Structure of the Navy
,
in-service ships
,
surface ships
,
submarines
,
chronology
.
Boikiy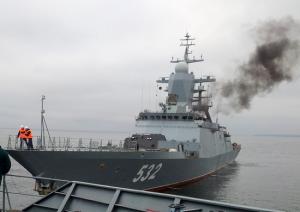 Boikiy. Western Military Command
Boikiy
is a Project 20380 multipurpose littoral zone ship (corvette).
REGISTRATION
Baltiysk Naval Base, Baltic Fleet.
CONSTRUCTION
The Boiky was laid down in July 2005 and was launched on 15 April 2011.
She was presented to the Baltic Fleet for final inspection by the Navy on 16 March 2012 ahead of her commissioning later in the year.
On 16 November 2012 it was reported that the corvette has already passed the shipyard's sea trials; about 70 certificates were signed then.
In the nearest time, JSC Arsenal will produce a 100-mm gun mount A190-01 for the corvette, and late in Nov or early in Dec the ship will move to Baltiysk acceptance base for the second phase of sea trials.
Then will begin state acceptance trials.
The corvette was handed over to the Russian navy on May 14 2013.
MILESTONES
In July the corvette
participated in International Maritime Defence Show
.
PERFORMANCE
Speed: 30 knots
Fuel range: 3,500 nautical miles at 14 knots
Complement: 99 men
DIMENSIONS
Displacement: 2,200 tons
Length: 103.7 meters
Beam: 13 meters
Draft: 8.6 meters
PROPULSION
Two-shaft CODAD powerplant, overall power 17,140 KW
ARMAMENT
2 quadruple launchers of
Uran
missile system
SAM system
Redut
(12 surface-to-air missiles)
2 x 4-tube
Paket
330-mm anti-torpedo launchers
100-mm gun mount A-190
Kortik-M
air defense missile/gun system
MANPADS
Igla
2 x 6-barreled 30-mm gun mounts AK-630M
2 grenade launchers DP-64
Heliport for Ka-27 helicopter